As the UK slowly eases the coronavirus lockdown in line with the government's new COVID-19 recovery strategy, small business owners are preparing to reopen – with colleague and customer safety as a key priority. Here are ten tasks that you should tackle to return to work after COVID-19 safer and stronger than ever.
What to do inside your business premises
1. Deep clean your working area
No matter whether your business operates in an office, retail shop or warehouse, you may want to consider an initial deep clean before you reopen. A cleaner will focus on disinfecting the equipment and shared areas of your premises, for example bathrooms and computer keyboards.
If you, your staff or any visitors develop any symptoms of coronavirus, follow the government guidance on cleaning your premises afterwards.
2. Redesign your layout
Where possible, you should reorganise
your work area so that a 2-metre distance can be maintained between your staff.
You could move desks apart, put up signs to remind people to stick to the rule
and place tape markers on the floor.
The 2-metre rule needs to be
followed throughout your premises, so don't forget to use tape markers at all
entrances and exits, as well as in break rooms and canteens.
One of the Health & Safety Executive's (HSE) safe working recommendations is to install protective screens to create a physical barrier between people. A handyman or window fitter can help you out with this.
3. Check your fittings
You might not have been to visit your business for a while, so it's important that you get all electrical and plumbing fixtures thoroughly checked out. A plumber can spot the not-so-obvious issues which can cause long-term damage, whilst an electrician will make sure that no faults have developed during lockdown.
4. Get a pest control inspection
With coronavirus causing buildings to be empty, the British Pest Control Association (BPCA) has discovered a 51% increase in rat activity and a 41% increase in mice becoming the new tenants in buildings across the UK. Other pests that you might come across include moths, bed bugs and wasps. Plus, with the weather getting warmer, pest activity will increase further.
At Rated People, we saw jobs for pest control specialists rise by between 90 – 115% in the first two weeks of June, compared to pre-lockdown (the beginning of March). So, get a pest control specialist in to check that you don't have any unwanted visitors.
What to do outside your business premises
5. Spruce up your green areas
Whilst many of us have become DIY gardeners during lockdown, your business premises might not have seen the same love. Any overgrown foliage and dead plants on or immediately surrounding your premises will need to be cleaned up before you re-open. A tidy premises is a clear sign to customers that you're open for business.
Make sure your business stands out from the competition by hiring a gardener to spruce up your premises.
6. Get your windows cleaned
It's likely that dirt and dust
has collected on your windows over the past few months. Some types of debris
can even cause long-term damage, which could mean you'll need to replace the
window. If your business is in the countryside, then you might find that some
pollen has built up too, given the time of year.
A professional window cleaner can make your business look more presentable, as well as making your windows last longer. It's important that commercial windows are cleaned roughly once a month anyway, to get rid of any grimy build-up.
How to develop a COVID-19 work policy
It's important that you create a company policy to make sure you have preventative measures in place to mitigate the risk of coronavirus spreading. Your policy will also lay out guidelines for staff to follow.
7. Complete a risk assessment
HSE recommends that you complete a risk assessment to protect yourself, your employees and others from coronavirus. This includes:
Identifying what work activity or situations might cause the virus to spread.
Thinking about who might be at risk in the workplace.
Deciding how likely it is that someone could be exposed to COVID-19.
Acting to remove the activity or situation, or to control the risk.
8. Create infection control plans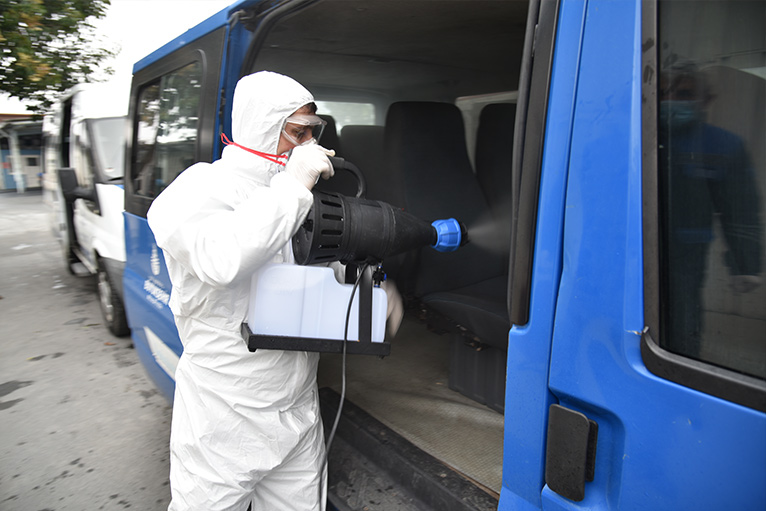 You should implement concrete actions to prevent the transmission of coronavirus in your business. Organising secure delivery drop-off points and disinfecting your fleet of vehicles would be a good first step.
9. Review your operating procedures
As we embrace the 'new normal', it's important to adapt your business and create a COVID-19 work policy, so that you can operate safely. The Federation of Small Businesses (FSB) 'COVID-19: Health and safety checklist' suggests that you:
Review your opening times – you might want to reduce them to make time for regular cleaning and to allow employees to travel to work outside of rush hour if they use public transport.
Offer alternative purchasing methods, such as taking orders over the phone. This will help you to reduce physical contact with customers whilst they're making payments.
Provide hand washing facilities if possible. If not, then make sure that staff have access to hand sanitiser and sanitising wipes.
Consider buddy working to reduce the number of staff working together.
We'd suggest staggering your
employees' break times too, to reduce the amount of people congregating in one
place, like the break room, at the same time.
For advice on the specific sector that your business is in, read the government's 'Working safely during coronavirus (COVID-19)' guidance.
10. Introduce green processes
While you're making all these changes
to your business, it's also a great time to put some environmentally friendly
practices into place. Some ideas include:
Installing energy-efficient lightbulbs. An electrician can help with this.
Start, or improve, recycling – printer cartridges, batteries and old computer equipment are some items to consider recycling.
Encourage employees to switch off lights and appliances when they're not being used.
Go paperless – share files digitally, swap your paper bank correspondence for digital ones and use cloud-based file sharing systems to reduce the cost and energy usage created by paper.
Check out our tips to make your business more eco-friendly for more ideas.
Once you've followed the government's guidance, you can download and display a 'Staying COVID-10 Secure in 2020' notice to reassure your staff, customers and visitors that they'll be as safe as possible going about their work.
If you're a small business owner in need of financial support to return to work after COVID-19 lockdown, check out the business loans and grants available in our Coronavirus: government support for construction businesses article.
---
Note: The government has confirmed that there is no limit to the group size when you are meeting or gathering for work. But, workplaces should be set up to meet the COVID-secure guidelines – follow the government's guidance on how to return to work safely.
Note: Countries may approach the different phases of lockdown differently. This guidance is in line with the UK government's advice and is being followed in England. See the specific government websites for any differences.
Note: You must follow the restrictions for your local area. Find out the local restriction tiers for each area in England on Gov.uk. You can also view the UK government guidelines on Gov.uk.