Just like for our 2022 Gift Guides and 2021 Gift Guides, we've put all three of our gift lists in one place (this post right here). So, without further ado… let's dive into the 3 categories that we cover every year:
Gift Ideas for Grown-Ups
Gift Ideas for Kids
Gift Ideas Under $12.99
We have fun making these each year, and always include things we actually own & love as well as items that we're actually buying for others in our family (from our own kids to each other – and for relatives and friends). It's probably helpful to point out that nothing was sponsored/gifted in order to get into this guide. If something is on these lists, we just genuinely love it (and in many cases, already own it & can vouch for it).
Quick note: The "Under $12.99" list isn't the only one with items that are priced that low – for example, there are five gifts under $12.99 on the kids list as well (the prices listed in this post are just whatever they were at the time of writing this).
Gifts For Grown-Ups
Whether you're shopping for someone who likes being crafty, adores cooking, appreciates beautiful home stuff, or just enjoys a funny t-shirt or some pretty jewelry, we've got you covered.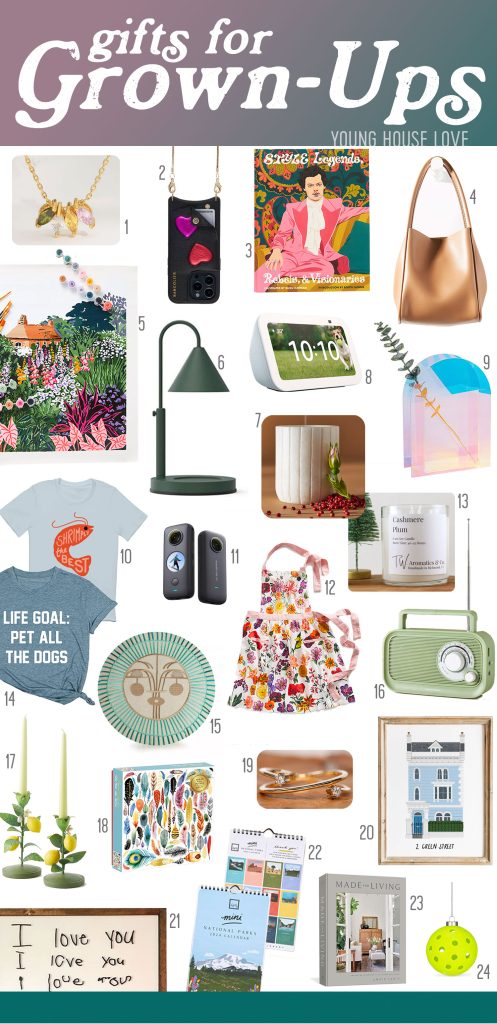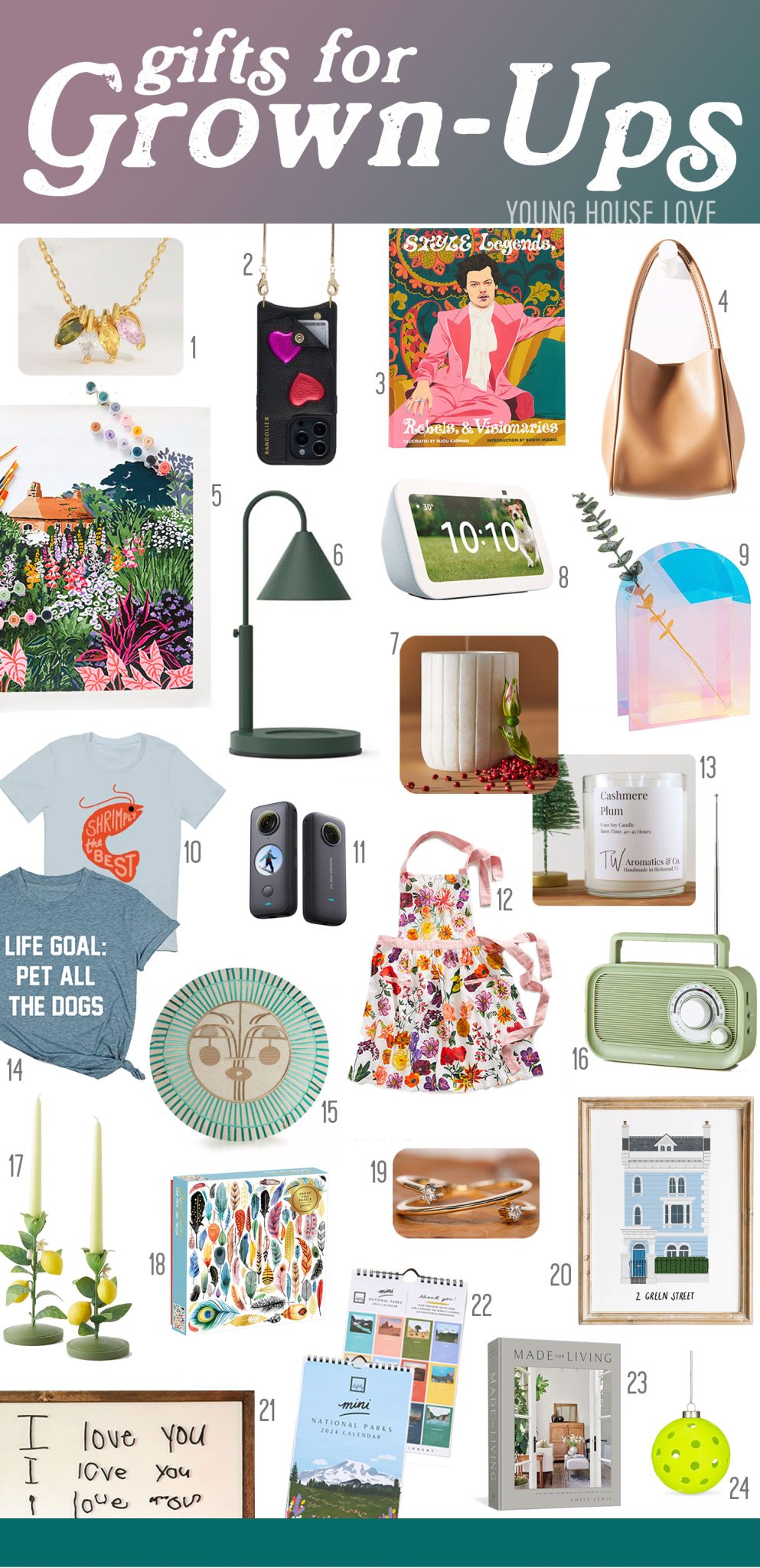 Let's make things easier to digest by breaking the board into little sections so you can find the links without scrolling up and down ten million times…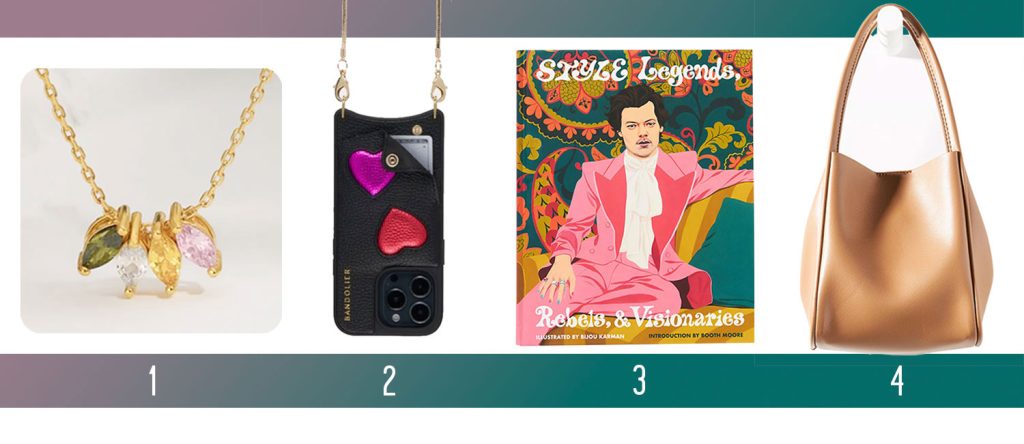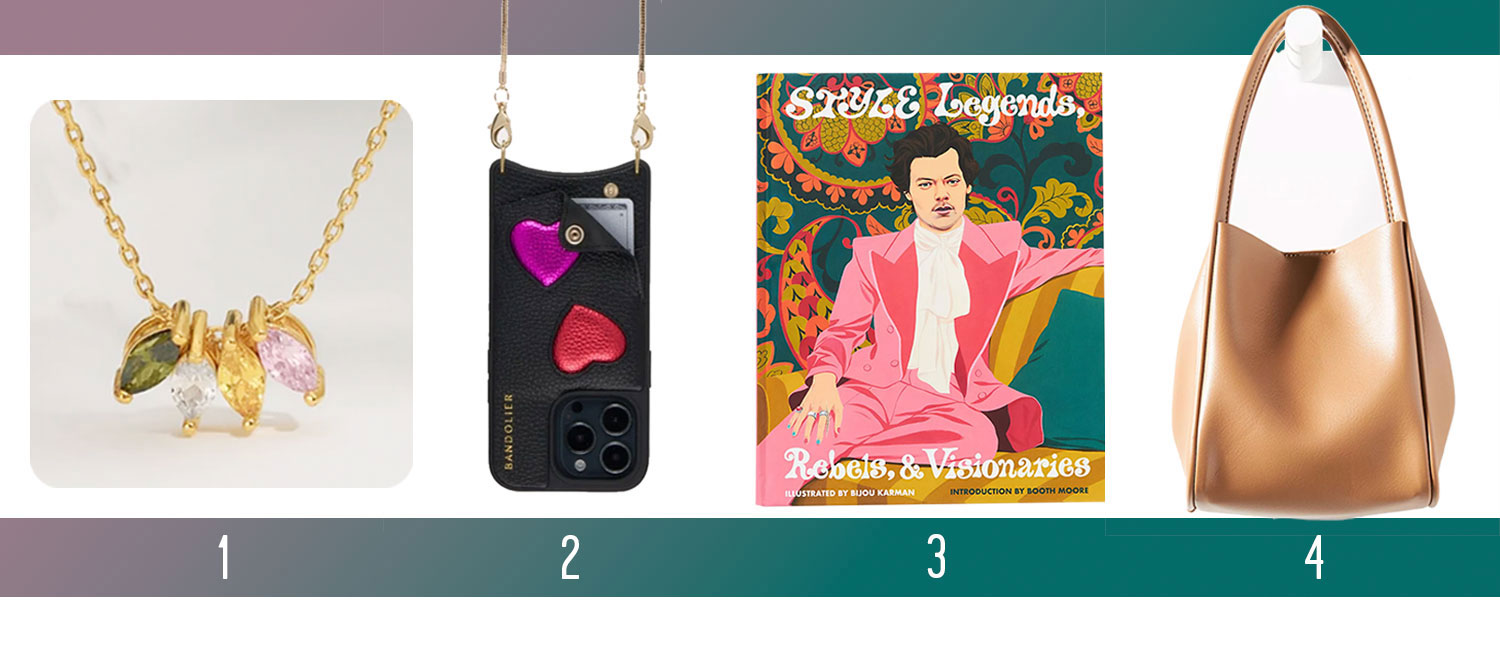 1. Custom Birthstone Necklace ($20+)
This custom birthstone necklace can be customized with up to 6 stones to represent children, grandchildren, sisters, etc. I love how delicate it looks (click into the listing to see it on someone's neck). Stunning.
2. Crossbody Bandolier ($98)
I own and love this well-made leather bandolier, which holds my phone and even has a spot to slide my credit card & license. It's so practical whenever I want to leave my purse at home or be completely hands free, and it's so cute too.
3. Style Legends, Rebels, & Visionaries Book ($25)
This colorful coffee table book features illustrations that feel so charming they could literally be framed as wall art. It includes legends like Cher, Diana Ross, Elton John, David Bowie, Frida Khalo, and many more.
4. Mini Tote ($78)
This leather-look tote is extremely well-rated and looks like an instant classic. I love purses this size (it's around 7″ x 6″) – so it's great for a phone and a few credit cards & goes with absolutely everything.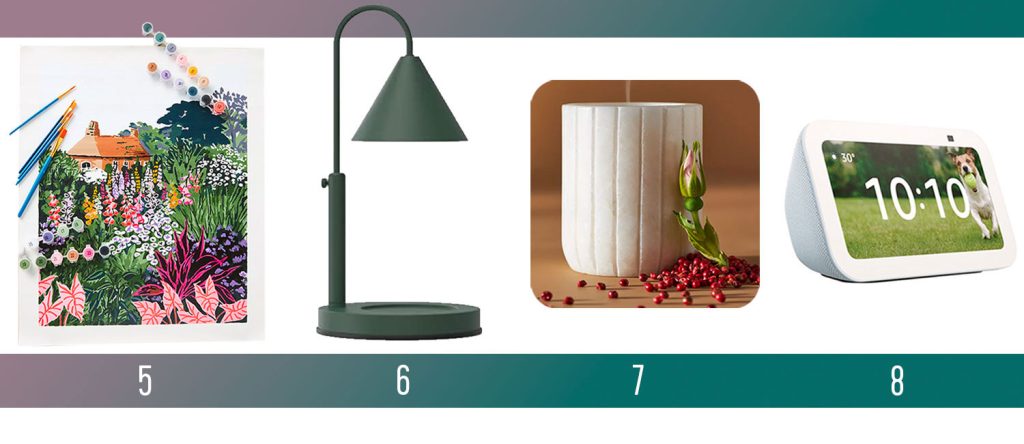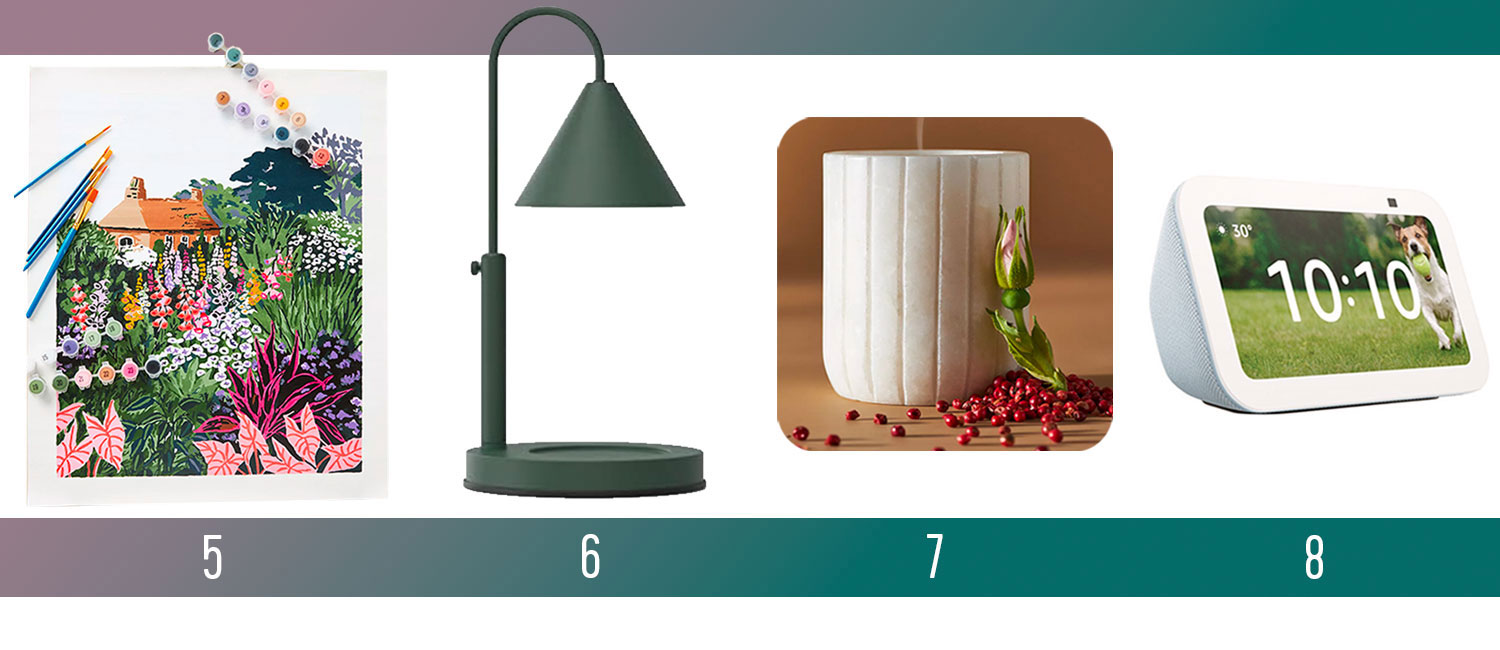 5. Adult Paint-By-Numbers Kit ($52)
This paint-by-numbers kit for grown-ups is a fun way to get creative, and it would be so charming to frame in a kitchen or bathroom! Would be fun to buy with (or for) friends & have a painting night all together too!
6. Candle Warmer ($40)
This candle warmer comes in 3 colors and is a great alternative to the one we own. Having a candle warmer on our kitchen counter is so cozy – plus it smells delicious, and candles smell delicious for 3X as long!
7. Fig & Pink Peppercorn Candle ($28)
As much as the scent of this candle sounds dreamy, I also love that after it's done you get a great marble vase or vessel for any bookcase or countertop. So chic, it's like two gifts in one.
8. Echo Show 5 ($40)
We upgraded our kitchen Alexa to this small version with a screen and have loved it. We like using ours to see multiple cooking timers at once (so handy!), ask the weather, and set everyday reminders.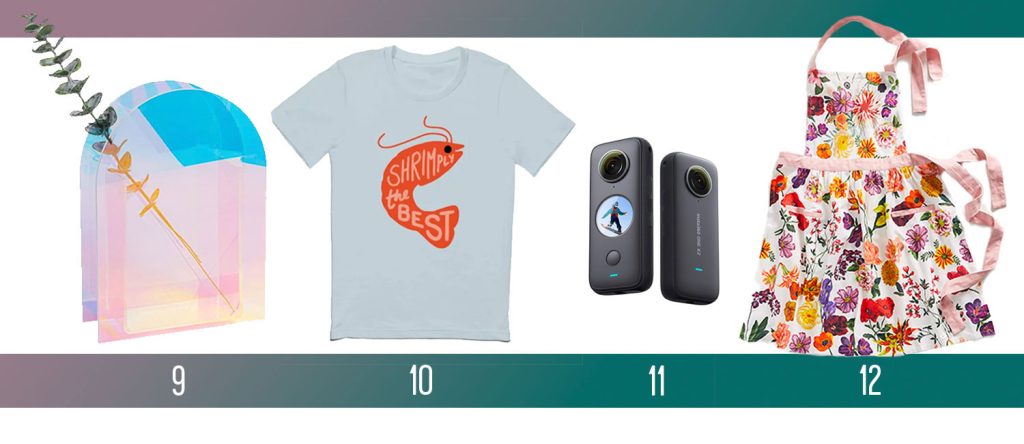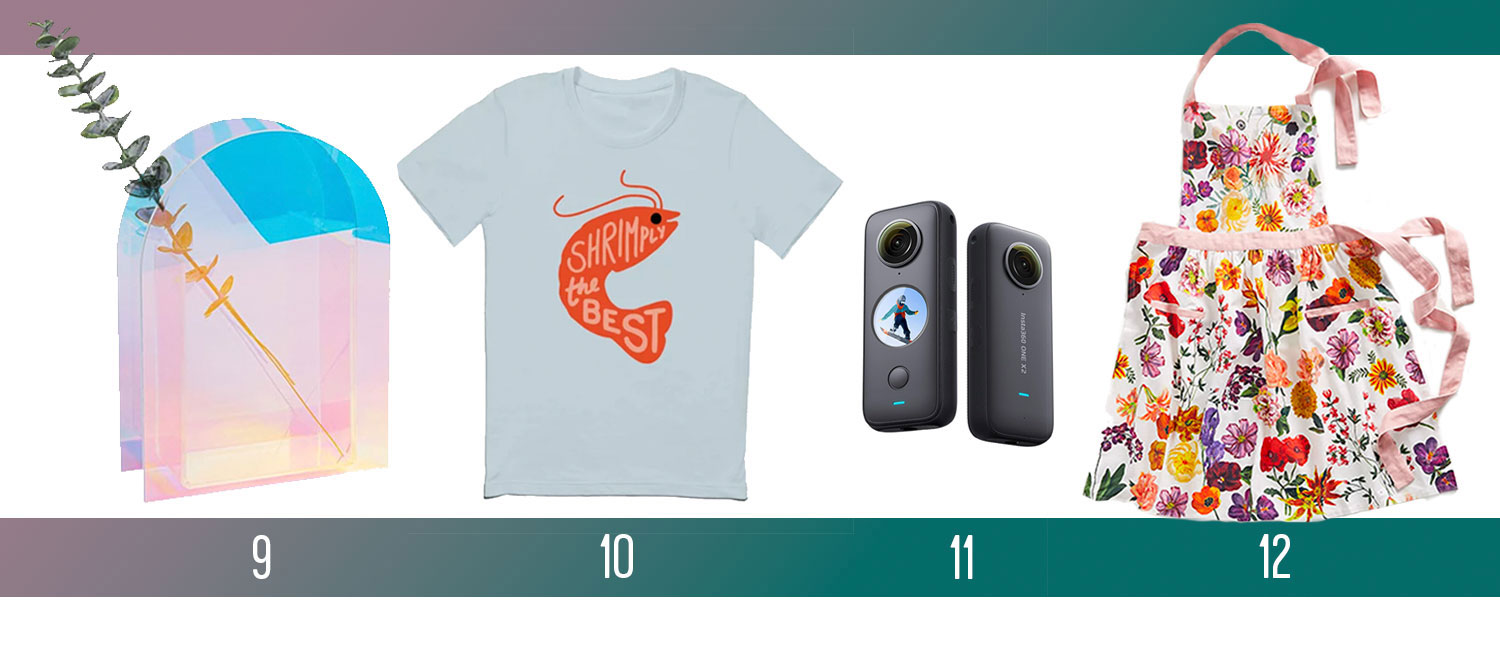 9. Iridescent Vase ($20)
This modern vase has the prettiest colors & would look so charming on a shelf, bedroom dresser, or basically any tabletop. You know I'm here for the mermaid trend & this would be gorgeous with a free cutting from outside.
10. "Shrimply The Best" Shirt ($21)
For the best person on your list, this graphic t-shirt can be customized in different colors, image locations, shirt styles, etc. I want one. John wants one. We're a very pro-shrimp household.
11. 360 Waterproof Camera ($299)
Think Go-Pro, but this little action camera captures video in 360 degrees all at once. Great for the athlete or adventurer on your list. John's pining for one to attach to the front of his paddleboard!
12. Floral Apron ($32)
For the baker or chef in your life, this pretty apron would be great to pair with the gift of a cookbook or some other kitchen tools – even home-baked cookies or a favorite recipe card.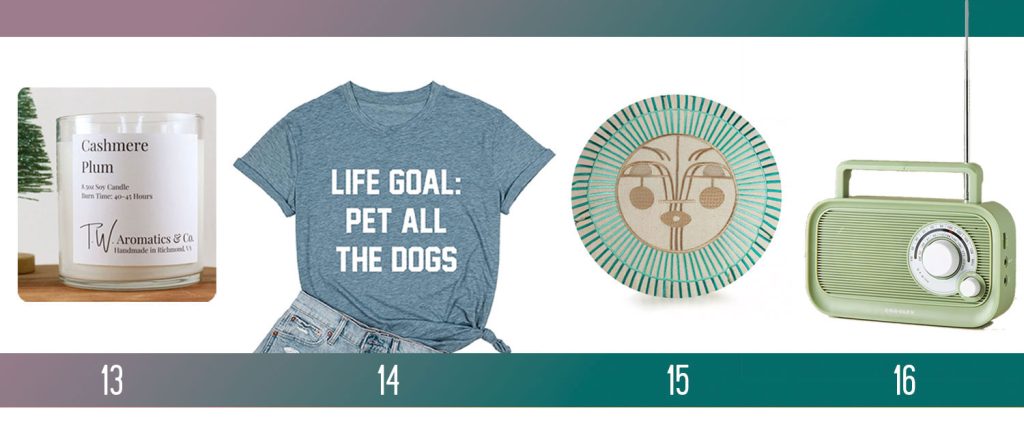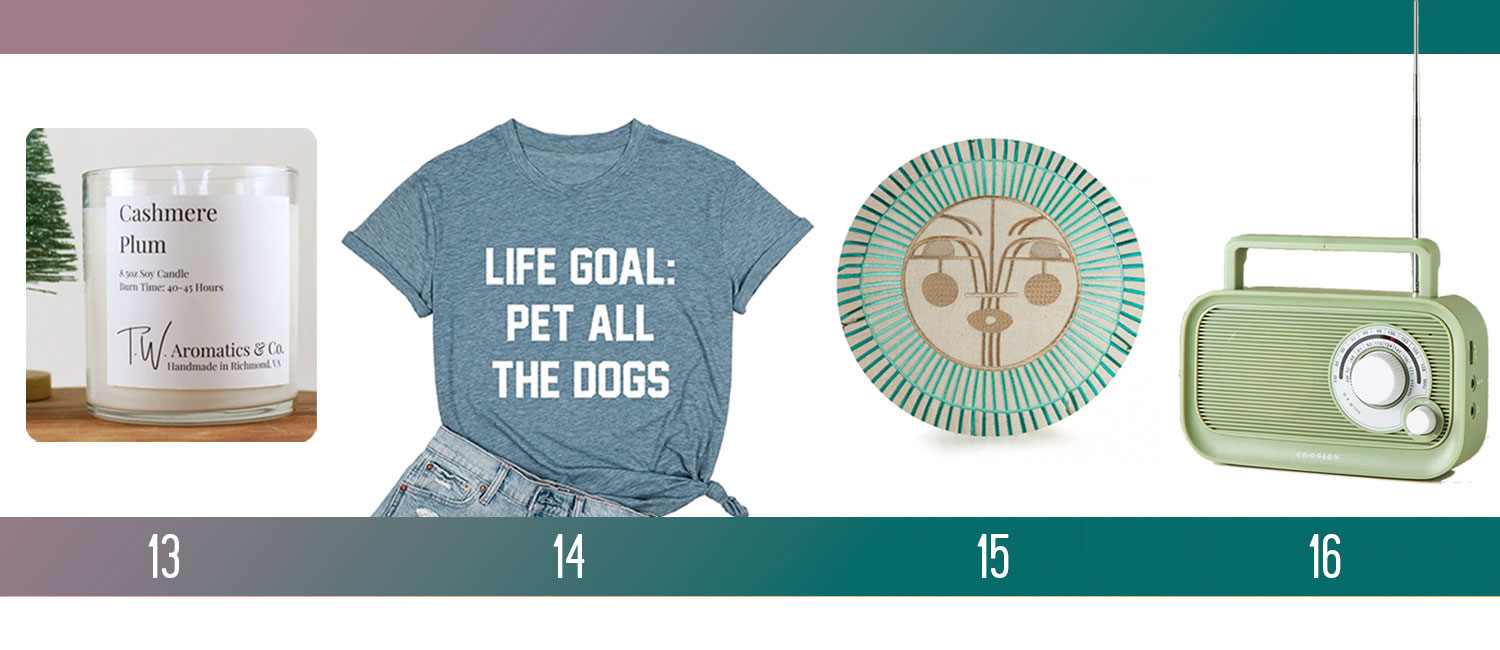 13. Cashmere Plum Candle ($21)
This delicious soy candle is incredibly well-rated, burns for up to 45 hours, and supports a small Black-owned business in our former hometown of Richmond, VA.
14. Pet All The Dogs Shirt ($18)
I've never agreed more with a goal than the one on this t-shirt (which comes in a variety of colors and designs). Honestly, I feel like this could be a life mantra.
15. Round Jungalow Pillow ($40)
This pretty round pillow has the most beautiful color palette (that tan and turquoise!) and would make a great addition to any couch or bed. Literally could be cute in a kid's room or a chic adult space.
16. Retro Bluetooth Radio ($40)
This classic-looking radio is not only a working radio, it can also stream music or a podcast from any bluetooth-enabled device (like your phone). I'm crazy about how cute the mint color is & it has a five-star review.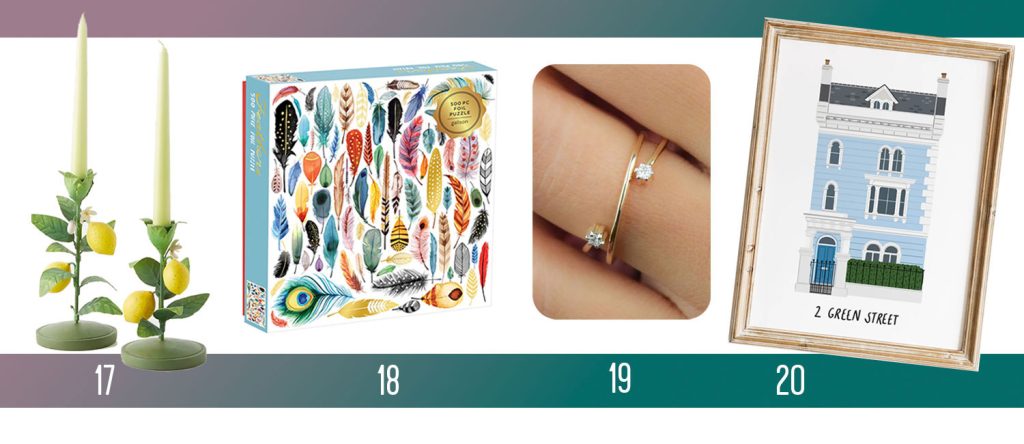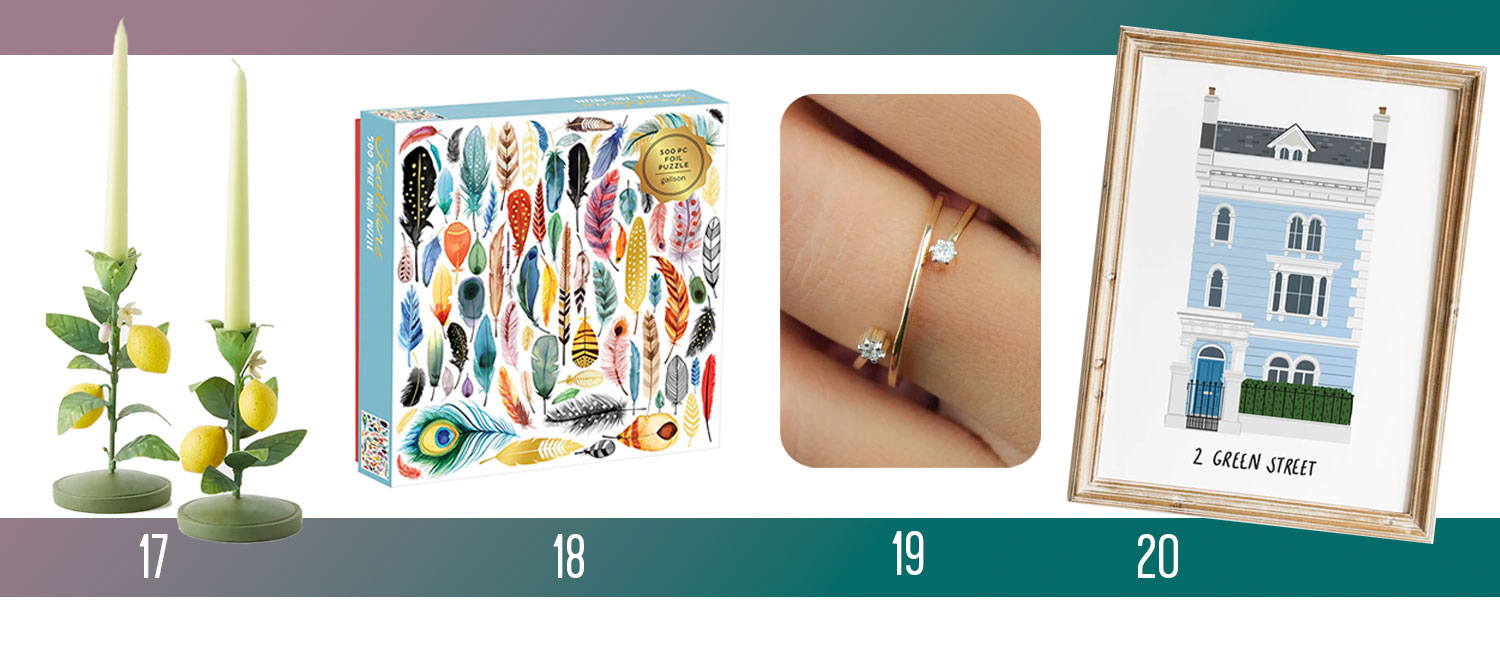 17. Lemon Candlestick ($44)
These sculptural candlesticks are beautiful with or without a candle in them. I think collecting special items like these is what adds up to a home that feels so welcoming and layered. I want these so bad!
18. Gold Foil Puzzle ($13)
John does a lot of puzzles and this feather puzzle was his favorite of the year. If you want your family to puzzle more, set one out on the coffee table & just see what happens. People start to putter away!
19. Criss Cross Diamond Ring ($115+)
This delicate ring is so lovely and unique – it feels classic yet unexpected and comes in a variety of finishes (silver, gold, white gold, and even rose gold). The ratings for this jeweler are also amazing.
20. Custom House Portrait ($76)
These personalized house portraits are incredibly charming. A custom portrait of your home feels so personal & thoughtful, it's something that's treasured forever (even after you move, it's a great memory).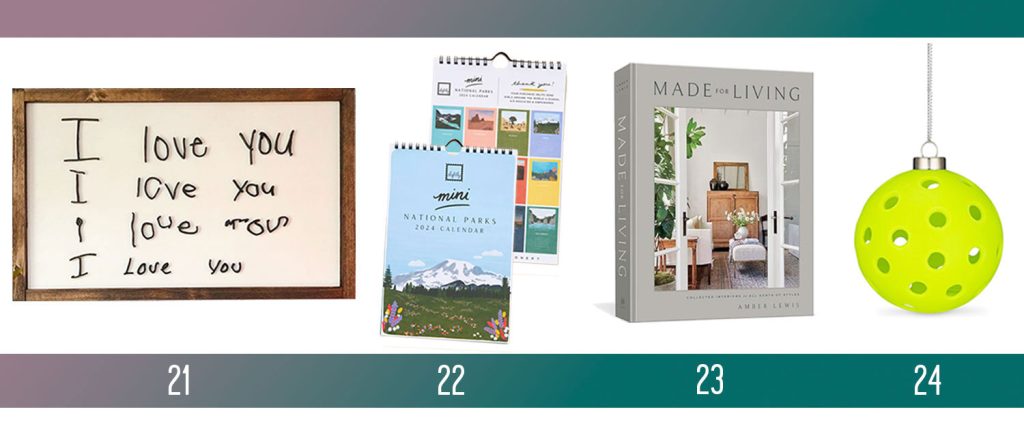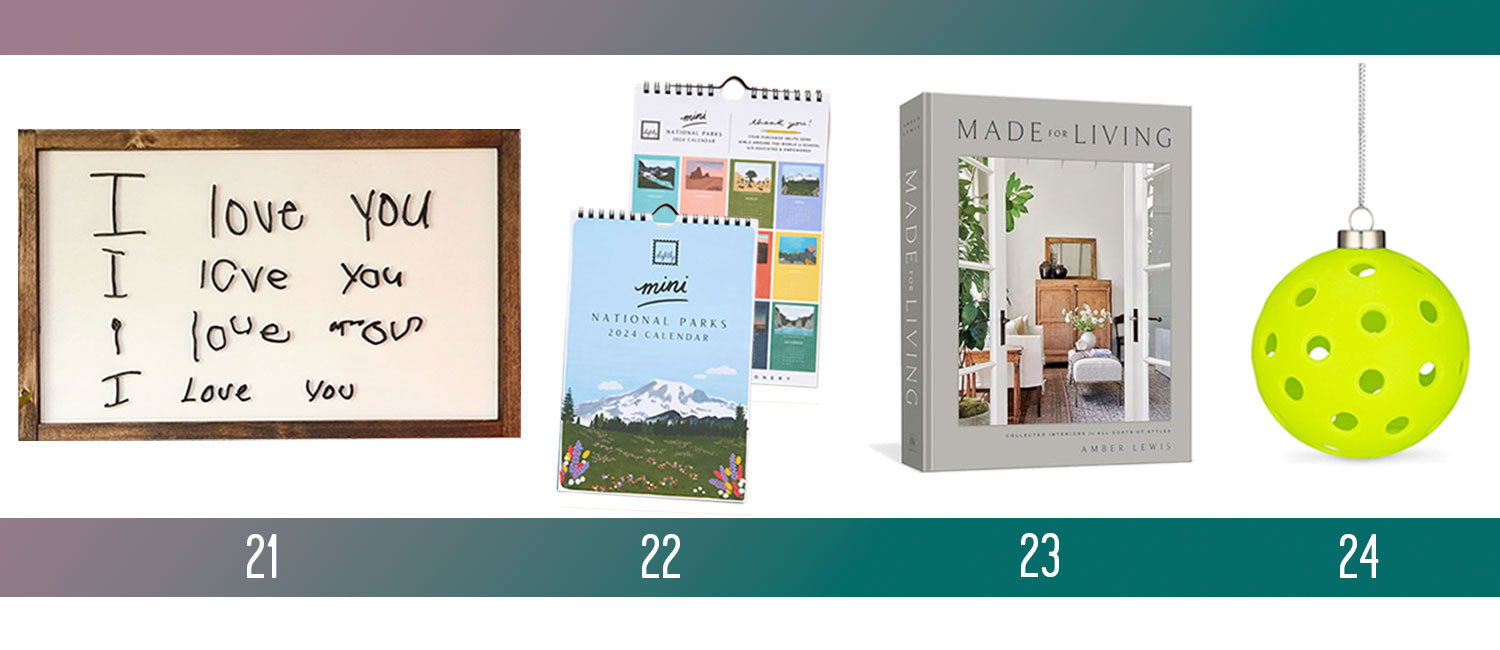 21. Custom 3D Handwriting Sign ($60+)
These personalized wood-cut signs are a special way to capture handwriting from a parent, grandparent, child, or spouse. We're giving this gift to someone we love this year, and it just feels so sweet & meaningful.
22. National Parks Mini Calendar ($16)
This beautifully illustrated calendar is the perfect gift for any National Parks lover (don't we all have a few of those in the family or friend group?). Not only is it useful all year, it can also be framed later as art.
23. Made for Living Book ($21)
This is one of Sherry's favorite home books, so it's a great gift for any design lover. It's packed with beautiful inspirational photos, and looks gorgeous on a coffee table or a bookshelf.
24. Pickeball Ornament ($16)
Yes, we hopped on the pickleball bandwagon this year (we got this pickleball set and our whole family has fun playing). And this fun pickleball ornament is great for every absolutely-obsessed person you know & love.
Gifts For Kids & Teens
This category is always fun for us because we get to include things our nine-year-old & thirteen-year-old already have and love (to gain a spot on here it's not merely a day or two of playing with something – it's a real love affair). Other items in here are things we're giving them this year, or they're gifts we're considering for other little friends & cousins.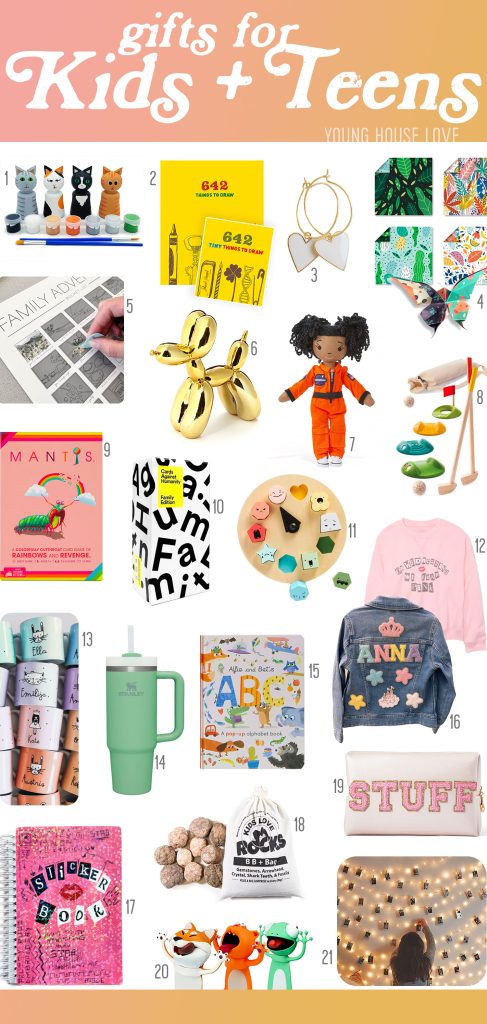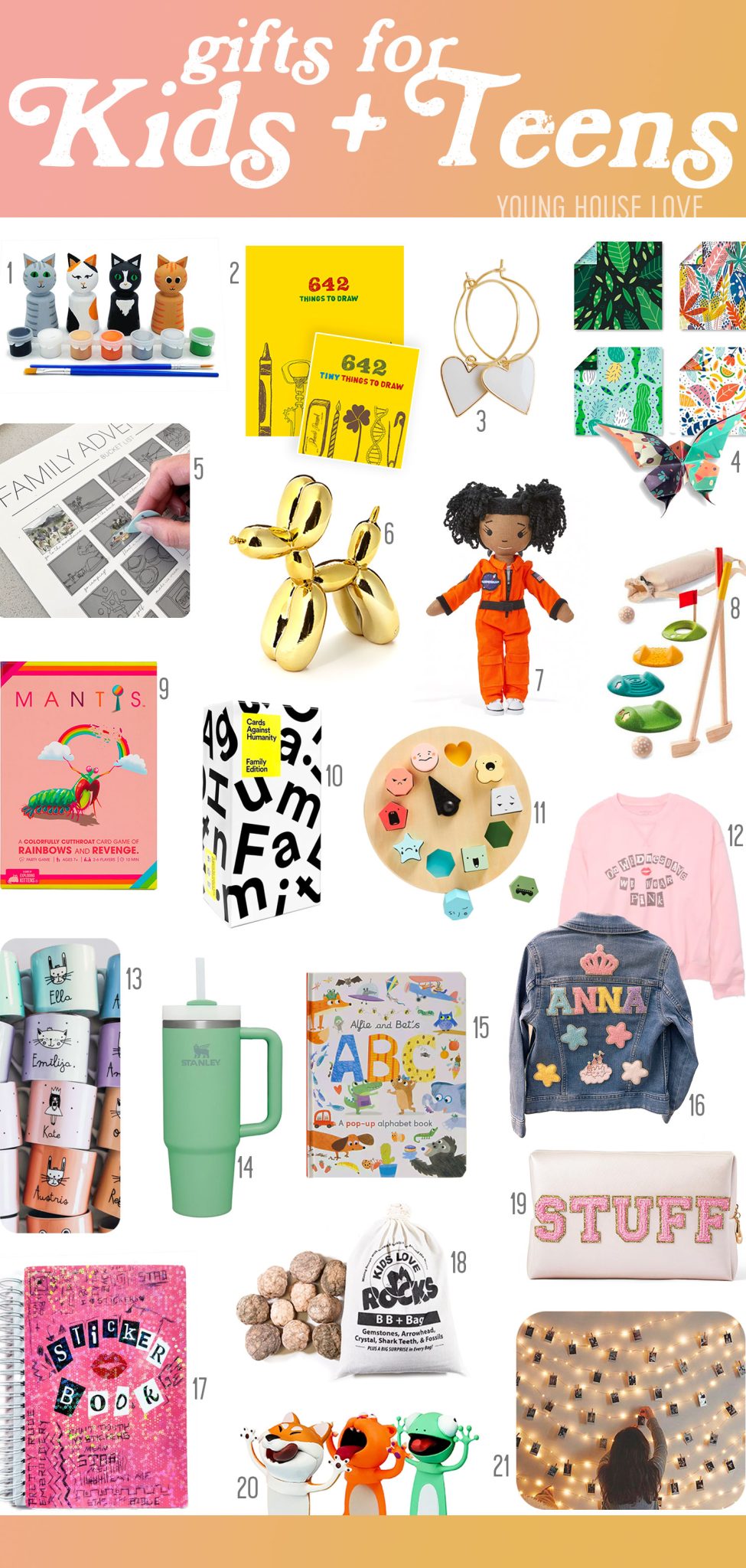 Once again, we'll save you a whole lot of scrolling and break things down for you below.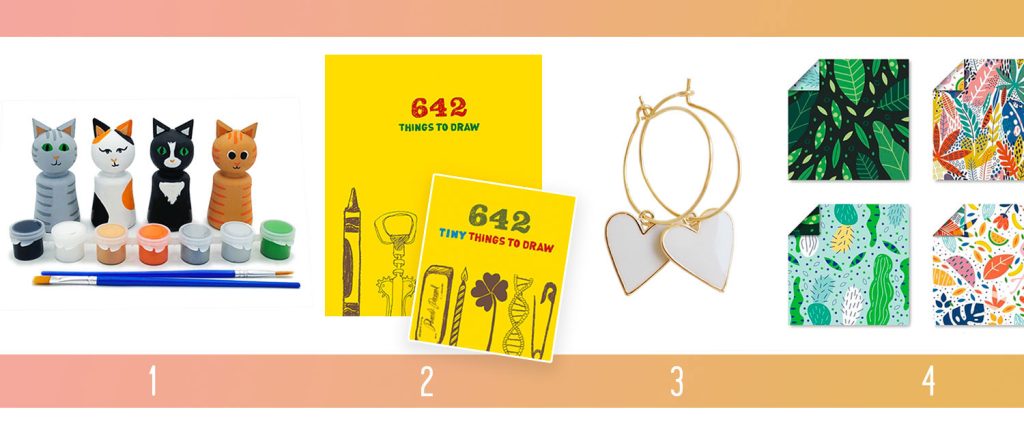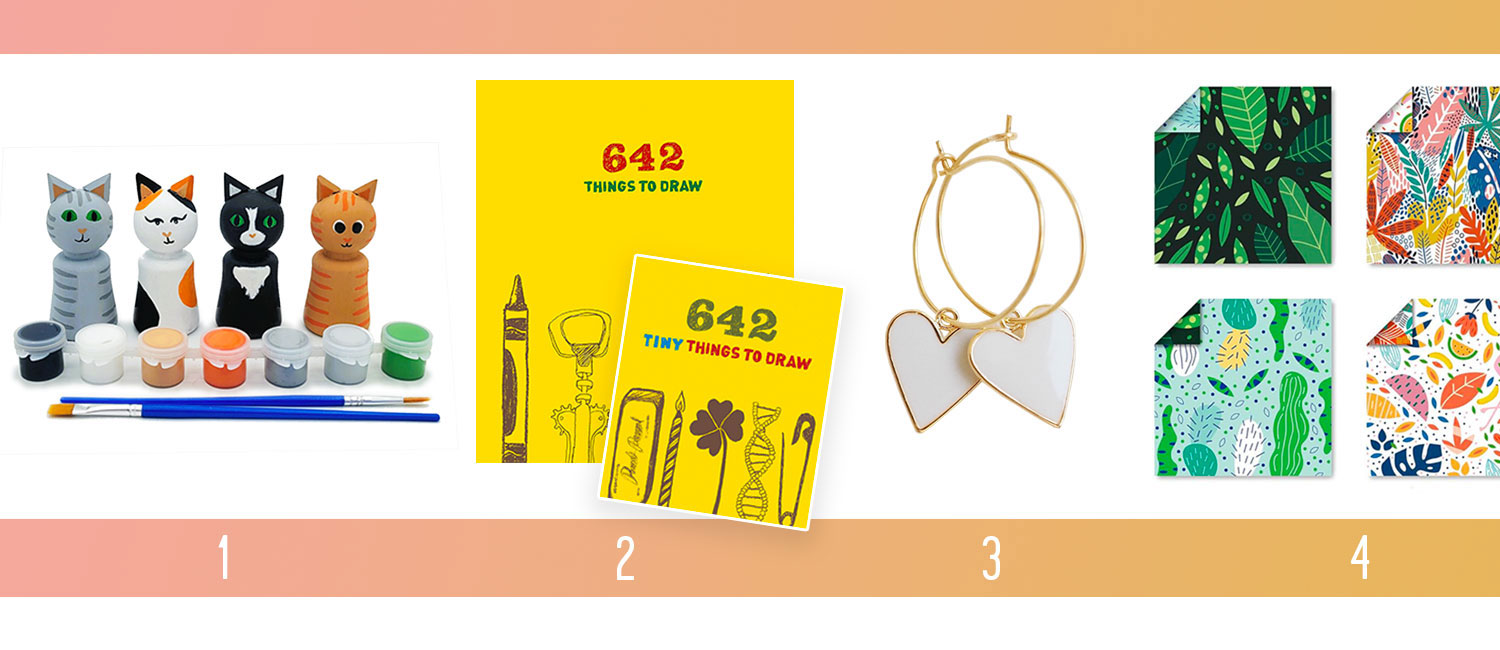 1. Cat Peg Painting Kit ($22)
Both of our kids would eat up a peg painting kit like this (honestly we might be buying two). There are tons of people peg kits but for some reason the animal ones seem even more fun for our kids.
2. 642 Things To Draw Book ($15)
Our son has loved this drawing prompt sketchbook so much, and for Christmas he asked for the "tiny things to draw" version to keep in the car. Pairing It with our favorite markers would make any little artist very happy.
3. Heart Hoop Earrings ($15)
These cute heart earrings come in various colors and truly could have been on the adult list as well. They're not babyish, so a teen could happily rock them – and I also find myself wanting a pair.
4. Patterned Origami Paper ($10)
This has been our son's most recent favorite set of origami paper because of the fun patterns and colors. Truly even the simplest origami creations look very fancy indeed with these papers, and they're also great for crafts.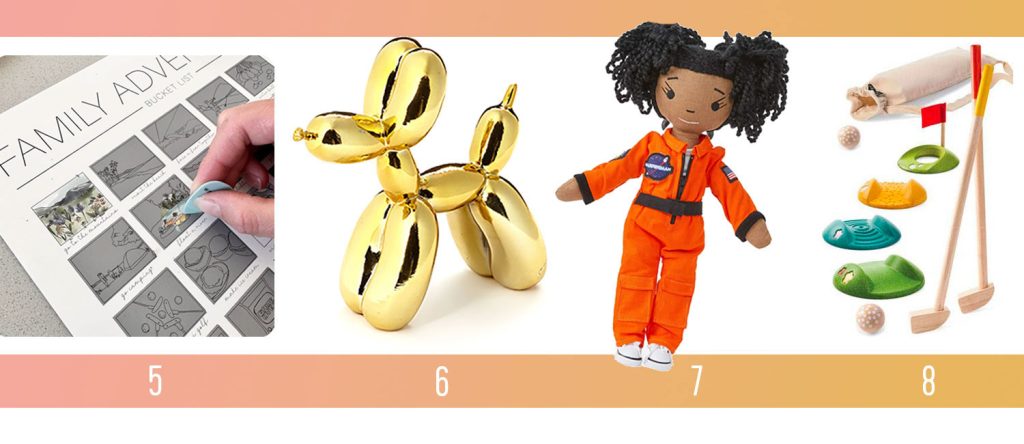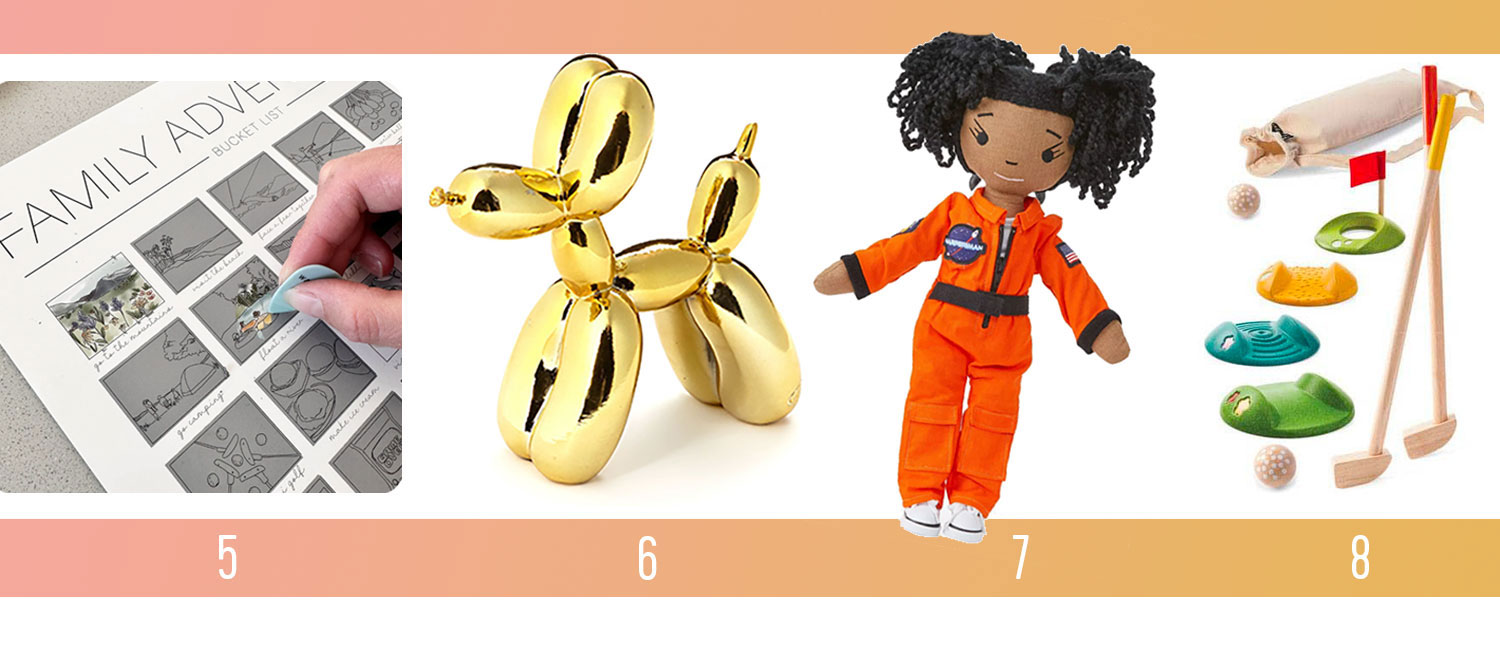 5. Family Bucket List Scratch-Off ($26)
This scratch-off list is a fun way to keep track of family adventures like "Visit a New State" or "Have A Water Balloon Fight." If you have kids who like scratching things off as much as ours, it's guaranteed to be a hit.
6. Balloon Dog Statue ($19)
This shiny balloon sculpture is fun and surprisingly realistic (and comes in a few metallic colors). There are also pooping versions if you really want to crack someone up.
7. Astronaut Doll ($35)
I still can't get enough of these Harperiman dolls, which are so well-made and universally loved! Not only do they have this cute astronaut, there are also tons of other designs with everyday clothing.
8. Wooden Mini Golf Set ($40)
We owned and loved some wooden Plan Toys when our kids were younger and this mini golf set would've been such a hit. Absolutely getting it for a younger relative – partially so we can all play with it!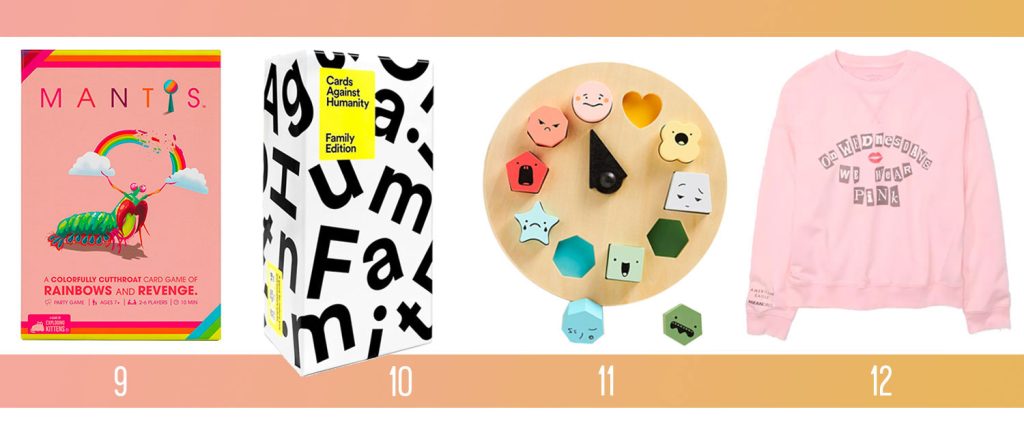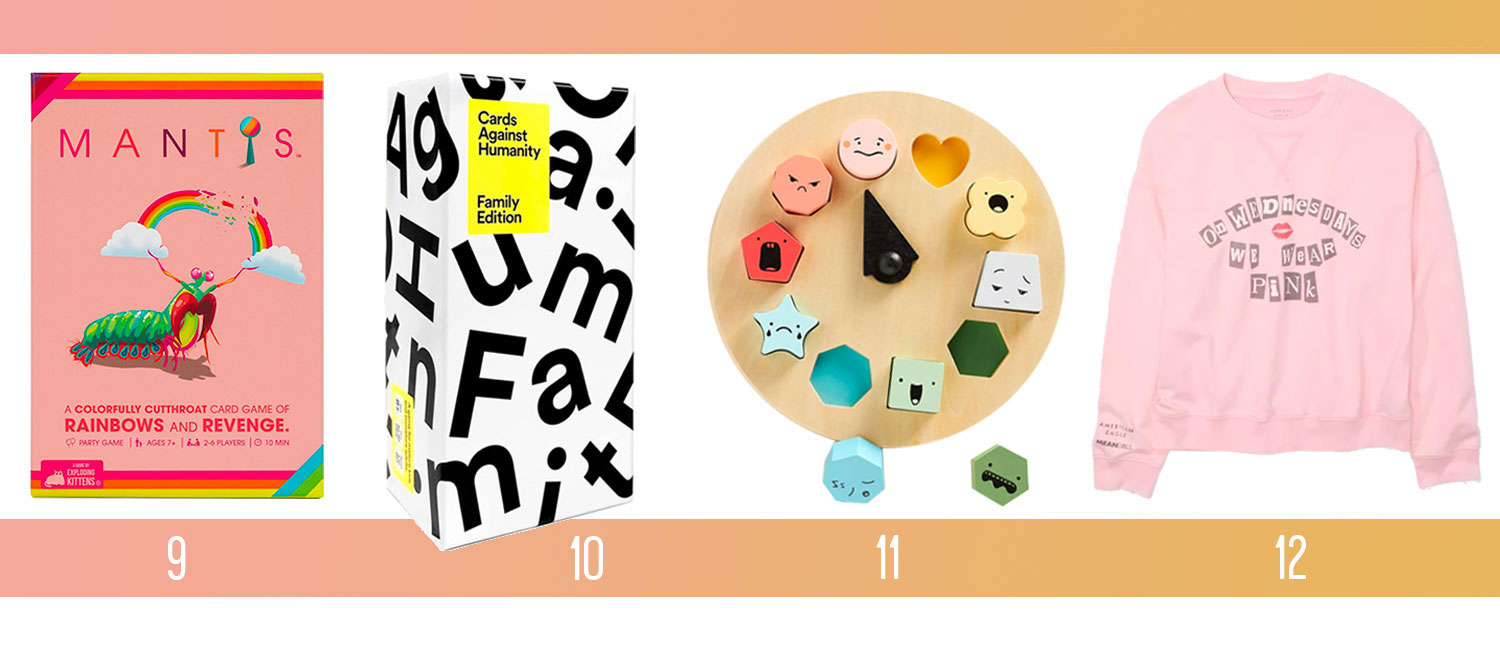 9. Mantis Game ($20)
This colorful card game is one of our family's favorites because it's clever, weird, and tons of fun. Also… yes the entire thing is based on colorful shrimp. Sidenote. You can see all of our favorite family board games here. So many good ones!
10. Cards Against Humanity Family Edition ($30)
We've gifted this hilariously potty-humored game twice already this year & we'll be giving it for a third time this Christmas. It cracks up even the most too-cool-for-school teenager and makes all the younger ones laugh too.
11. Shape of Emotions ($34)
Is this not the cutest toy for teaching little ones about their emotions? Honestly, I know some adults who might find it helpful. The colors are also adorable, and the ratings are great.
12. Means Girls Sweatshirt ($60)
Our middle schooler is eagerly awaiting the release of the new Mean Girls movie, so this "On Wednesdays We Wear Pink" sweatshirt would be great for her. Adding to cart.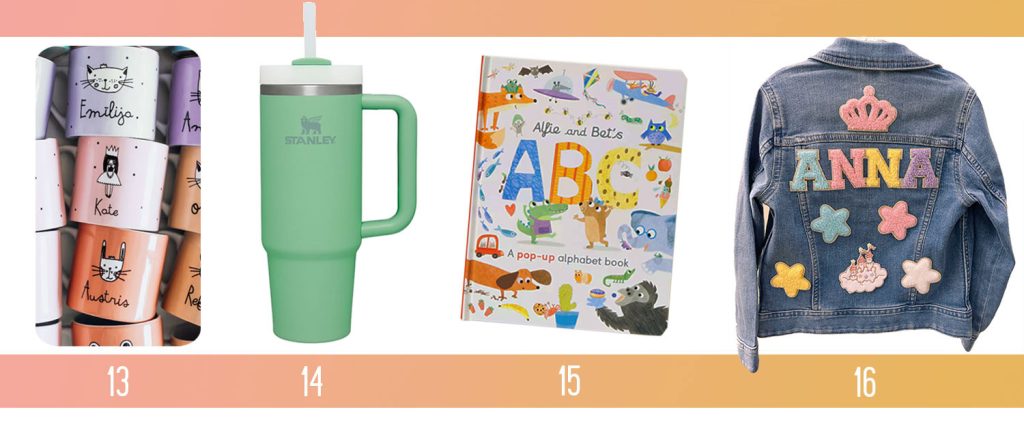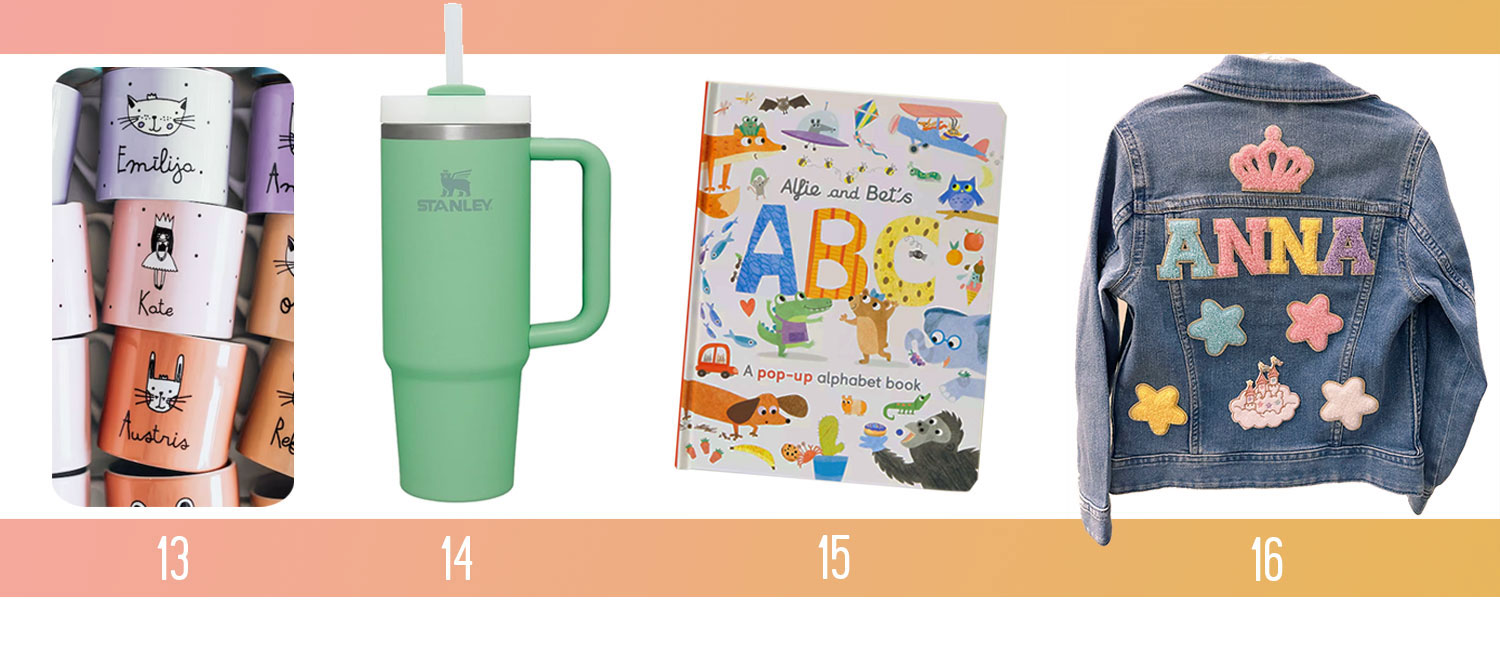 13. Personalized Kid's Mug ($16)
This cute kid-friendly mug can be customized by color, graphic, and the child's name. Would be great paired with some hot cocoa bombs or stuffed full of cookies. Truly the graphics you can choose from are SO CUTE!
14. Stanley Tumbler ($35)
This Stanley is the #1 thing our 13-year-old has asked for this year. I know, we're living in wild times where middle school kids carry these giant things around.
15. Pop-Up ABC Book ($13)
This adorable alphabet book has the cutest pop-ups and it's well-rated and priced under $15. There's also a companion counting book in the same listing (just click the other color) that looks pretty cute too.
16. Personalized Jean Jacket ($35+)
You can customize this denim jacket with the child's name and all the colorful patches are super fun. Not only does it come in a jean jacket version, it's also offered as a sweatshirt.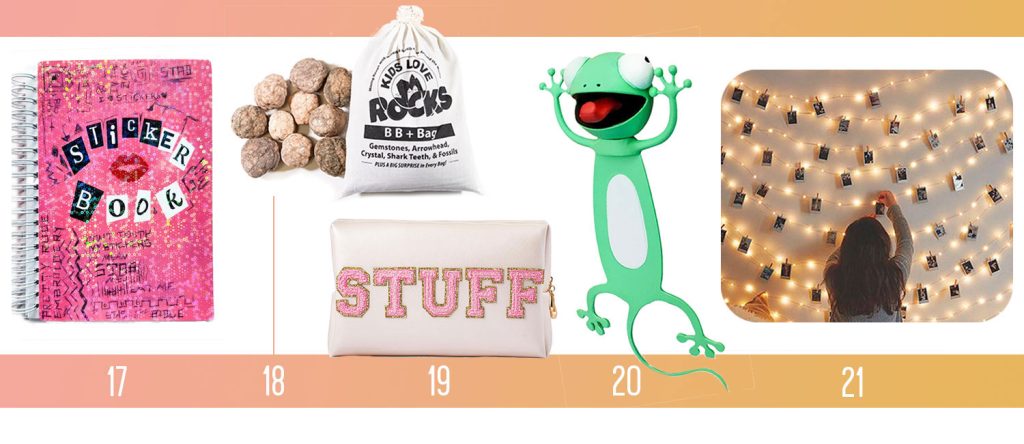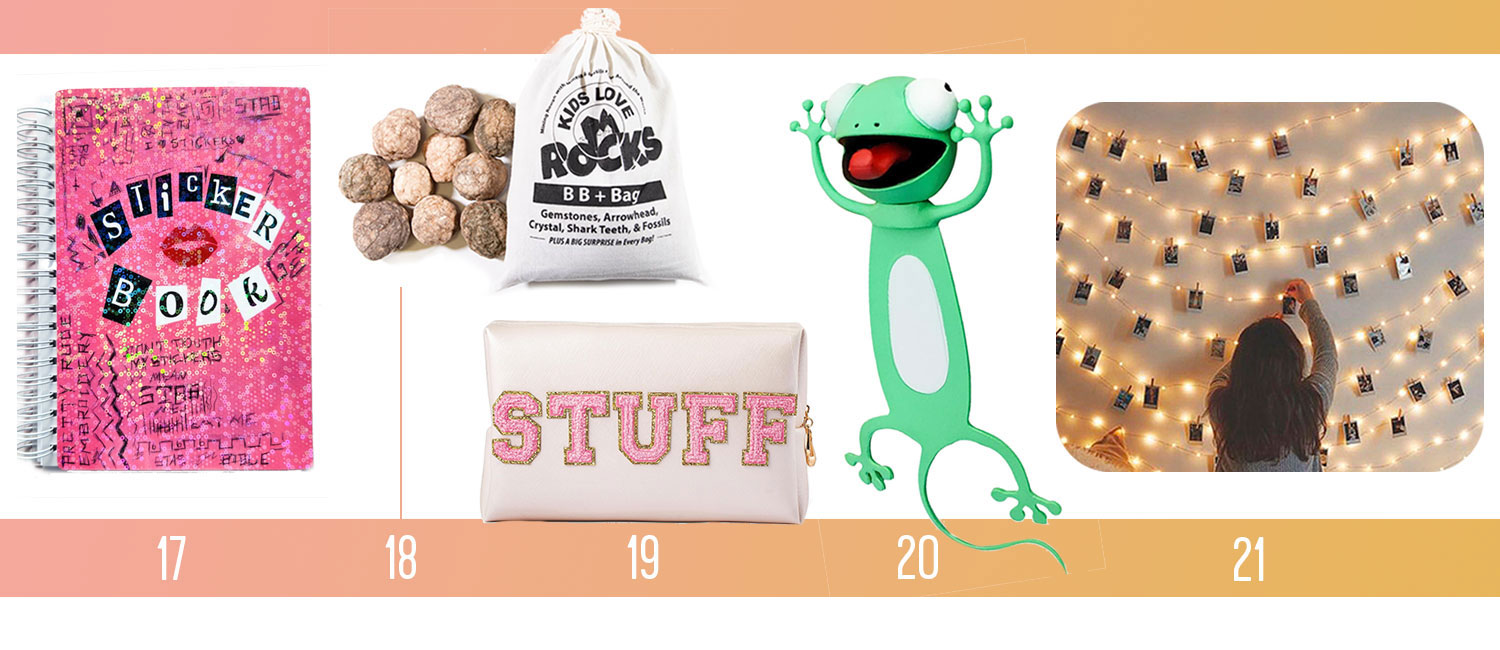 17. Reusable Sticker Book ($22)
The pages of this sticker book are made from the same backing that stickers come on. So your kid's entire sticker collection can be stored in one place (and repositioned to make different layouts). Super fun.
18. Break Your Own Geodes Kit ($19)
Let your child gleefully smash open 10 geodes or grab this larger kit that also includes fossils, shark teeth, and other gems. Our nine-year-old will go absolutely wild for this. For sure he's getting it.
19. Stuff Zippered Pouch ($10)
Our daughter already owns and loves this waterpoof toiletry bag for storing her various lip glosses & hair stuff. You can also get versions that say "skin" and "hair" instead of the more general "stuff" if you'd like.
20. Smashed Animal Bookmark ($10)
These funny bookmarks are great to pair with a new book and come in a variety of animal options. If your kid is one of the kids who also buys a bookmark at the book fair (raises own hand), these may be for you.
21. Photo Clip Fairy Lights ($10)
Both of our kids love having glowing lights in their room and these string lights have the added function of clips to hang photos from. A certain teenager of ours would love these.
Gifts Under $12.99
We've reached my favorite list of all, because not only do I love a deal, but I especially love if something is budget-friendly & feels personalized or special. These things would make great stocking stuffers, neighbor gifts, or even a good white elephant idea. They're also great for a "treat yourself" situation (I've been known to remind myself that even when I'm in "shopping-for-others" mode, I can get a fun little treat too).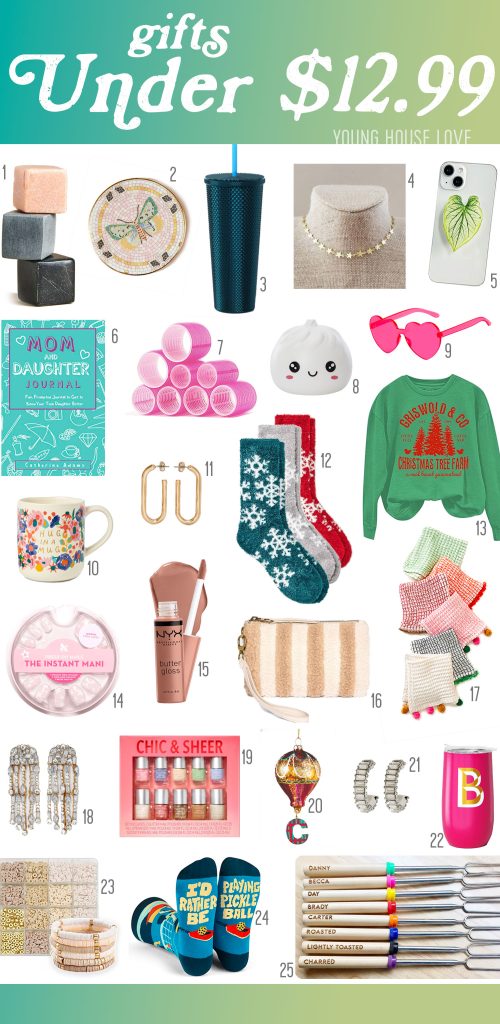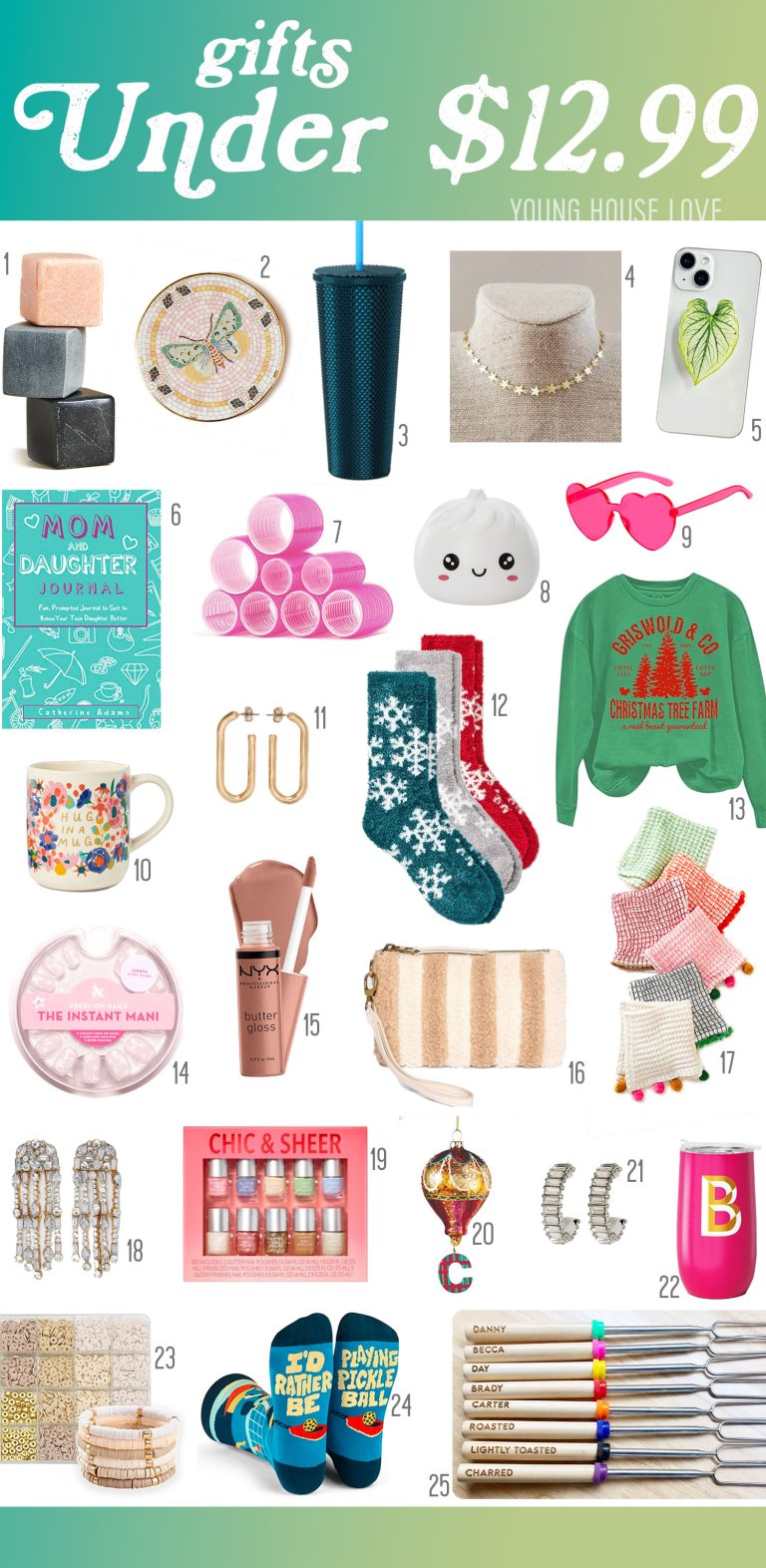 Let's zoom in on things a little more…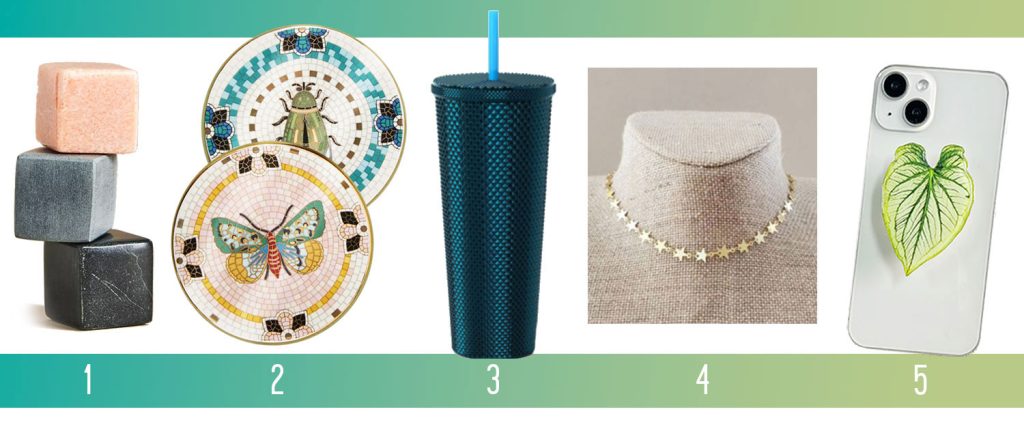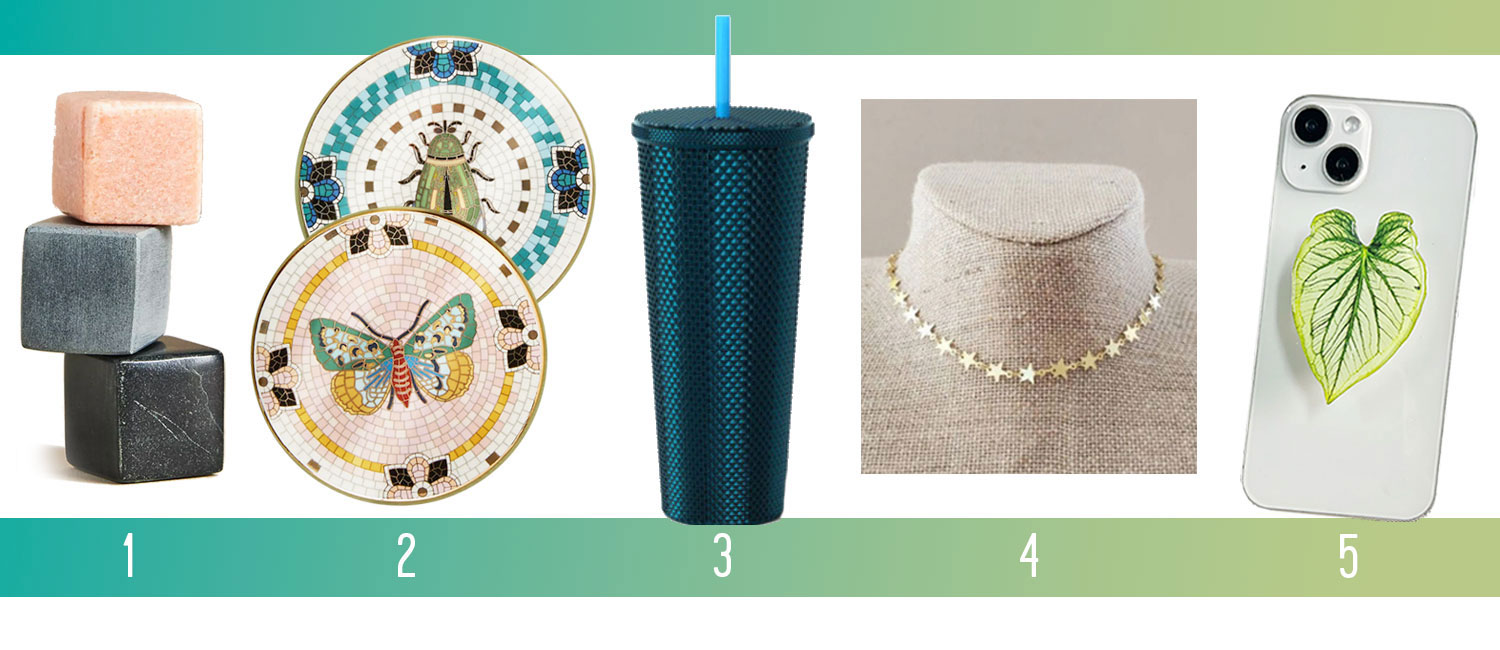 1. Marble Whiskey Rocks ($12)
This set of four marble rocks is meant for whiskey lovers but I think they look good on their own too. Use them to serve drinks when you entertain, but also… they'd look cute on open shelves when not in use 😉
2. Metallic Tile Coaster ($12)
These are just about the prettiest coasters I've ever seen. Not sure if the bee, the butterfly, or the beetle (not pictured) is my favorite. Could be really cute gifted with a dishtowel that matches the color scheme.
3. Studded Tumbler ($10)
These metallic tumblers come in 6 great colors (blue, green, gold, pink, yellow, and red!) and would be a great item to pair with coffee gift cards or teacher gift certificates/cashola.
4. Gold Star Choker Necklace ($12)
This dainty necklace is cute for adults or teens. Literally, our 13-year-old said she wanted one and I want one too. So delicate and shiny – and the price is right. Plus the reviews are stellar. See what I did there?
5. Leafy Phone Grip ($8+)
Our teen is a sucker for a pop socket, and this leafy phone grip is so cool. There are others to choose from by that maker too (I adore the veiny pink leaf). They look so real! This also makes a great adult gift BTW (wink, wink, John)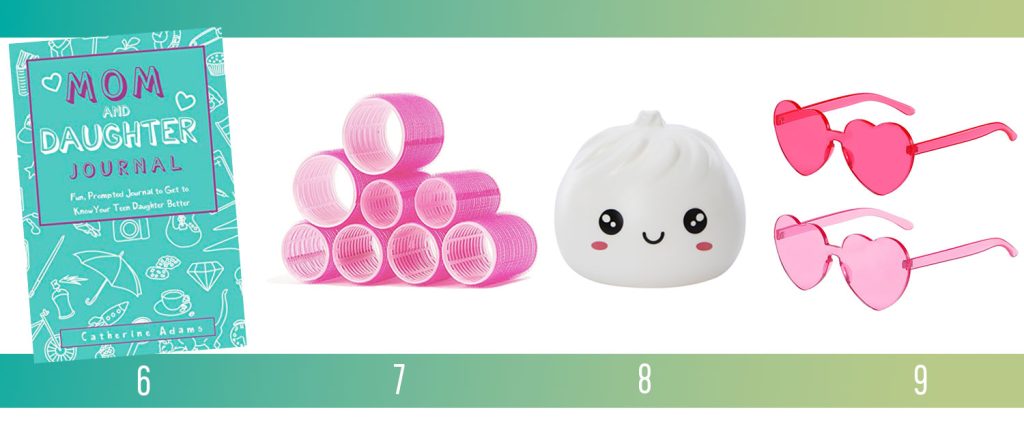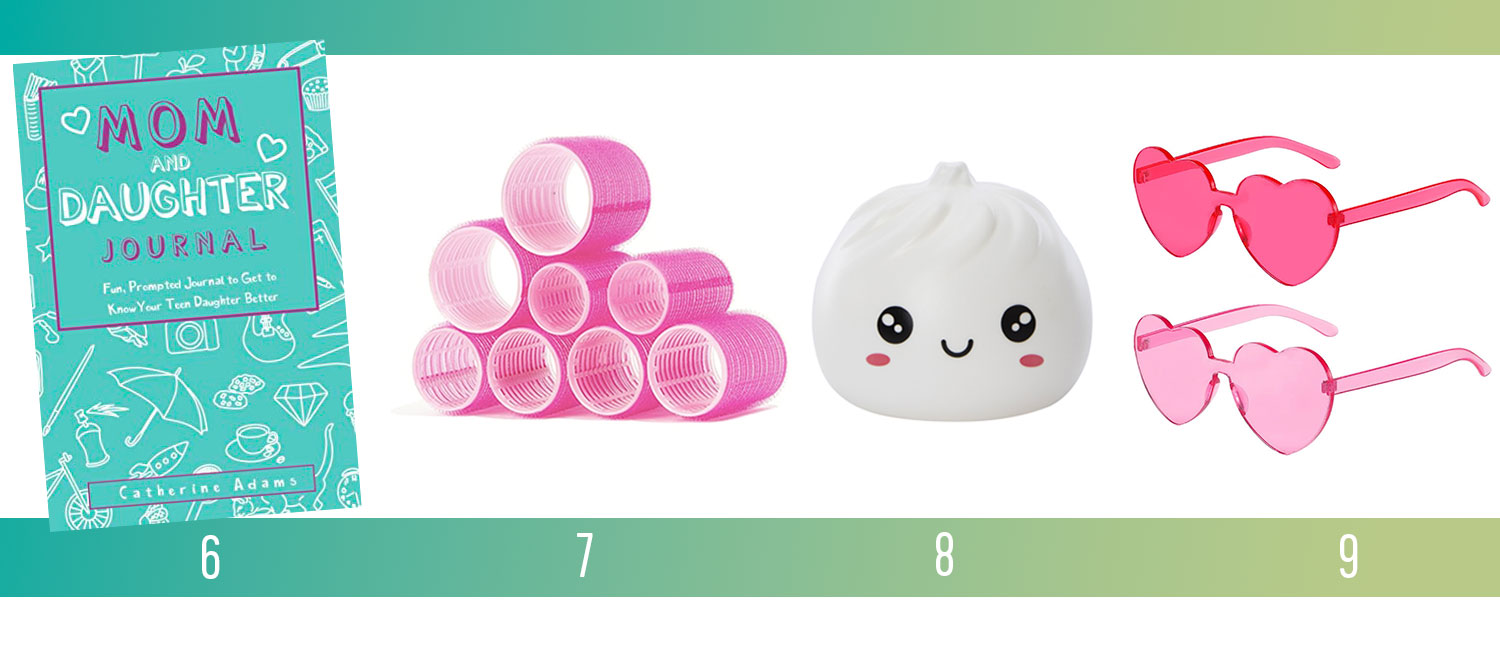 6. Mother & Daughter Journal ($10)
My daughter and I have done one of these shared journals (you pass it back & forth and write according to the prompts) and really loved it. This is the version we have & here's a link to the one above (it's even more affordable & has great reviews).
7. Heatless Rollers ($12)
These heatless hair rollers are also on our daughter's wish list (is it even middle school if one of your hobbies isn't "hair"?) but honestly I might get a set too. No heat curls are intriguing and I like that 8 come in a set instead of 6.
8. Dumpling Light ($6)
Our daughter recently picked out this exact battery-operated light for her room while in the store in person, and it makes her irrationally happy. It's very cute and the glow definitely contributes to "good vibes."
9. Heart Sunglasses ($4)
These heart sunglasses come in pairs (yes, it's 2 for $4!) and in multiple colors, making them great stocking stuffers or cute matching gifts for best friends, sisters, etc.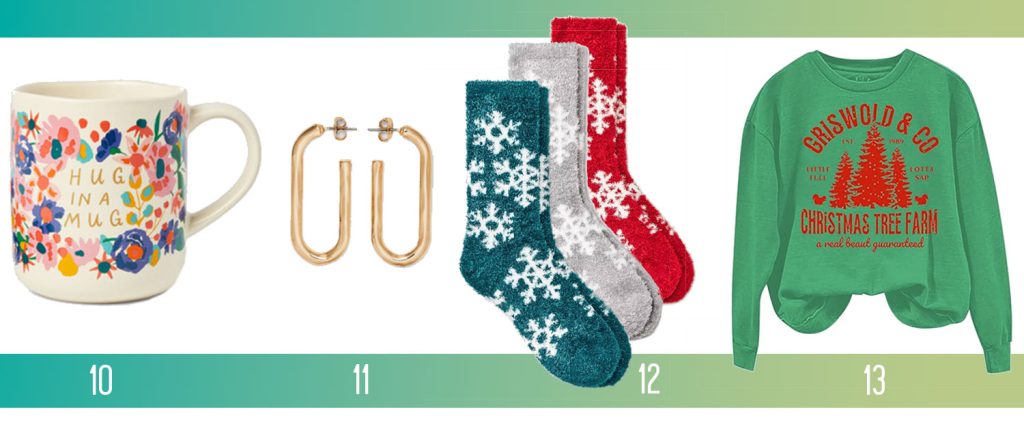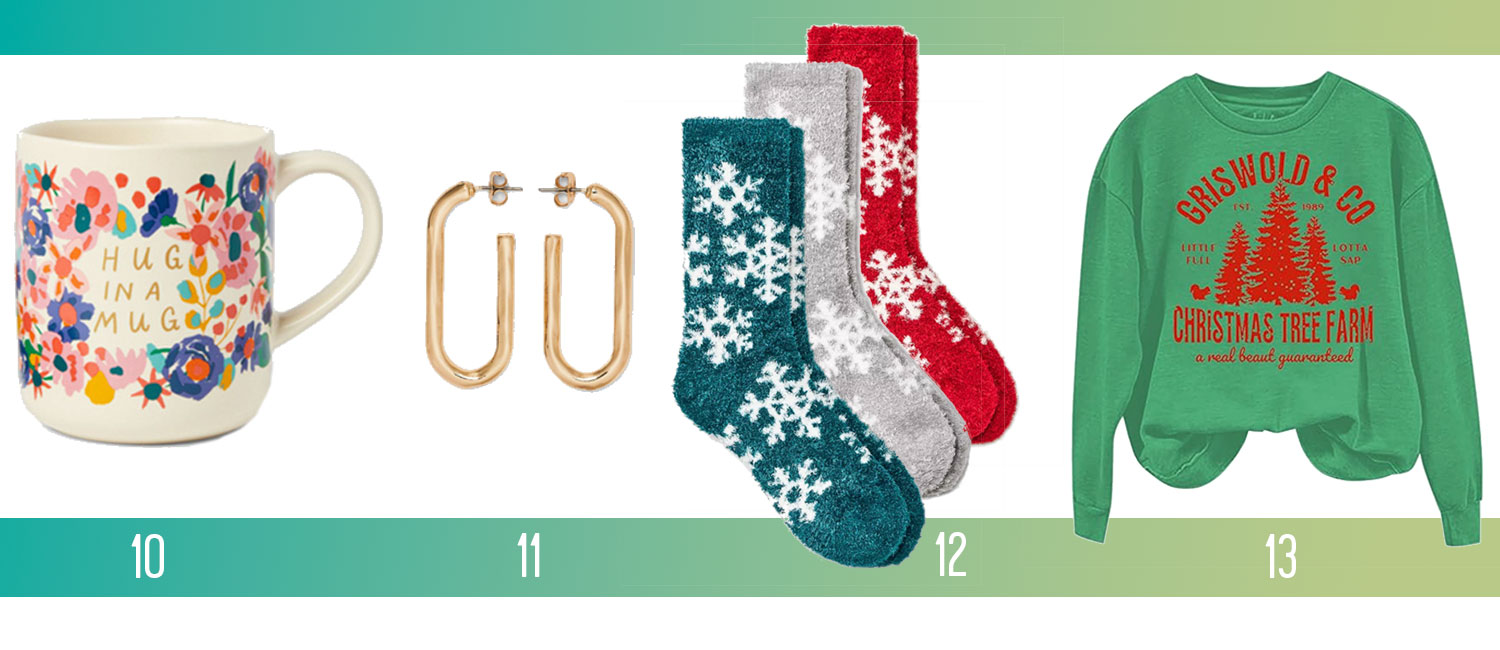 10. Hug In A Mug ($7)
This colorful floral mug is so cheery, and it's perfect for gifting full of homemade cookies, chocolate candies, hot cocoa mix, etc. This is exactly the kind of thing I'd try desperately to end up with in a white elephant exchange.
11. Hammered U Earrings ($10)
These U-shaped earrings are so clean and cool, I definitely just ordered a pair for myself. Sometimes you just gotta be your own Not-So-Secret Santa.
12. Cozy Snowflake Socks ($3)
These fuzzy socks are $3/pair (and come in 5 colors) and they'd make great last-minute neighbor gifts. Wrap them with a packet of hot chocolate and a card that says "warmest holiday wishes."
13. Griswold Sweatshirt ($10)
This "real beaut" of a sweatshirt comes in a few different colors – all of which are extremely cute. I feel like it could also double as a PJ shirt on colder nights and would definitely be cute at a casual holiday party.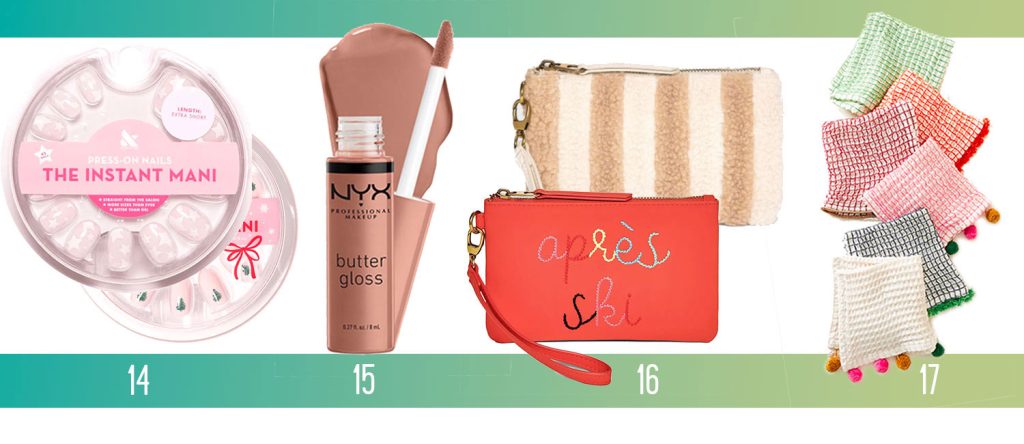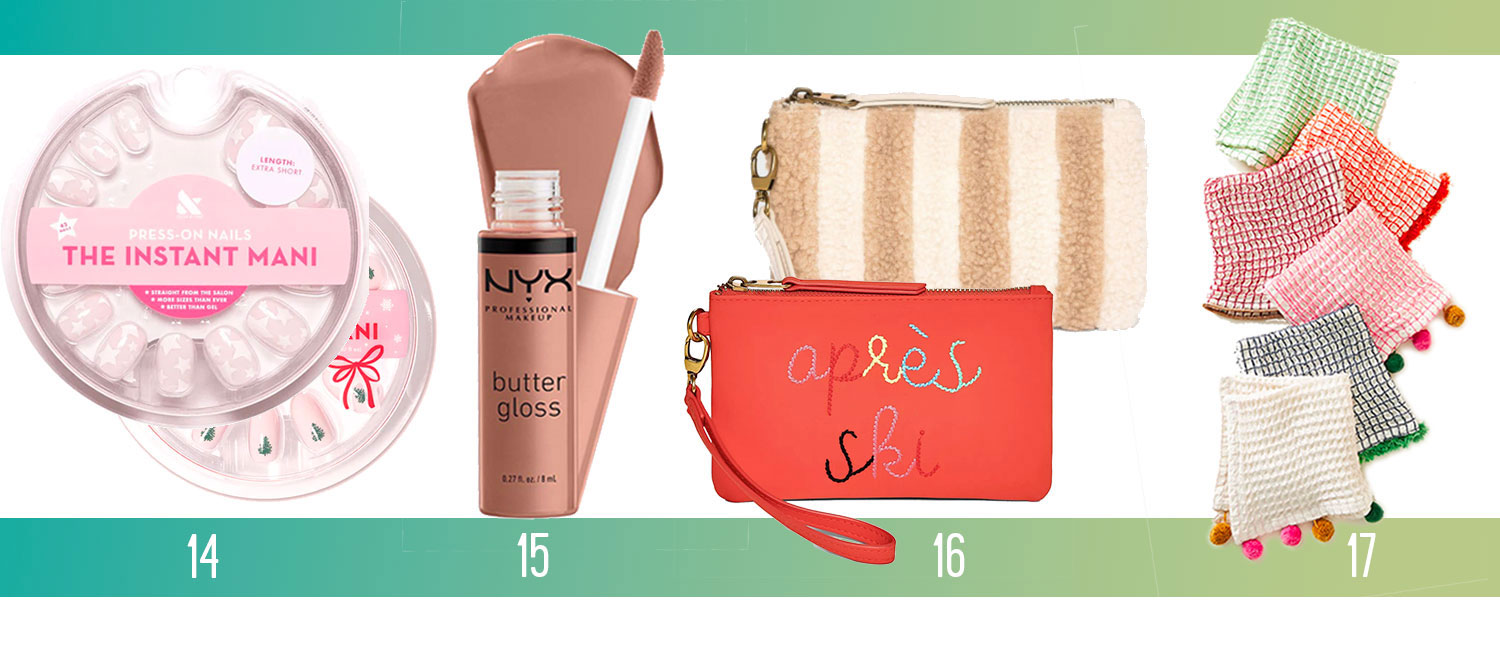 14. Instant Mani Press-On Nail ($10)
I'm a big fan of these easy faux nails with fun patterns on them, like this set with little Christmas trees. I've also personally used the set with the subtle stars on it with my daughter and she loved them (and didn't damage her natural nails).
15. Butter Lip Gloss ($6)
This non-sticky lip gloss is something I already own and love. The color is perfection and at just $6 it goes on so smoothly and doesn't dry out my lips like some other inexpensive glosses do.
16. Wintery Wristlet ($12)
These fun wristlets are so affordable you could slide gift cards into each of its 3 card slots for a fun surprise inside. Can't decide if I like the red one or the fuzzy striped one better. There's also a cute sweater-inspired version with an adorable tassel.
17. Holiday Dishcloths ($4.50 each)
I love a bulk gift that you can break up to make a ton of affordable gifts for friends or neighbors – and it's so smart to divide this set of 6 pom-pom dishcloths and deliver them with homemade holiday treats or cute little cards.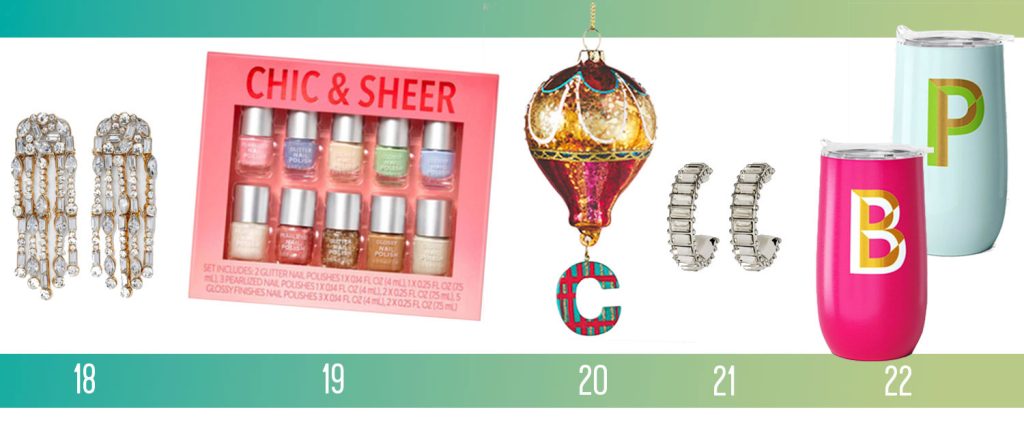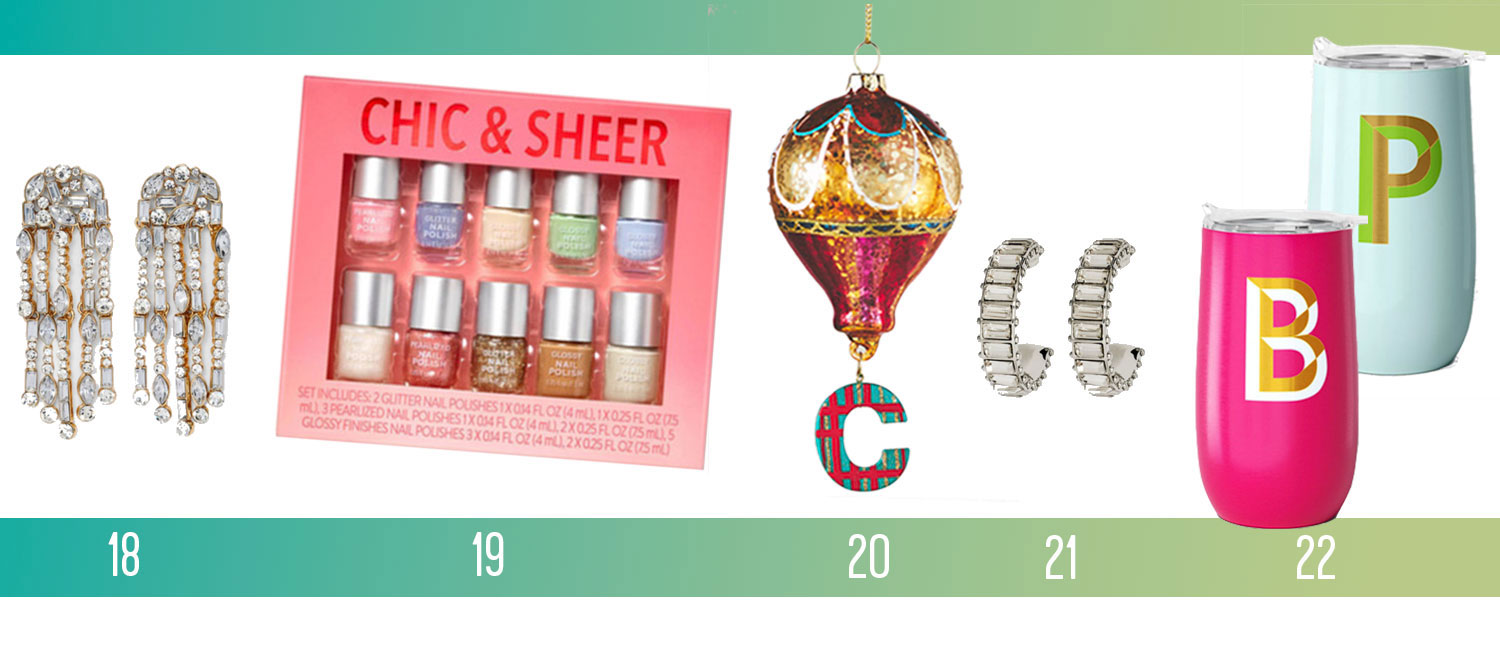 18. Crystal Cluster Earrings ($12.99)
These dripping crystal earrings are glamorous and such great statement pieces (without a statement price). Oops, I just ordered myself a pair of these too. They're perfect for a holiday party with a black dress.
19. Nail Polish Gift Set ($10)
This set of 10 glittery nail polishes is great to give together or break up as $1 stocking stuffers. Kind of can't believe the price – and you could make a cute card with a "being awesome? you're nailing it" pun.
20. Hot Air Balloon Ornament ($12)
These vintage-style ornaments come in every letter of the alphabet and make for such a personalized gift for this price point. Pick the last initial of a family member or the first initial of a new baby. So cute.
21. Crystal Hoop Earrings ($8)
I like these glam hoop earrings just as much as the other earrings on this list – oops they jumped into my cart too. These feel so classic yet fancy, and you can't beat that price.
22. Stainless Steel Monogram Tumbler ($5)
I think these brightly colored monogram tumblers would be great as grown-up stocking stuffers. The design and the color combinations are really great – and for $5?! Are you kidding me?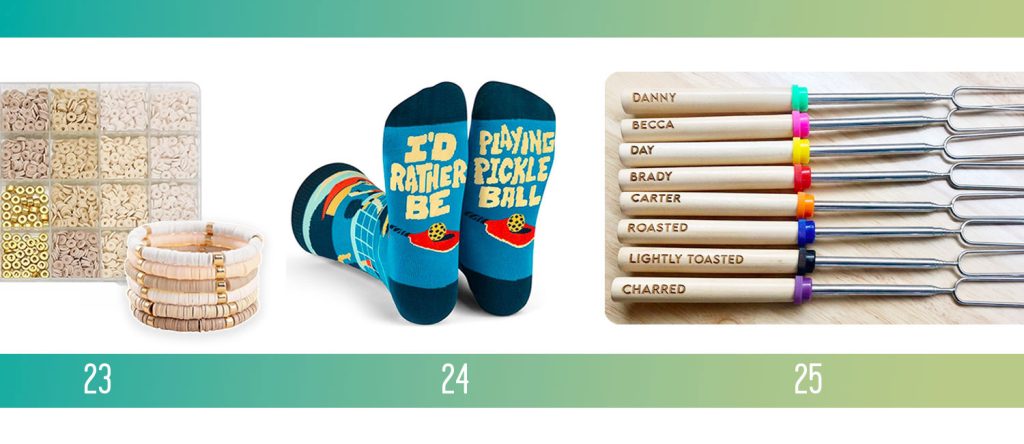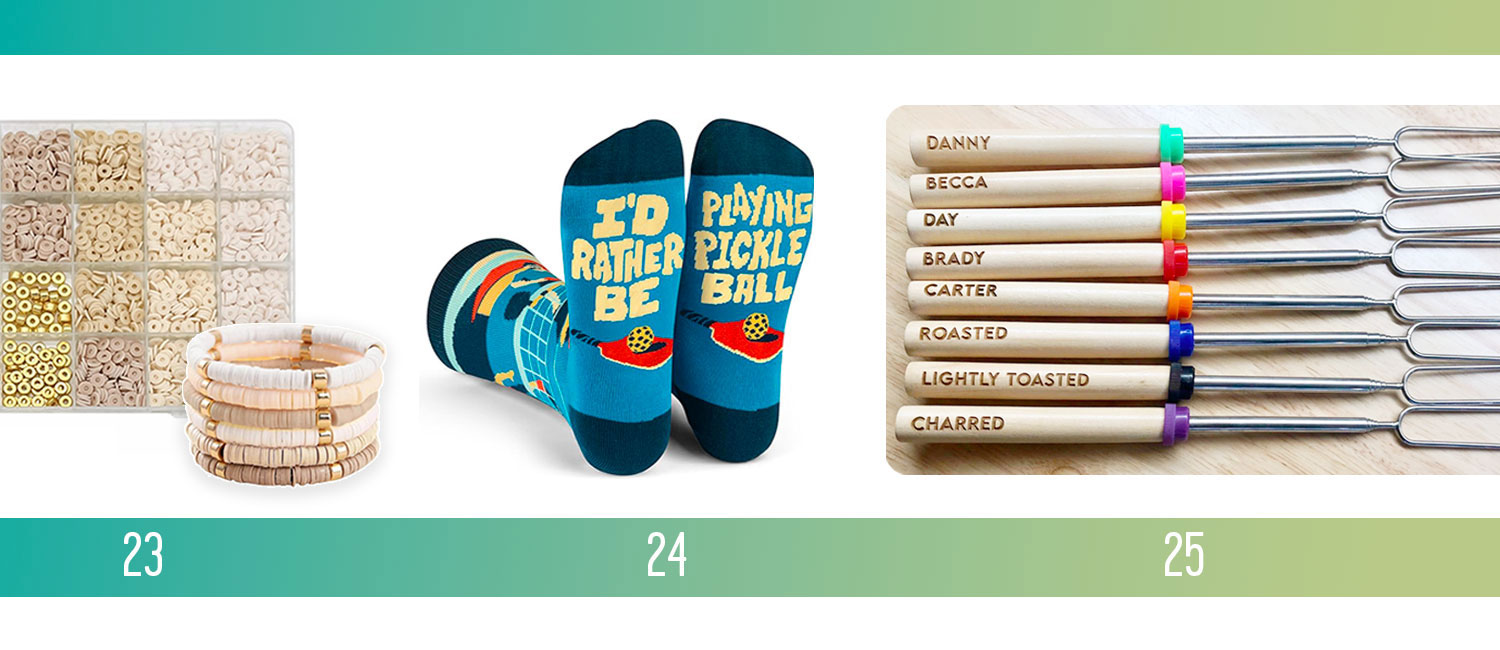 23. Bracelet Bead Kit ($7)
Our daughter loves to make jewelry and the neutral and gold colors of this bracelet kit are right up her alley. I love giving creative gifts with "some assembly required" because the experience of making something is part of the gift!
24. Pickeball Socks ($12)
This listing has all sorts of "I'd Rather Be Playing…" socks, but something tells us these pickleball ones will be the most popular this year. Everyone seems obsessed with it lately – and novelty socks are always a good stocking stuffer.
25. Personalized S'More Sticks ($4)
These are custom versions of our go-to s'more roasting sticks to minimize marshmallow mix-ups at your next bonfire. It's a cute idea to give all the cousins their own s'more sticks, and at $4 each, it's totally doable.
NEED MORE GIFT IDEAS?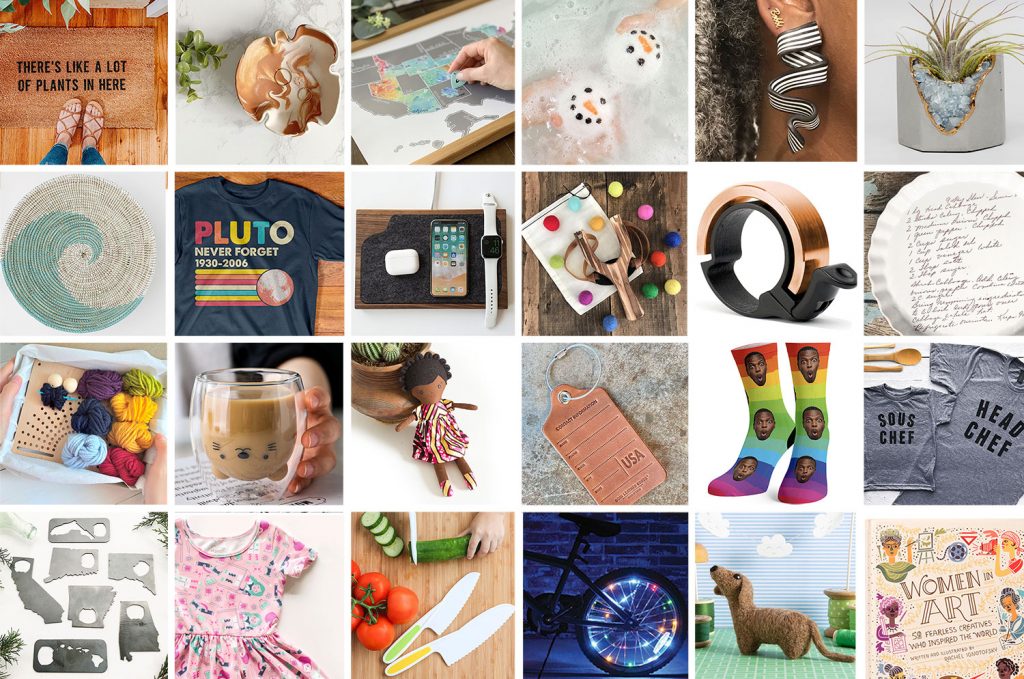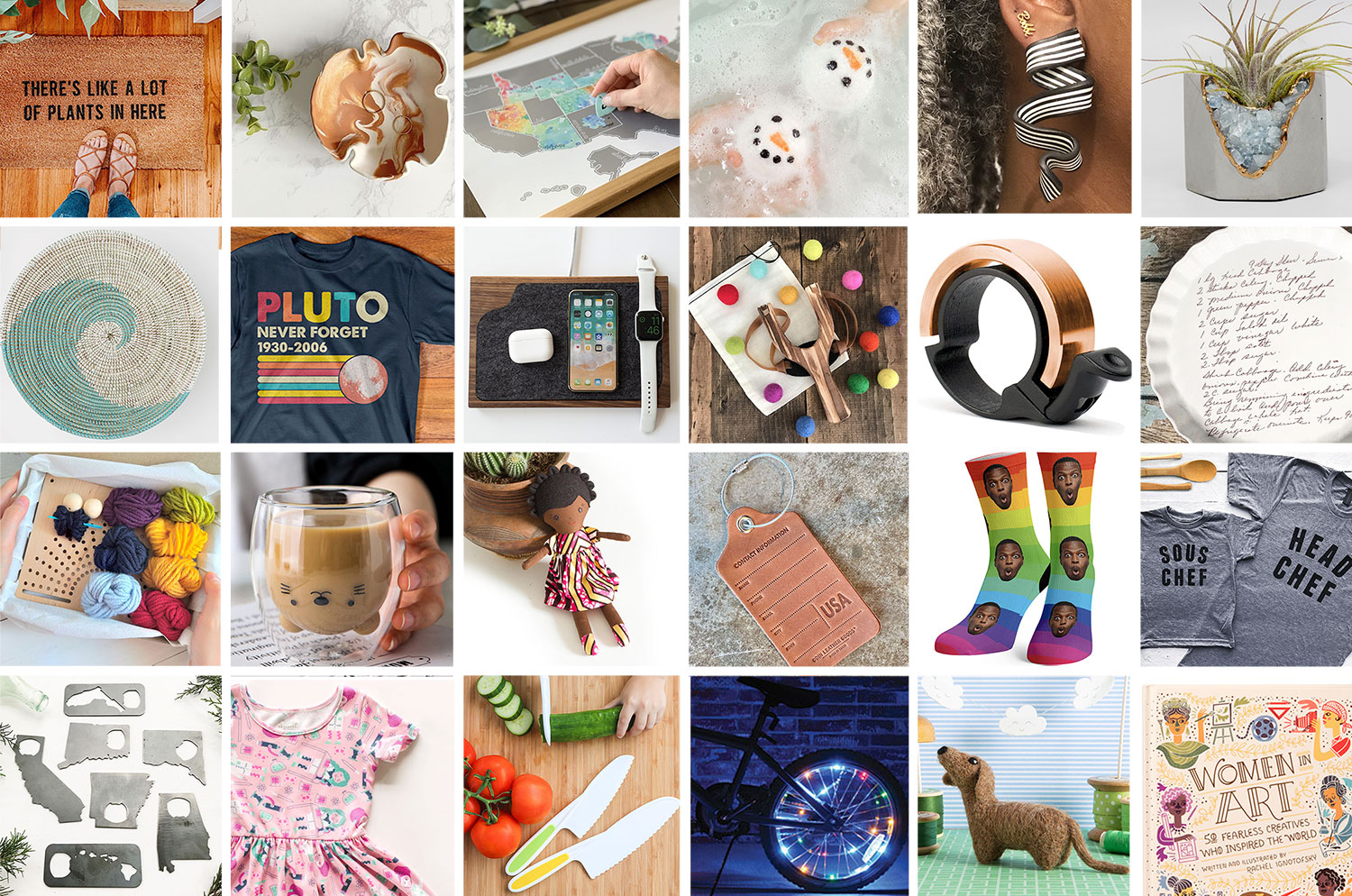 If you're still on the lookout for a few more ideas, please don't forget about our Black-Owned Business List (there are TONS of highly recommended products & amazing makers to support in there). And we have an entire post dedicated to our favorite family games with descriptions & categories for you too.
We also have our gift guides from previous years listed for you below (many of those items are still sold):
*This post contains affiliate links, so we may earn a small commission when you make a purchase through links on our site at no additional cost to you.
More posts from Young House Love