Last week our family took a last-minute, 2-day-3-night trip to Charleston, South Carolina and it was *chef's kiss*. It was our first time there, and we arrived having done zero planning and no itinerary with the goal of exploring, enjoying the sights, and eating some good stuff along the way (spoiler: we achieved all three!). Honestly, it might have been our favorite weekend trip yet (tied with New Orleans). So here are all the places, activities, and meals that made our trip so great.
Why We Picked Charleston As A Spot To Visit?
Ever since we moved to Florida three years ago, our family vacations have changed a bit. We used to almost always pick places with a beach and/or pool nearby, but now that we have both at home, we find ourselves more interested in walkable cities or small towns with interesting sights, shops, parks, restaurants, and more. And Charleston was just about perfect for that! As our children have gotten older – they're now 9 and 13 – they enjoy exploring more, and we no longer find ourselves seeking out playgrounds and children's museums. So while everything we did here was totally kid-friendly (and dog-friendly!) it may not be perfect for younger kids.
Where We Stayed In Charleston, SC
Part of the reason we booked this trip so last minute is that we came across this awesome-looking Airbnb that happened to be marked down to fill a few days between bookings (and you know we love a sale). We stayed for 3 nights, and it was such a great spot and a well-managed rental, as the many reviews attest to, which is what made it easy for us to click that book button. It would've totally been worth the full price too. Note: this wasn't paid or sponsored in any way & they don't know us from Adam.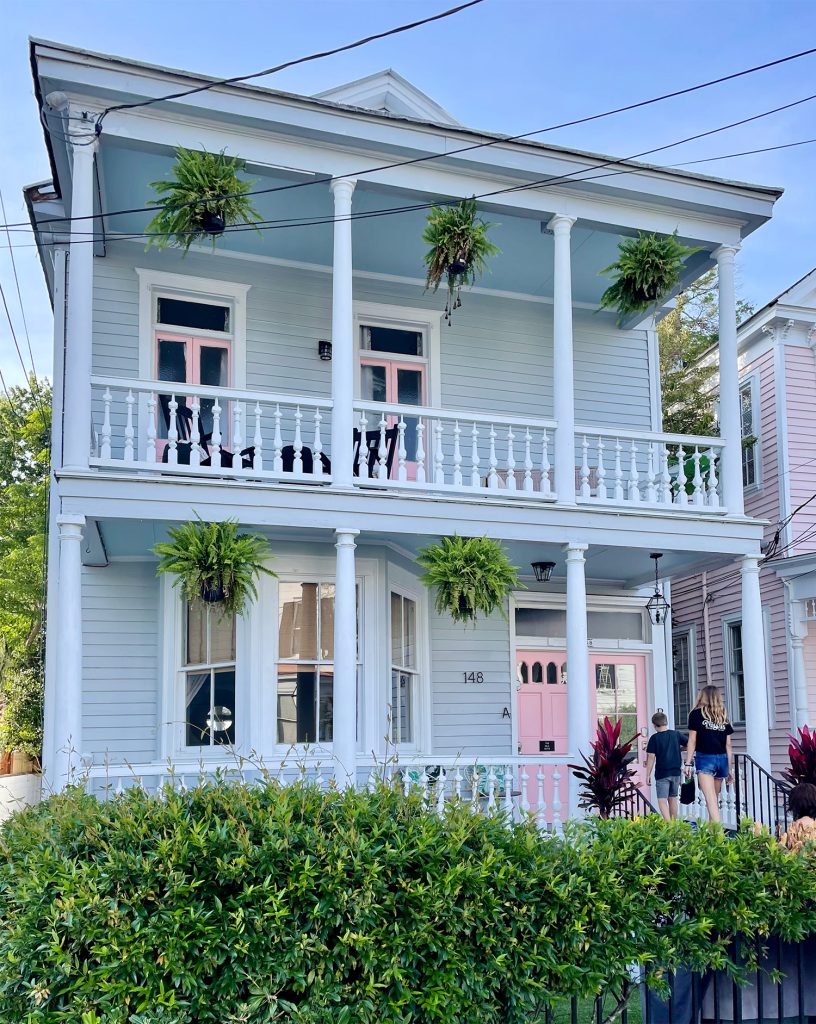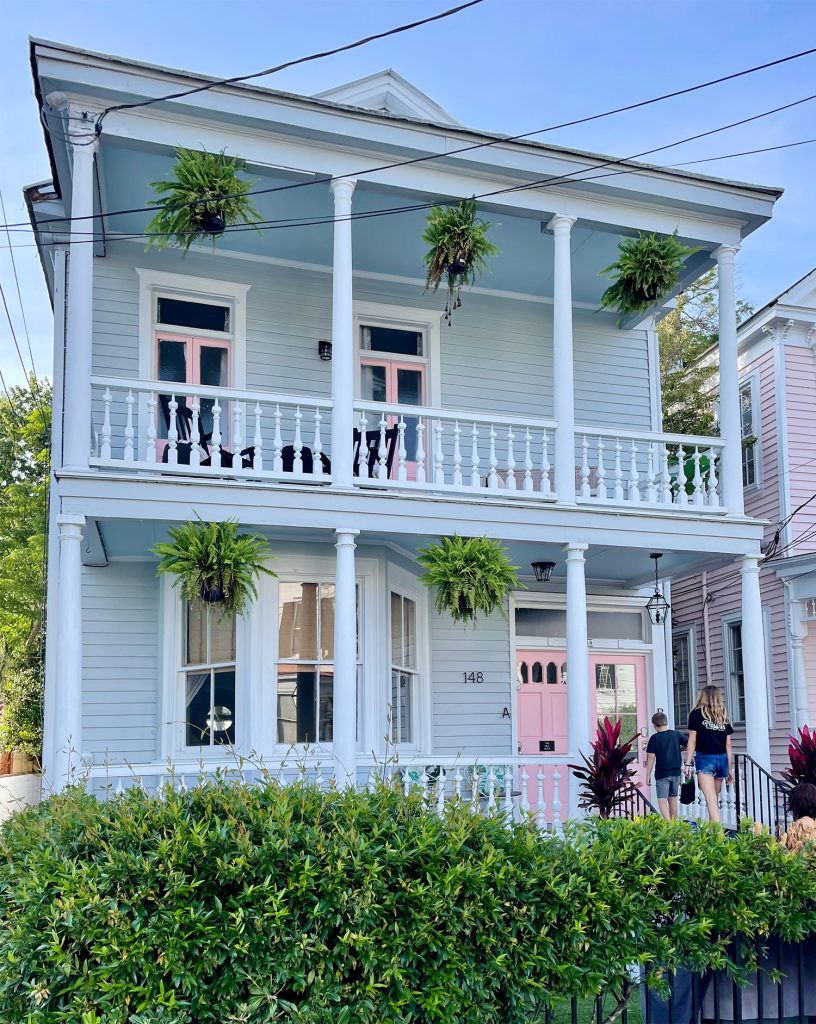 We had the upstairs unit ("The Poppy Suite") but the downstairs is also available from the same host, as well as a few other listings around Charleston. We can't say enough good things about it. It was well decorated, very clean, well stocked, and both kid- and dog-friendly. The only drawback for some people might be that it only has one bathroom, but you all know that we're quite comfortable with that!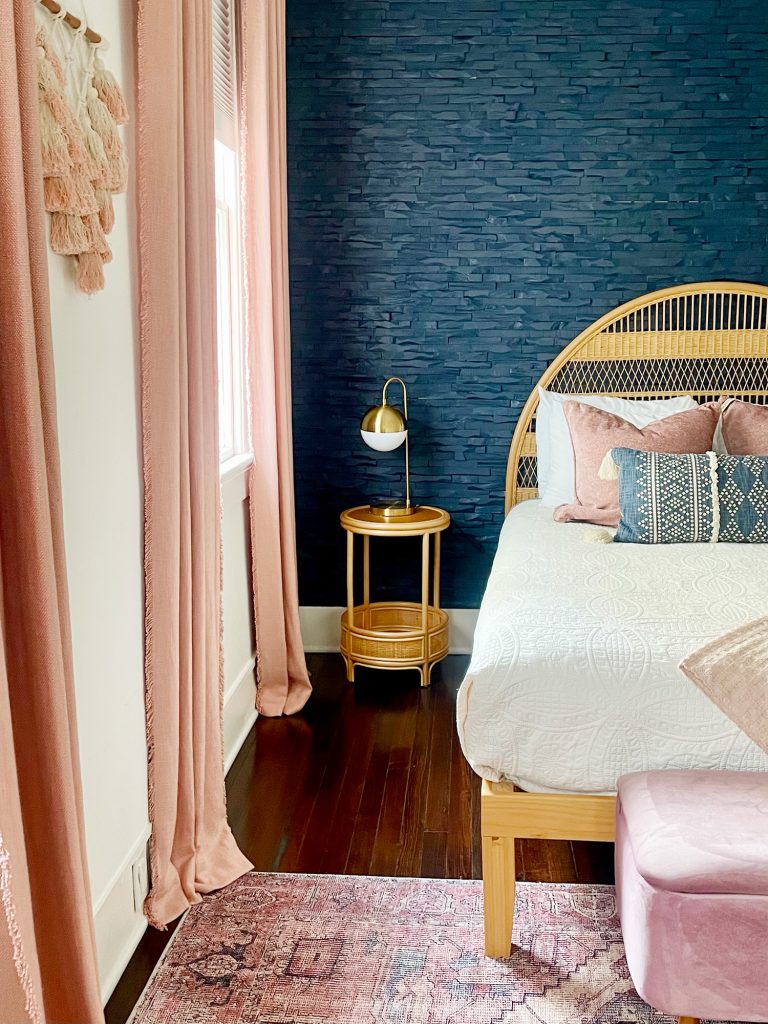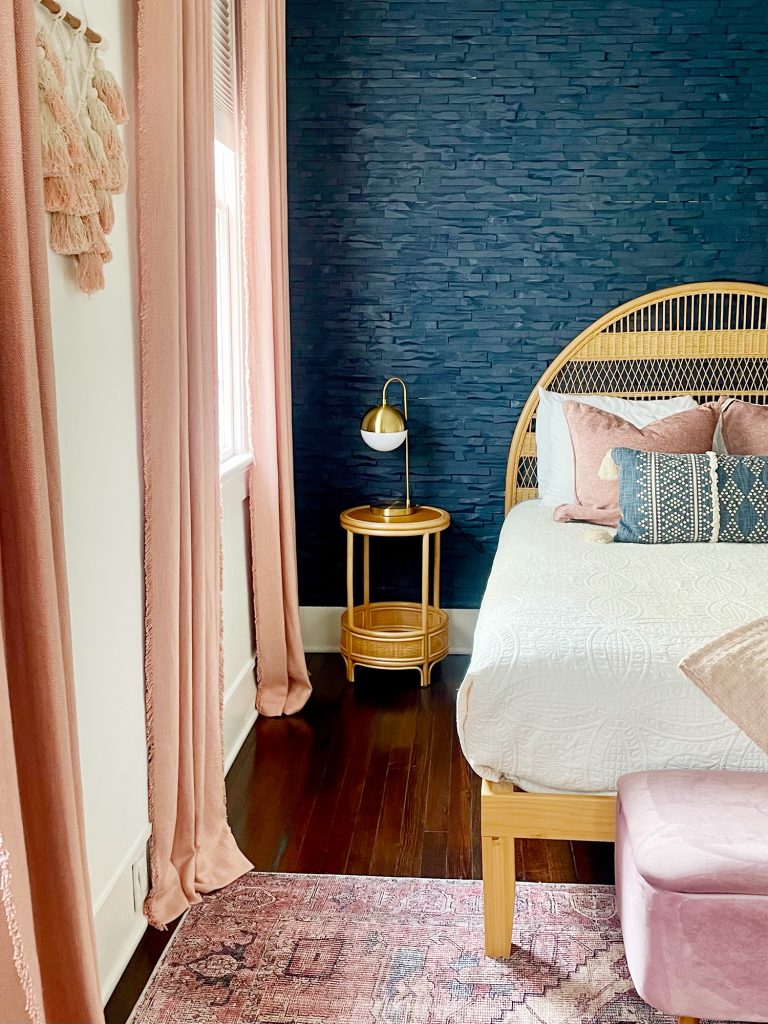 The middle bedroom pictured above is where our daughter slept, and our son had a cute bunkroom in the back. Sherry and I took the front bedroom because it opened out to the front balcony, which we heavily used and loved. We spent a couple of hours out there during both of the full days that we had in Charleston, just hanging out and reading and enjoying the breeze. It was the perfect spot to take a break from walking around (especially during the hottest parts of the day) because it stayed shaded and I can't promise you'll experience the same breeze that we had, but it was there both days we were out there, and it was good.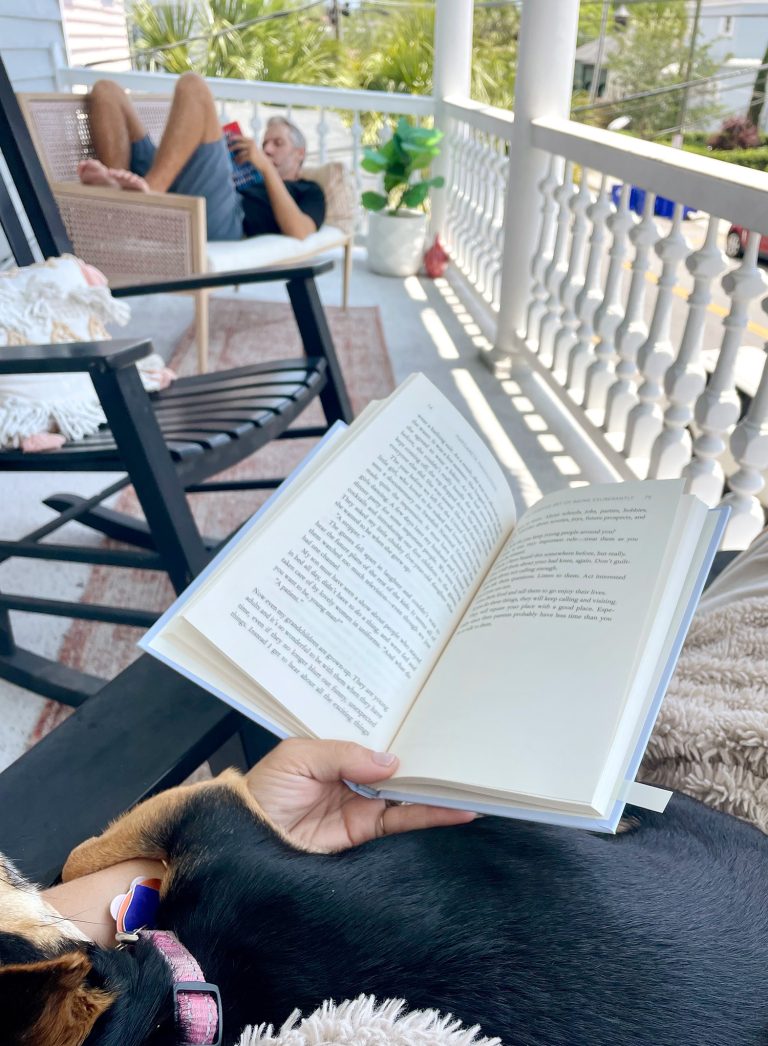 And as much as we liked the Airbnb itself, we mostly picked it because it was in a great location that was walkable to restaurants, coffee shops, and more. It's in a neighborhood called Cannonborough / Elliotborough, for those familiar with Charleston.
Where We Explored In Charleston, SC
Since we were only in Charleston for two full days, we decided to use one day for exploring the city and the other for checking out some of the surrounding beach communities (not just for the beach – a friend tipped us off about some great food and things to do out there too).
We opted for a go-with-the-flow style trip, rather than popular tourist activities like visiting historical sites or museums so keep that in mind. There are many of those things to do in Charleston if your family is looking for that kind of trip as well. During our city day, we walked from our house on Spring Street down to King Street – the main street full of shops and restaurants that traverses Charleston – and just kinda popped into shops, ate, and enjoyed the architecture along the way.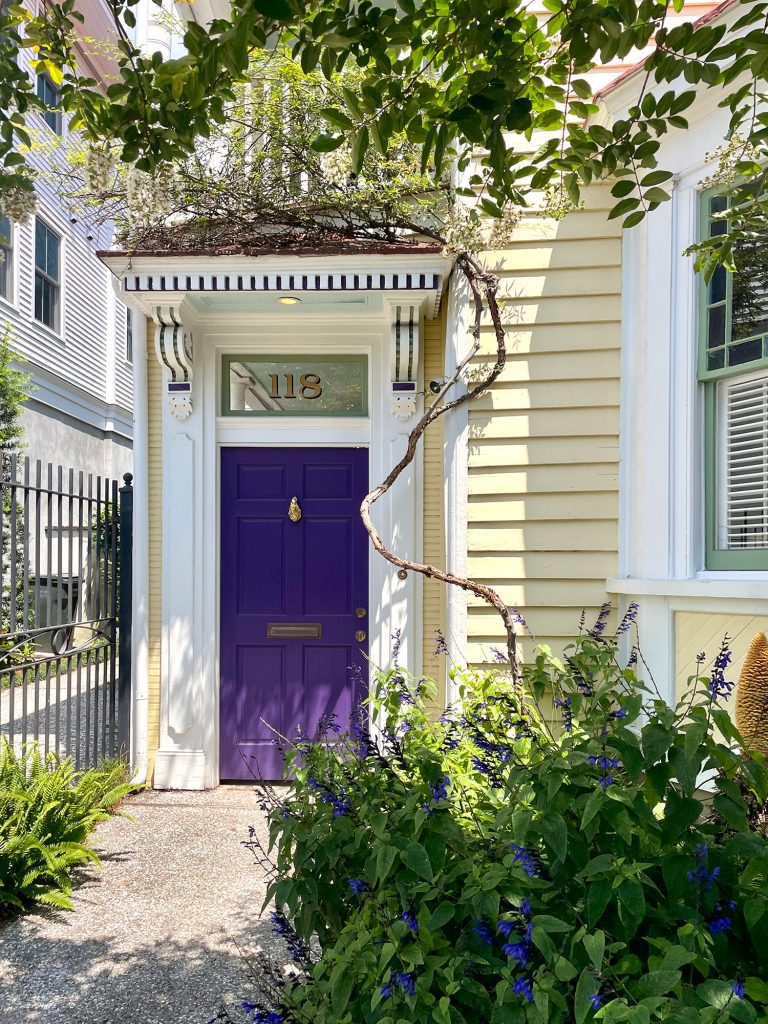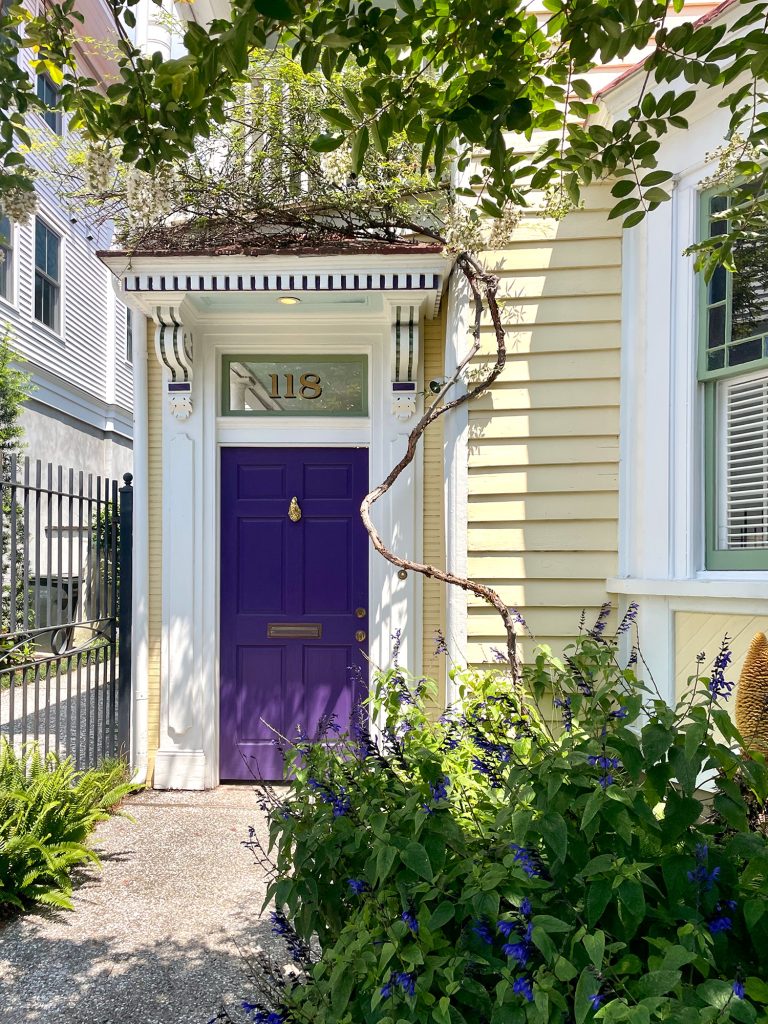 We probably could've spent a whole day (or more!) just walking and looking at all of the historic homes. They also had guided walking tours that looked fascinating, so if we ever went back I think we'd try one of those. I'll share our favorite stores and restaurants in a minute, but first I have to drop in a few more beautiful homes. We loved seeing all of these iconic Charleston side porches with their own "hospitality doors" along the front (they look like a real front door, but just lead to the open-air porch on the side).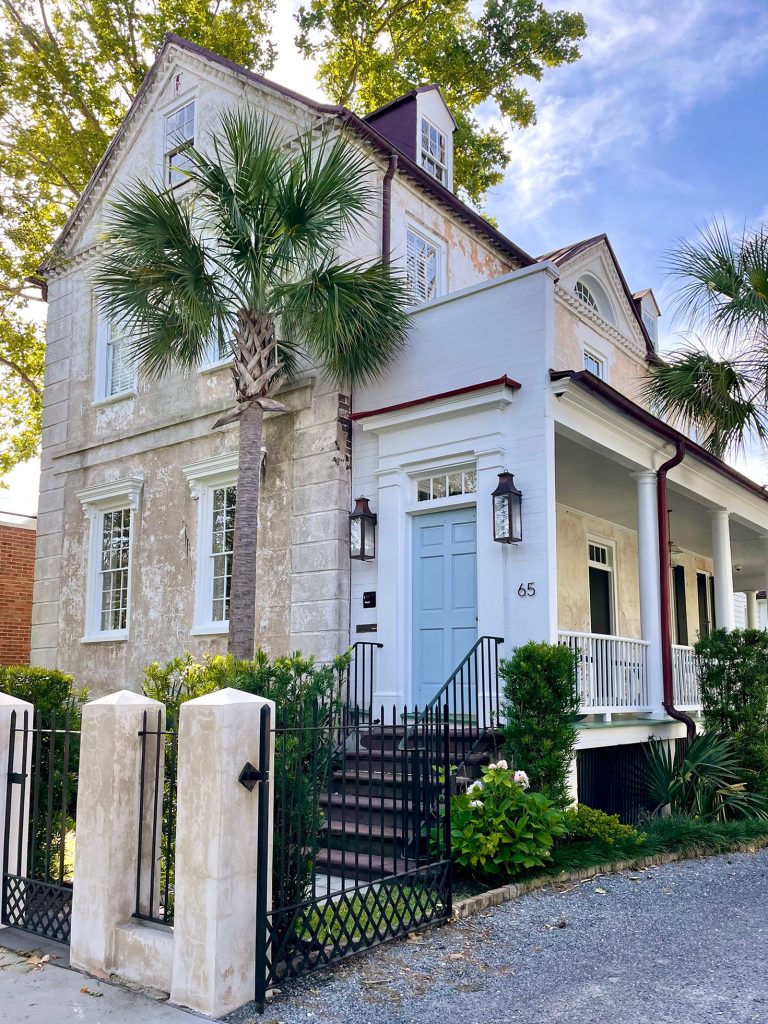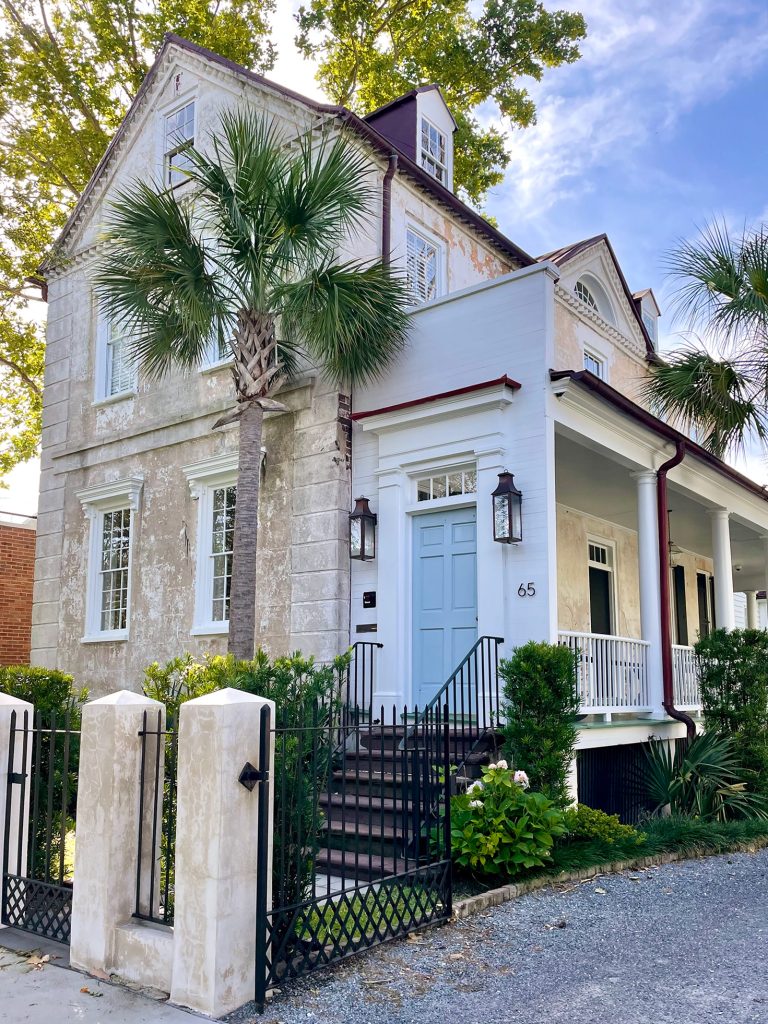 Charleston felt like such a cool city because although there are so many very old homes and historic details, it was also colorful and lively. It didn't hurt that we were there when everything was in bloom. And let me tell you, this city LOVES window boxes.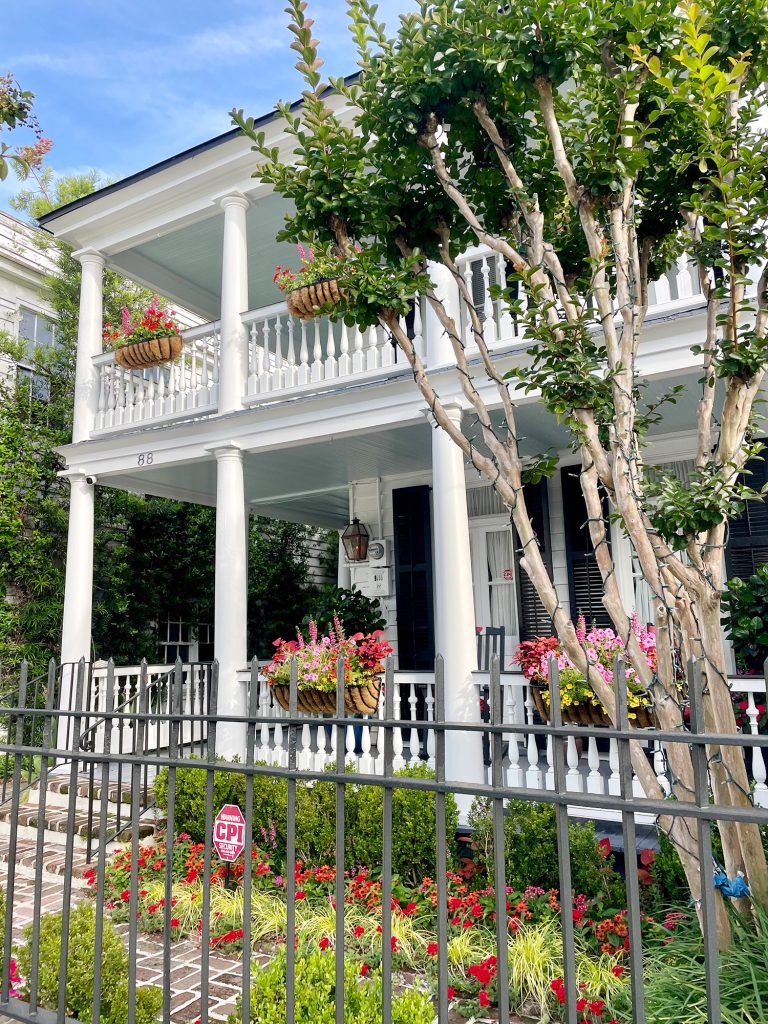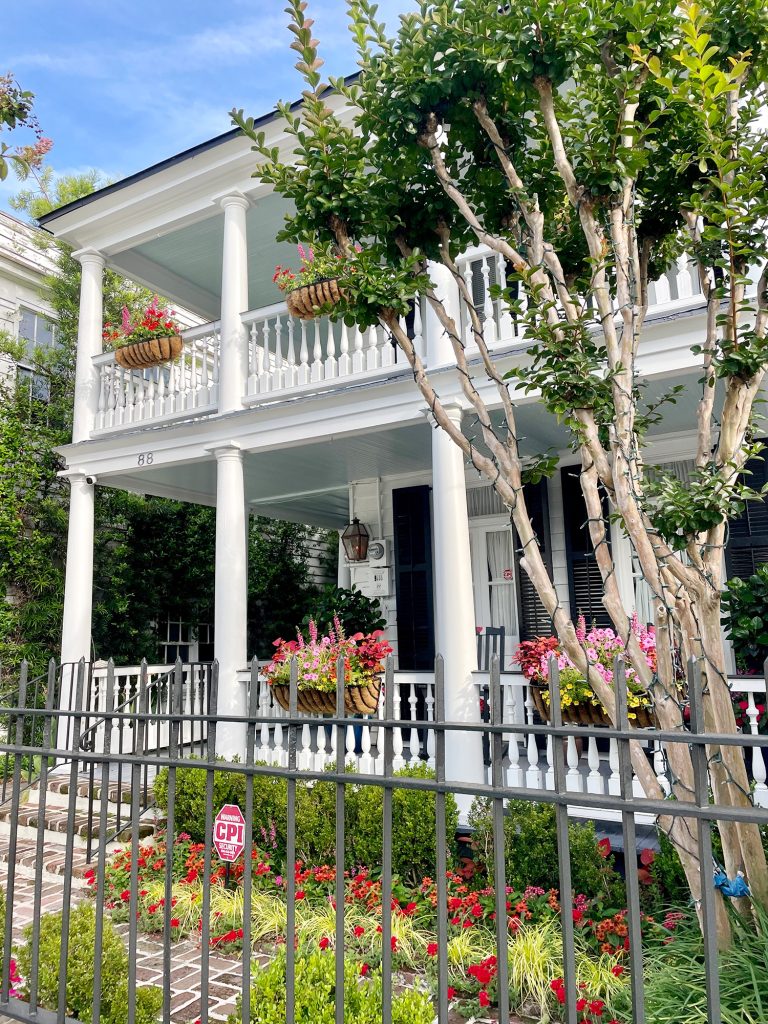 And just look at this bright pink church we wandered past in Charleston's French Quarter (yes, they have one too, just like New Orleans, which is another weekend trip we took & loved this year).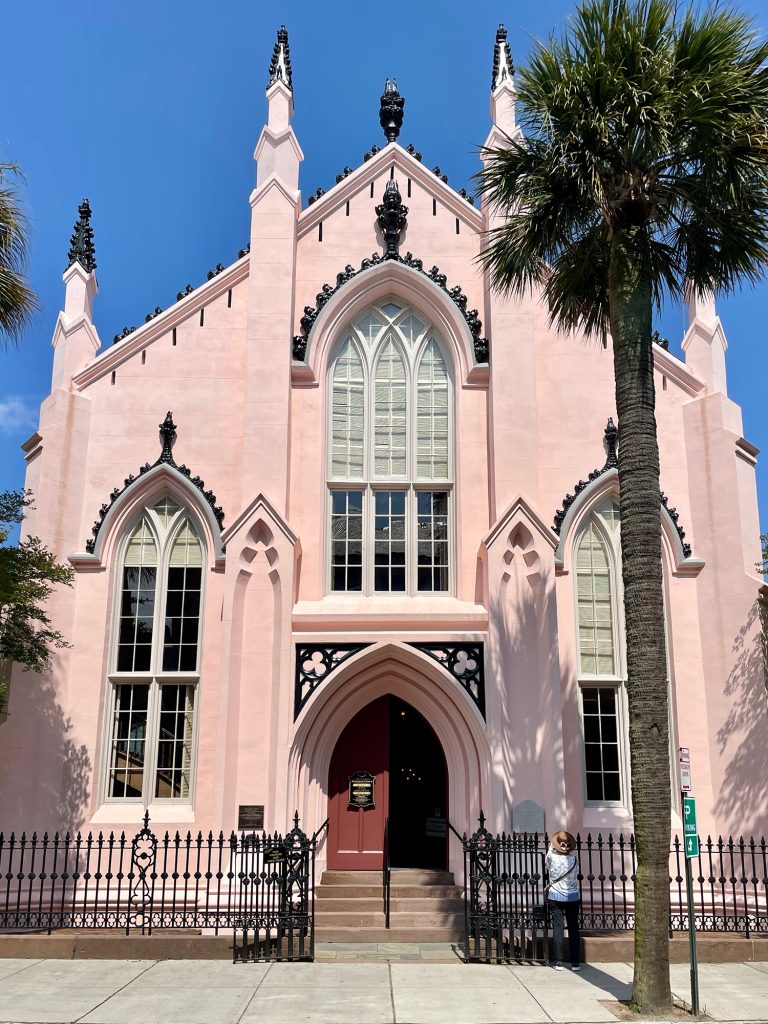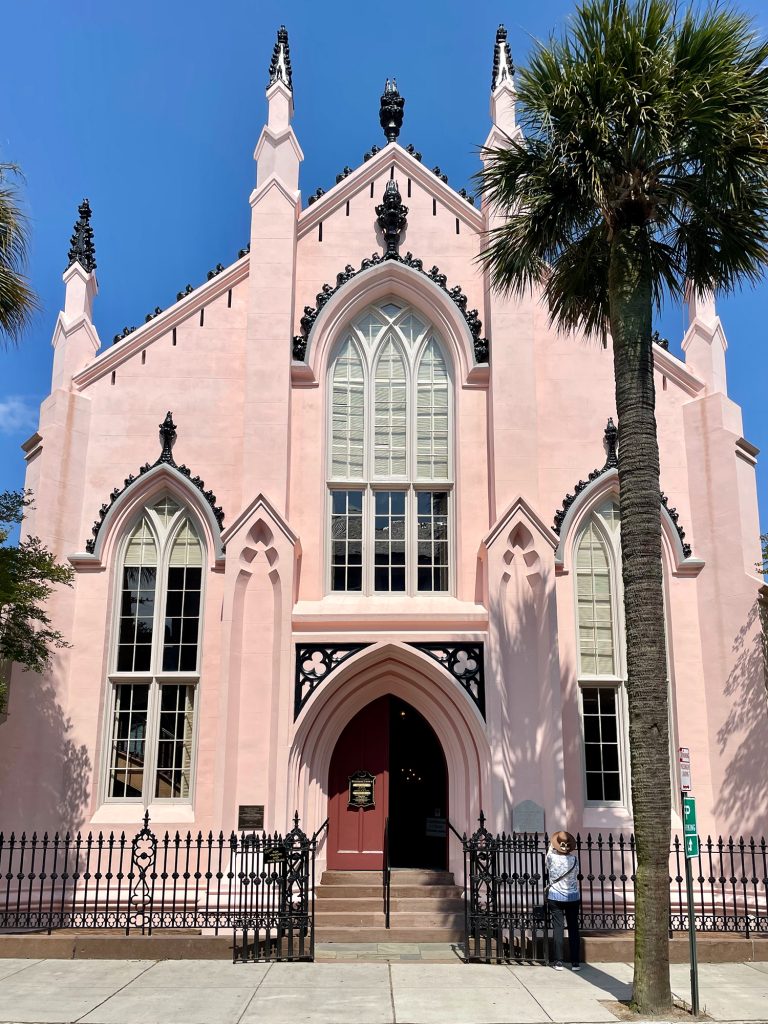 Speaking of color, we of course hit up Charleston's iconic Rainbow Row, which is a row of brightly colored Georgian homes along East Bay Street (don't worry, "Rainbow Row" comes up in Apple and Google Maps, so it's very easy to find).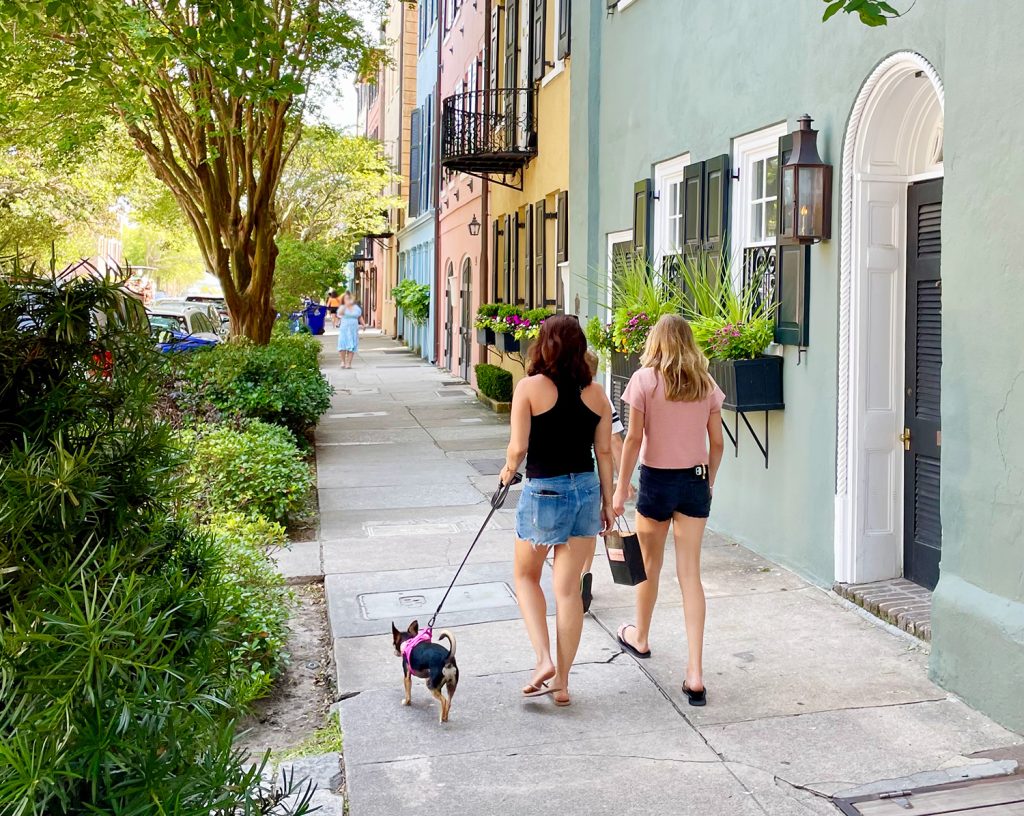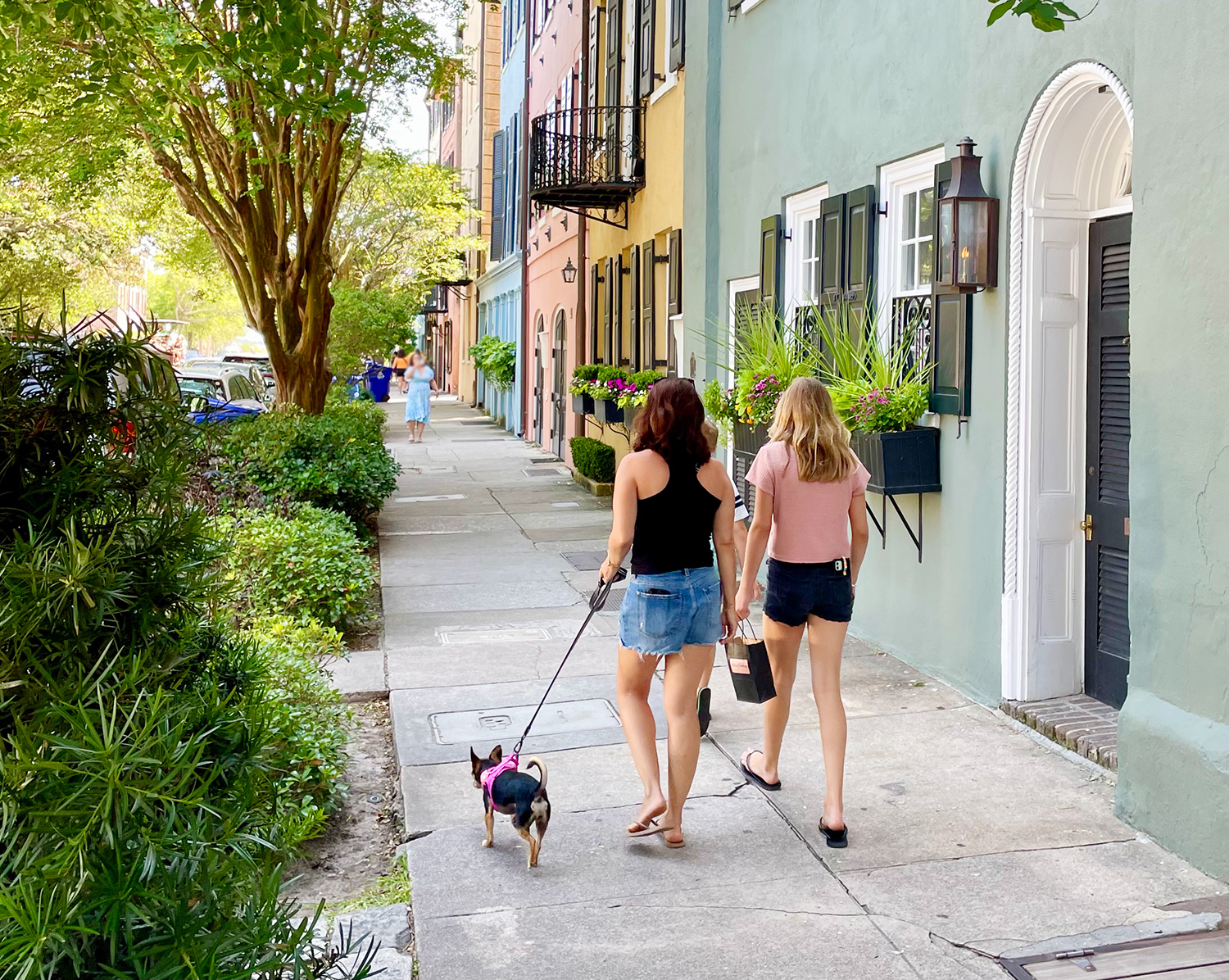 We clocked about 6 miles of walking on our first day and, after looping home for a midday break, we drove back in the evening to hit up some of the further spots from our house (like Rainbow Row and Pineapple Fountain). We do a lot of walking around our neighborhood at home, so our kids didn't bat an eye at this sort of mileage – especially since it was broken up with meals, a couple of hours back at home in the A/C (well, we were reading on the porch but they were inside with the AC), and plenty of stops in shops.
Where We Shopped In Charleston, SC
Most of the stores we popped into were located on or near King Street, and we basically just wandered into anything that looked interesting. Like the tented rattan paradise that was this Amanda Lindroth store.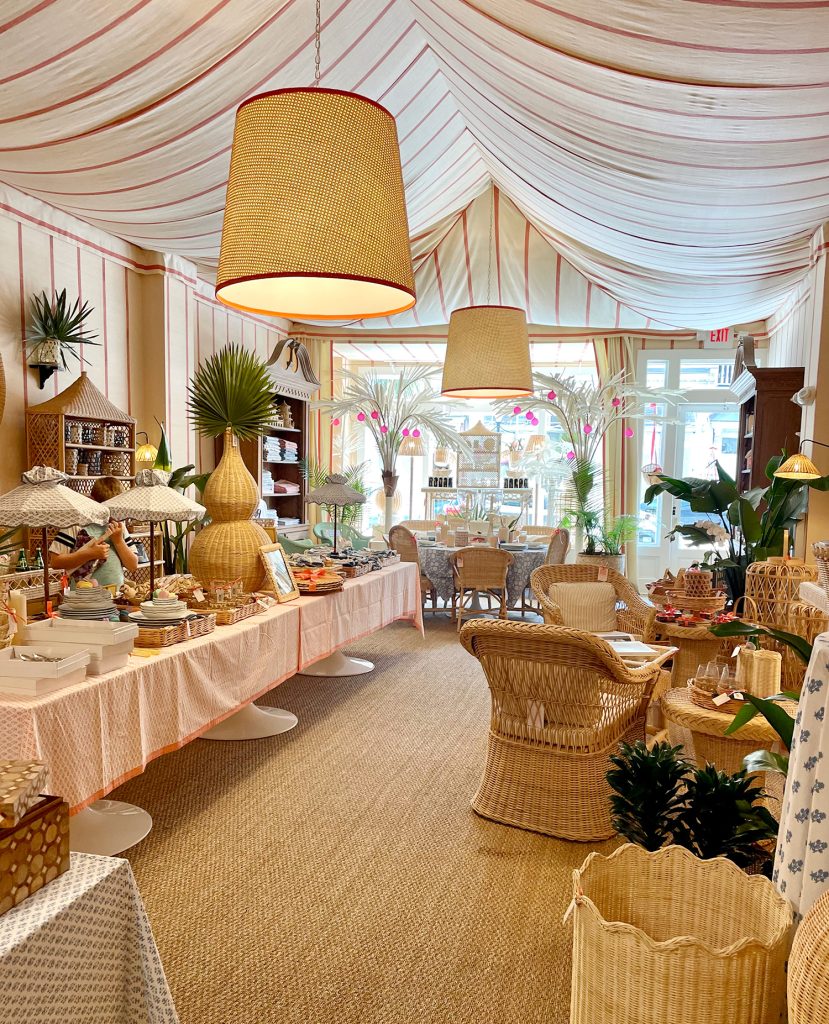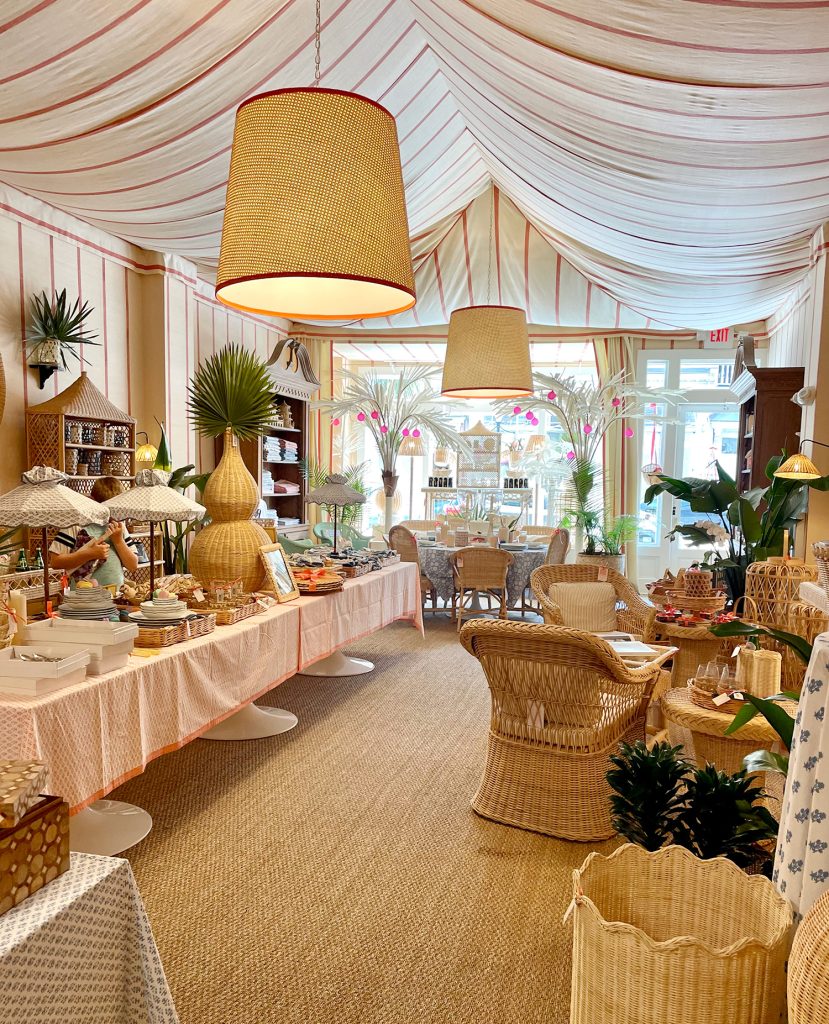 We always try to hit up an independent bookstore whenever we travel, so we were happy to stumble upon Blue Bicycle Books. Somehow we missed the sign for Buxton Books further down King Street, but that seems to be another popular local bookseller.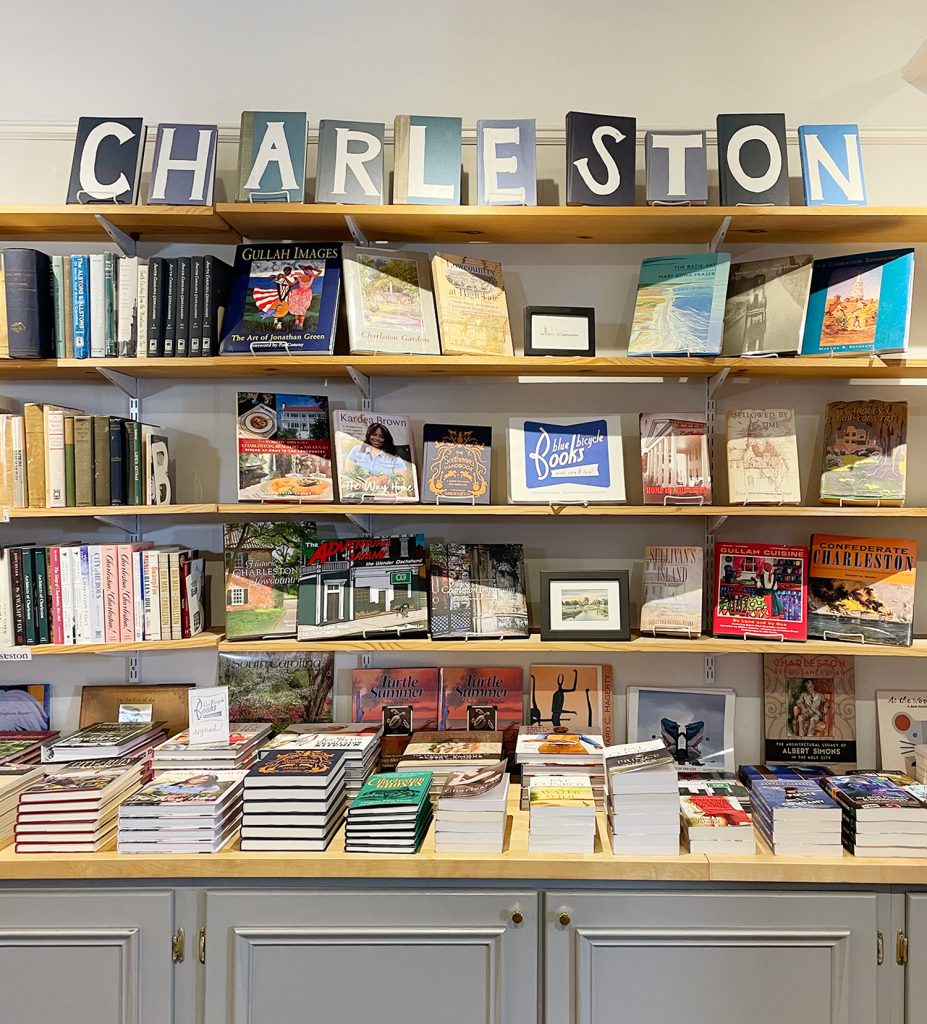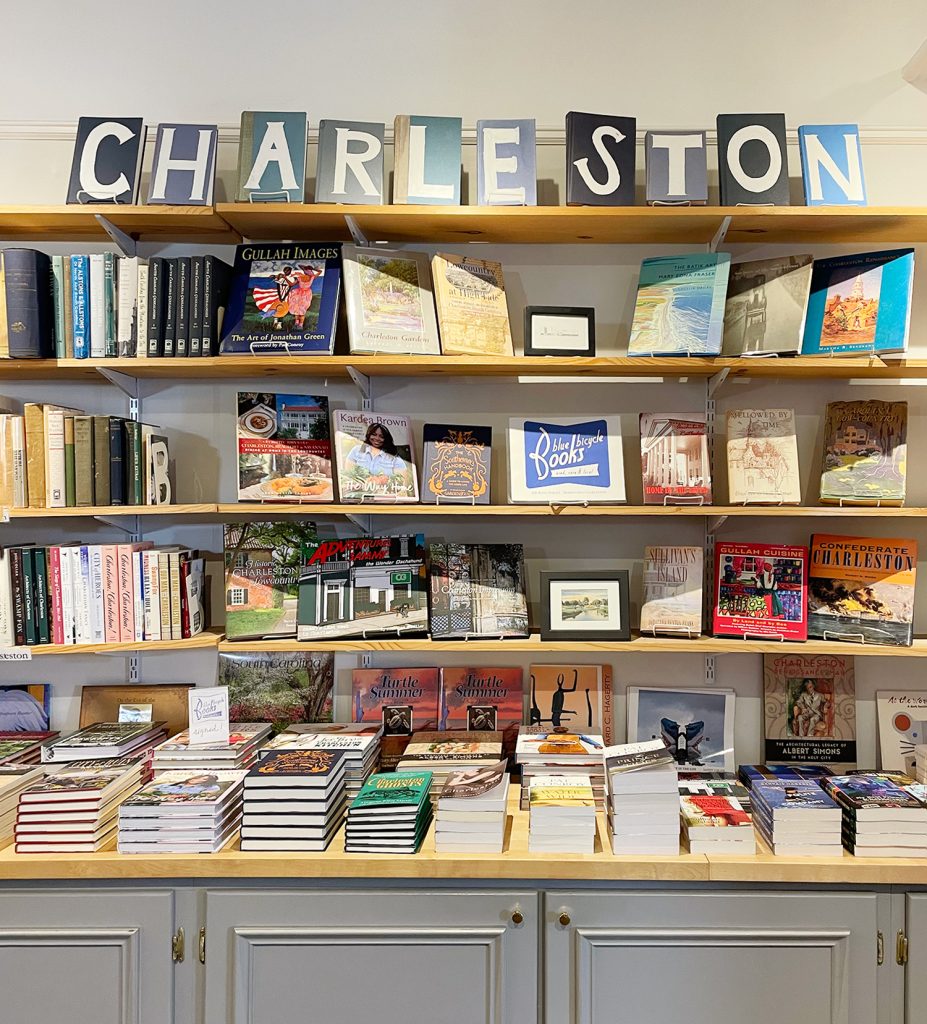 We didn't encounter a ton of kid-specific stores (except for this toy store in the Charelston City Market) but at 9 and 13, our kids love random things like plant stores, art shops, and even a stationery store (they buy pens and felt tip markers like they're connoisseurs). They also had a surprising amount of fun smelling soaps at the Old Whaling Company (pictured below) and we all loved checking out the art in the Mitchel Hill Gallery furniture store. We rounded things off with a great time in the Mildred Newberry stationery shop (see: they like markers and pens).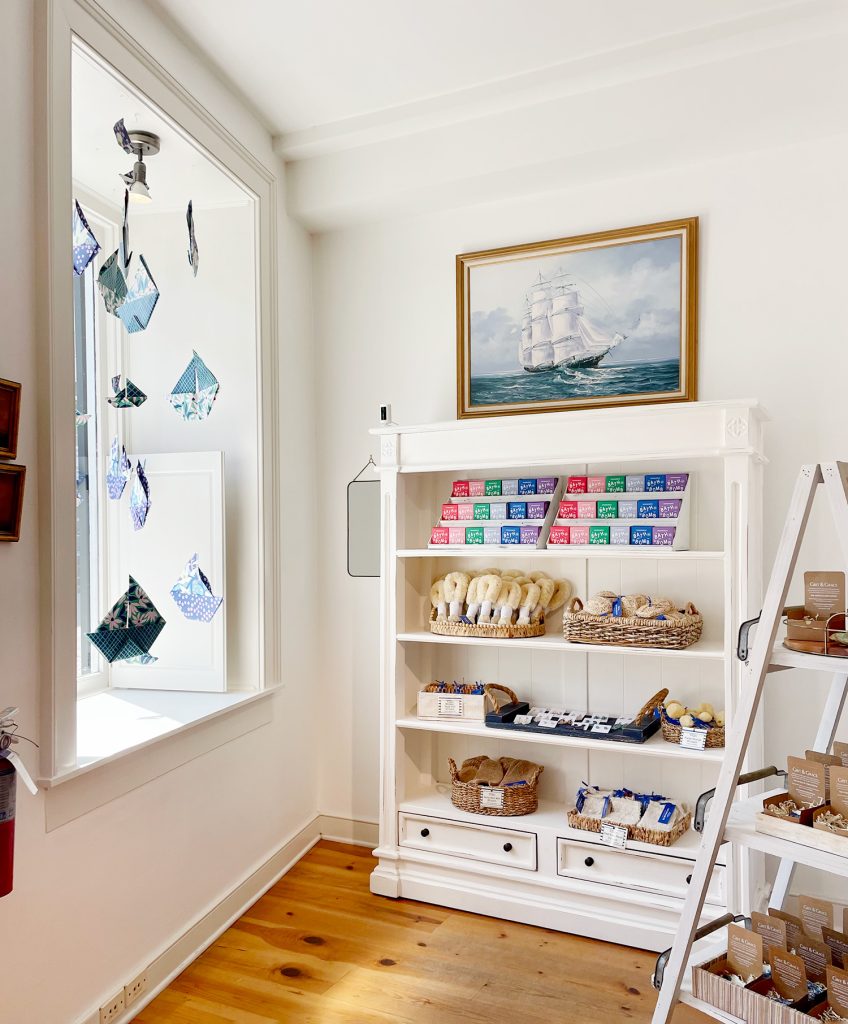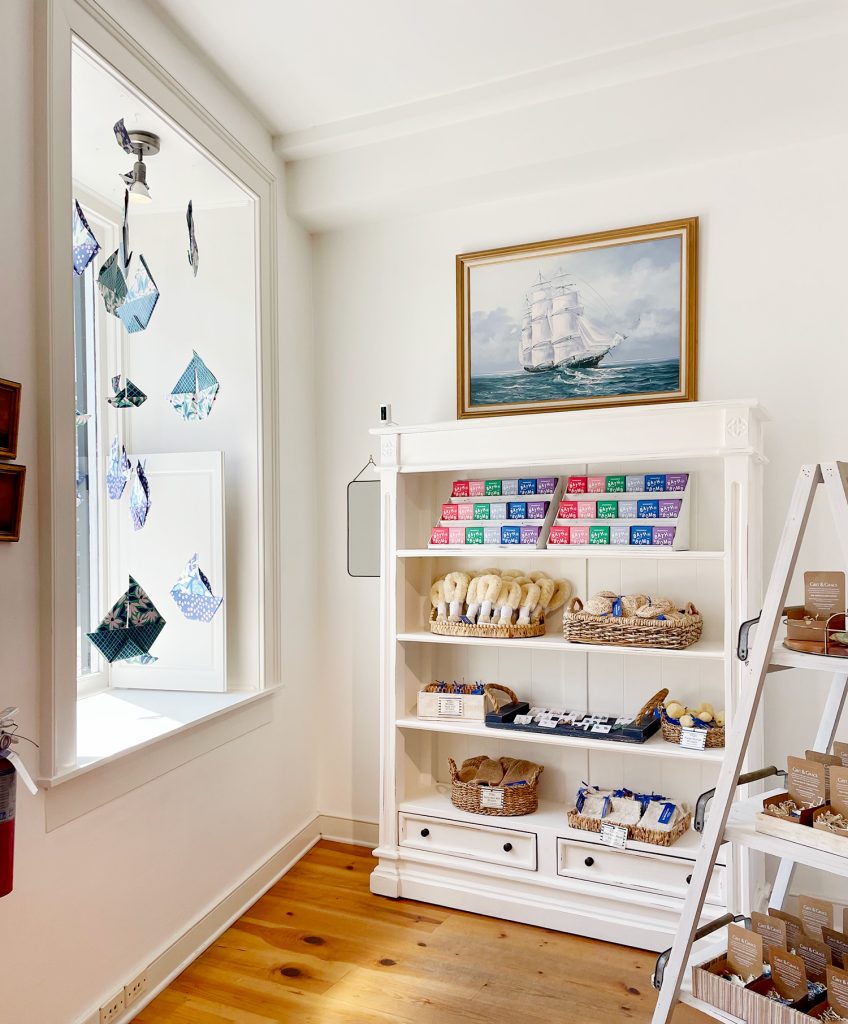 And of course, Sherry made sure we stopped into Sewing Down South, which is the pillow store opened by Craig Conover from Bravo's Southern Charm. There were no actual sightings of any Bravolebrities, but that was not for lack of effort (the effort largely being Sherry randomly whispering "Craig?!" and "Paige?!" as we walked around town. Can't believe that didn't work…).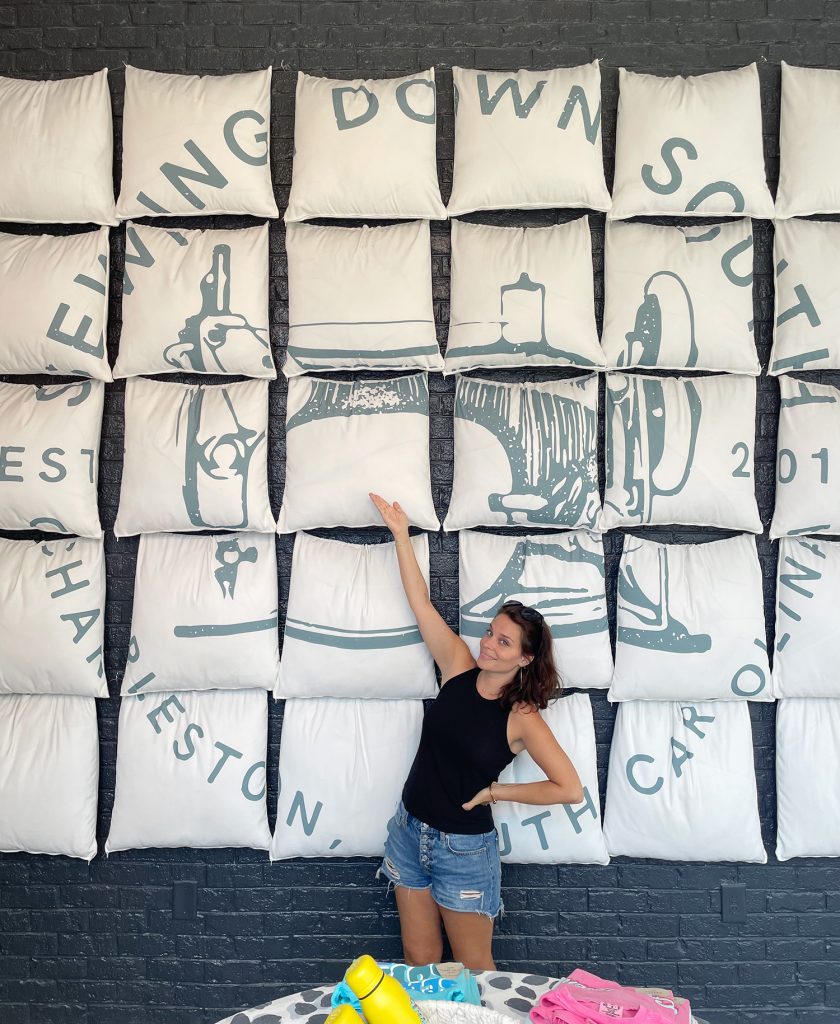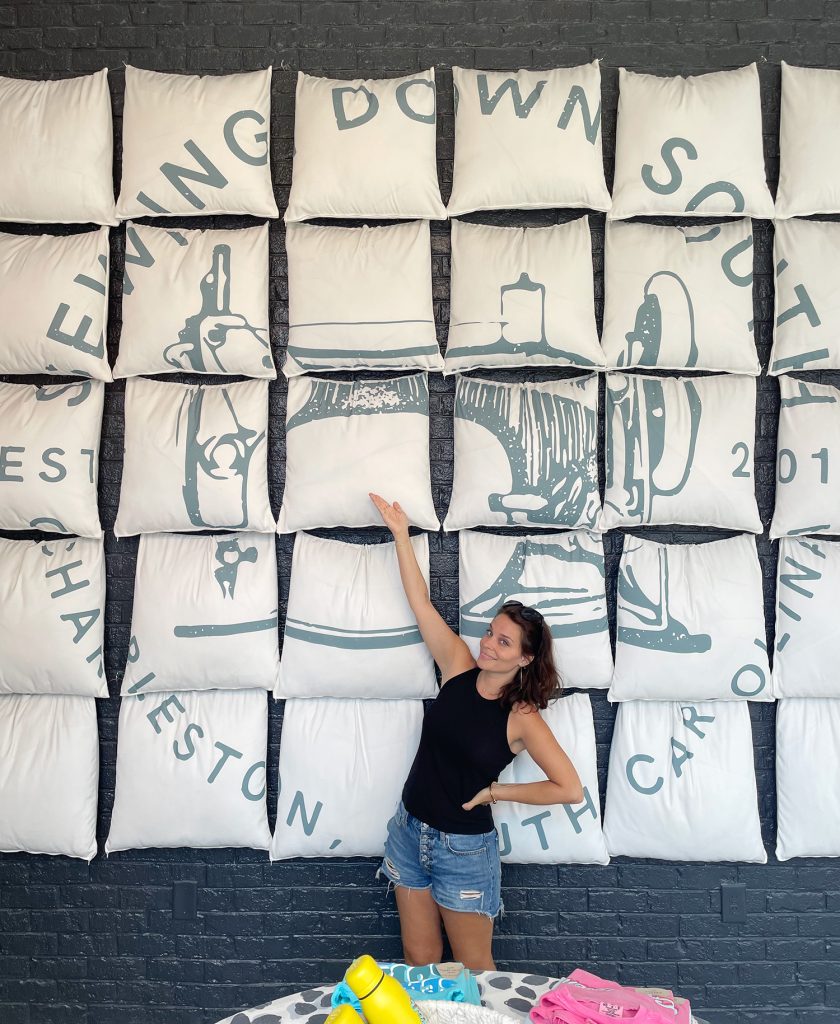 As much fun as we had walking around Charleston itself, our two favorite stores were actually over the bridge closer to some of Charleston's beaches.
Exploring Charleston's Beaches
As I mentioned, hitting the beach isn't really the main reason we book a vacation anymore just because we live at the beach full time, but we were all excited to drive out to Isle of Palms and Sullivan's Island one morning to check them out, since we've heard such great things about those communities and a friend gave us some tips about where to eat and some other fun stuff to do and see out there.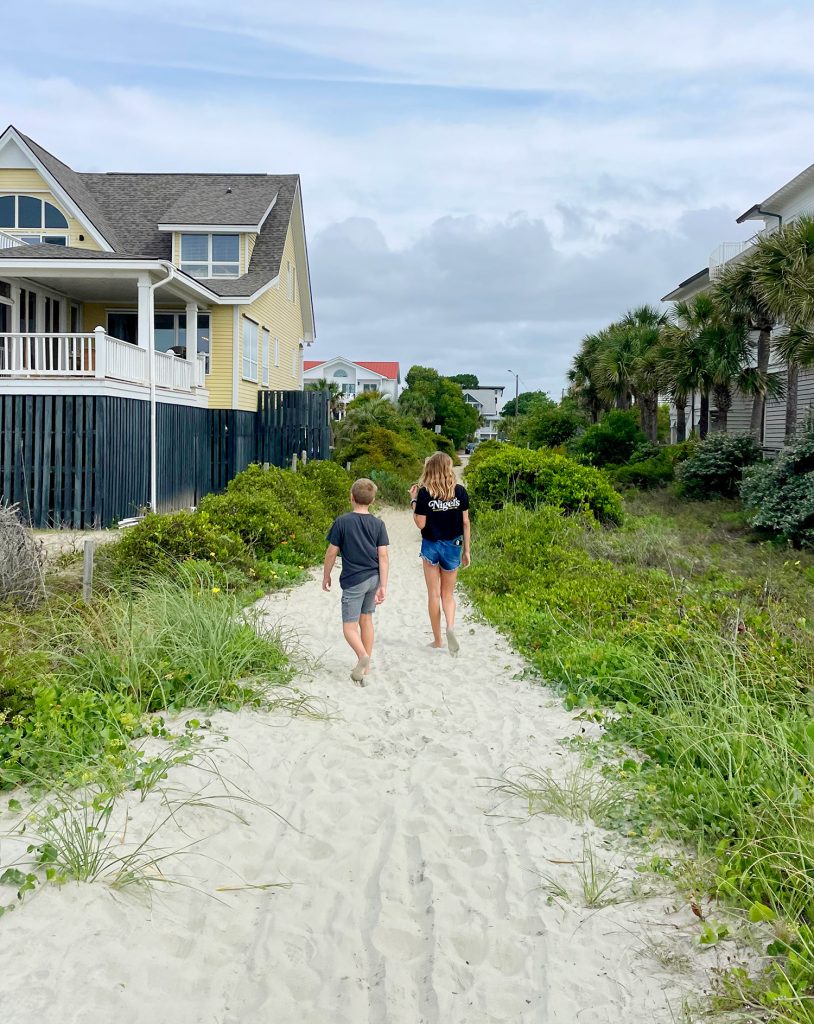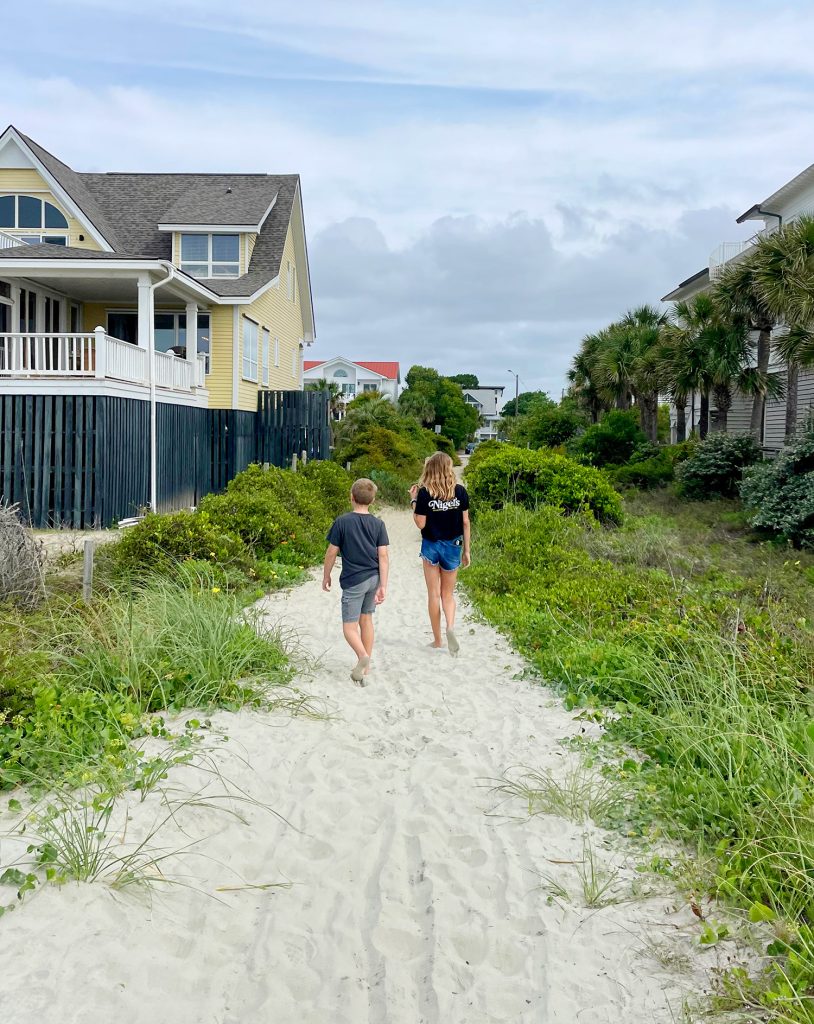 We parked near The Boathouse at Breach Inlet in Isle of Palms to enjoy a nice morning walk on the beach since IOP seemed to be the most accommodating to dogs on the beach. After a nice beach walk (they had some good shells & Penny loved sniffing everything) we went on the hunt to find a place for coffee & brunch and stumbled upon a store in Sullivan's Island called A Maker's Post. It had the coolest mix of art, housewares, and plants. And both of our kids walked out with new books that they purchased, so it was a hit for all ages.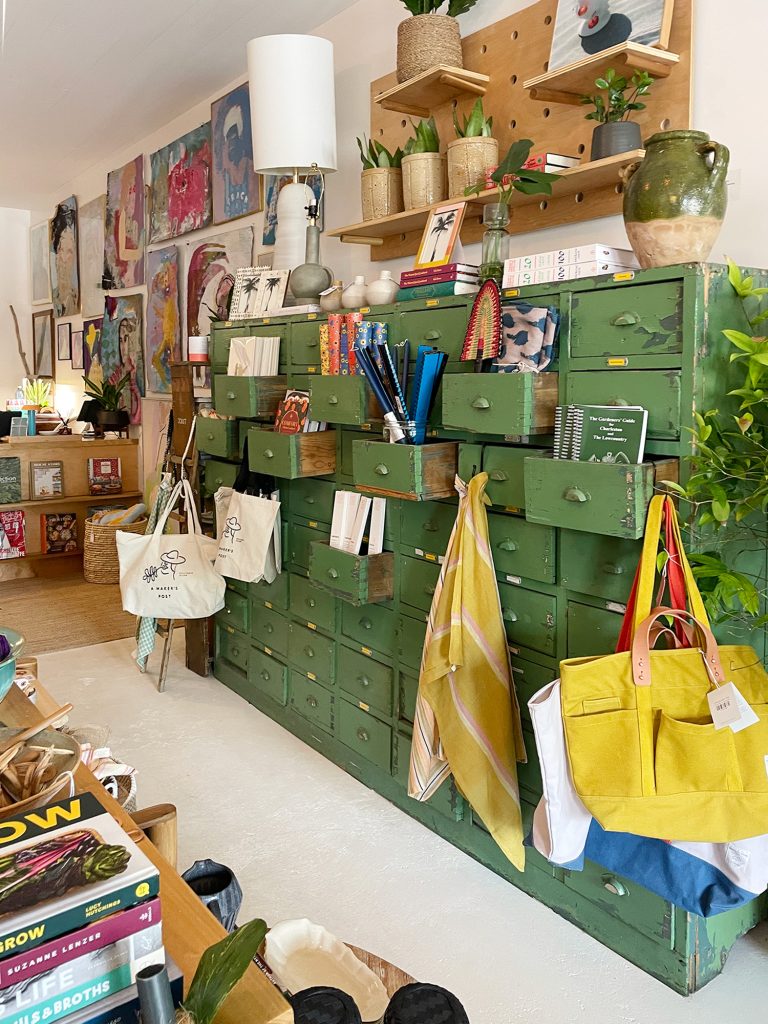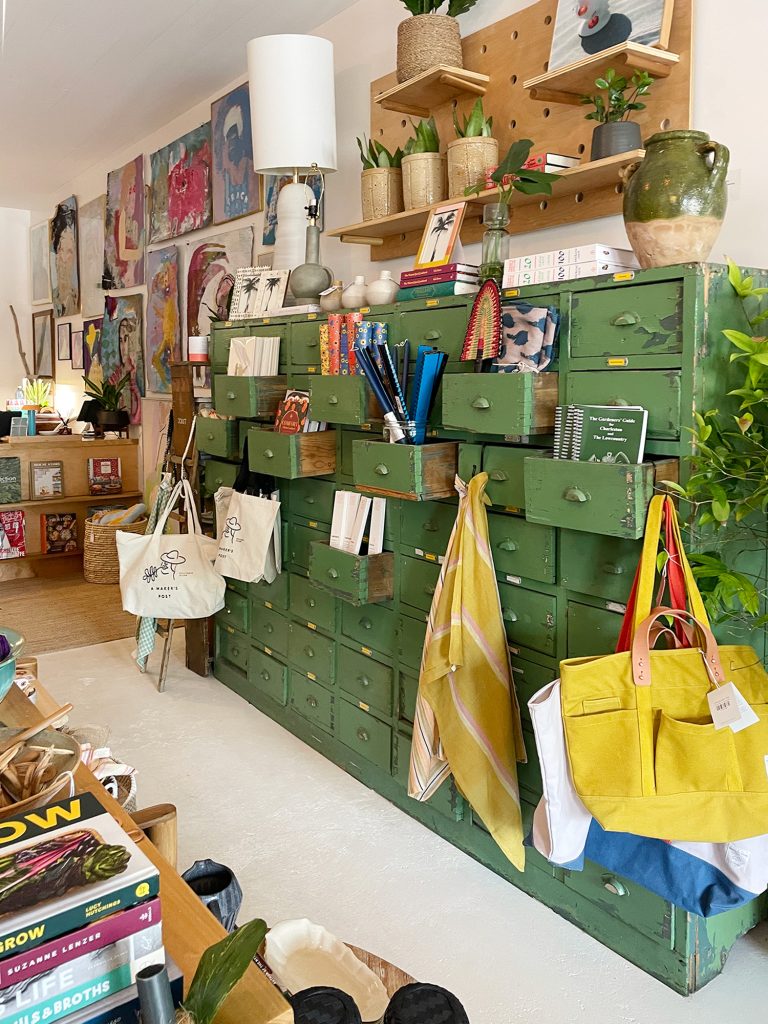 After posting about our trip on Instagram last week, the photo above probably got the most interest – so much so that I'm sure Sherry's fingers hurt from typing "it's called A Maker's Post" over and over again in her DMs. It's pretty hard to miss from the road, but it's next to a bright pink place called The Co-Op (where we ended up getting coffee) if that helps.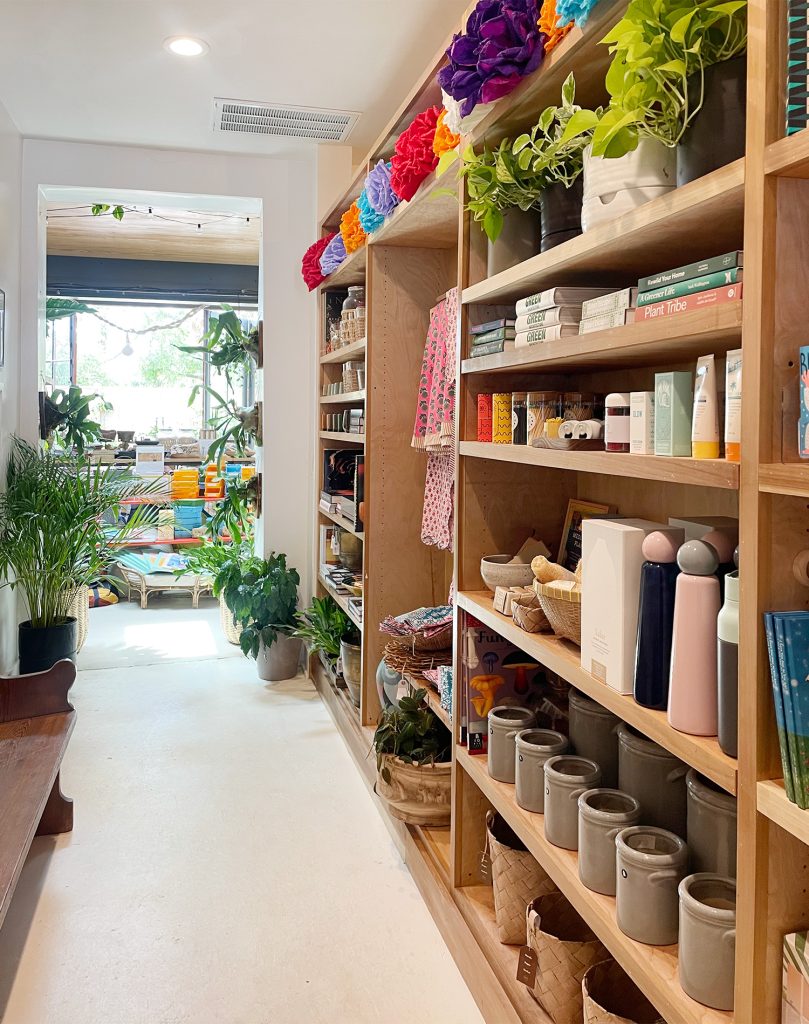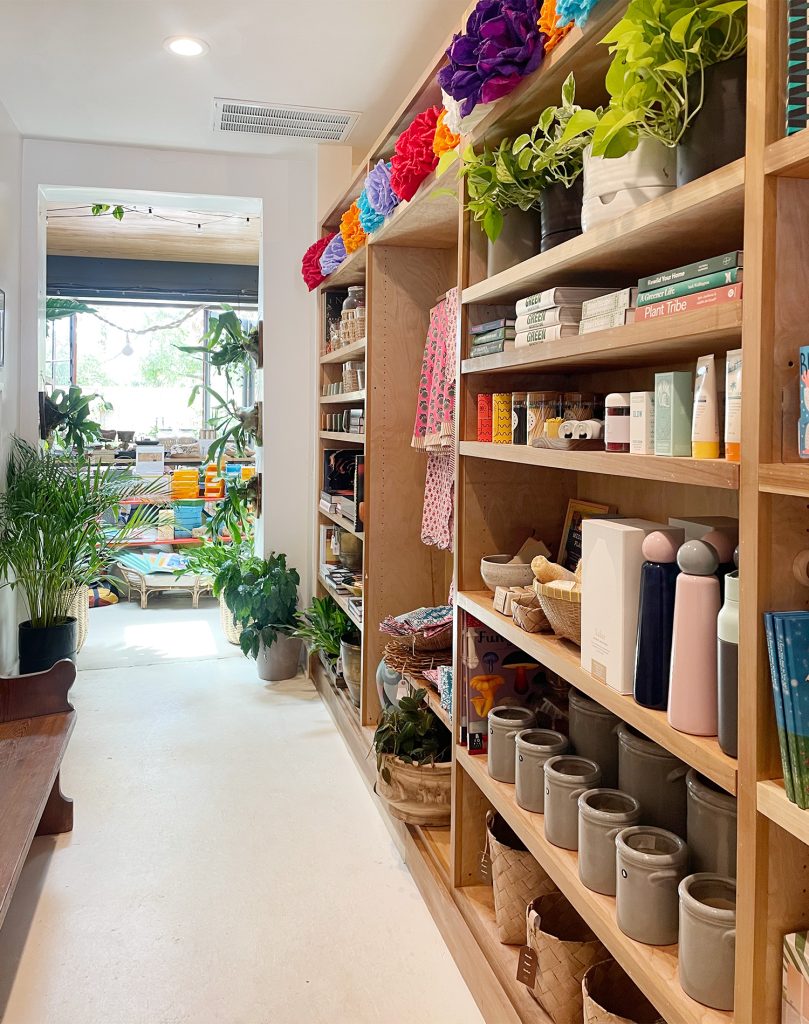 Our other favorite stop out that way was a shop we hit up on the way back from the beach in more suburban Mount Plesant. It's called Plant House and – after A Maker's Post was such a hit for our entire family – I found it just by googling "plant store." I'm a hero.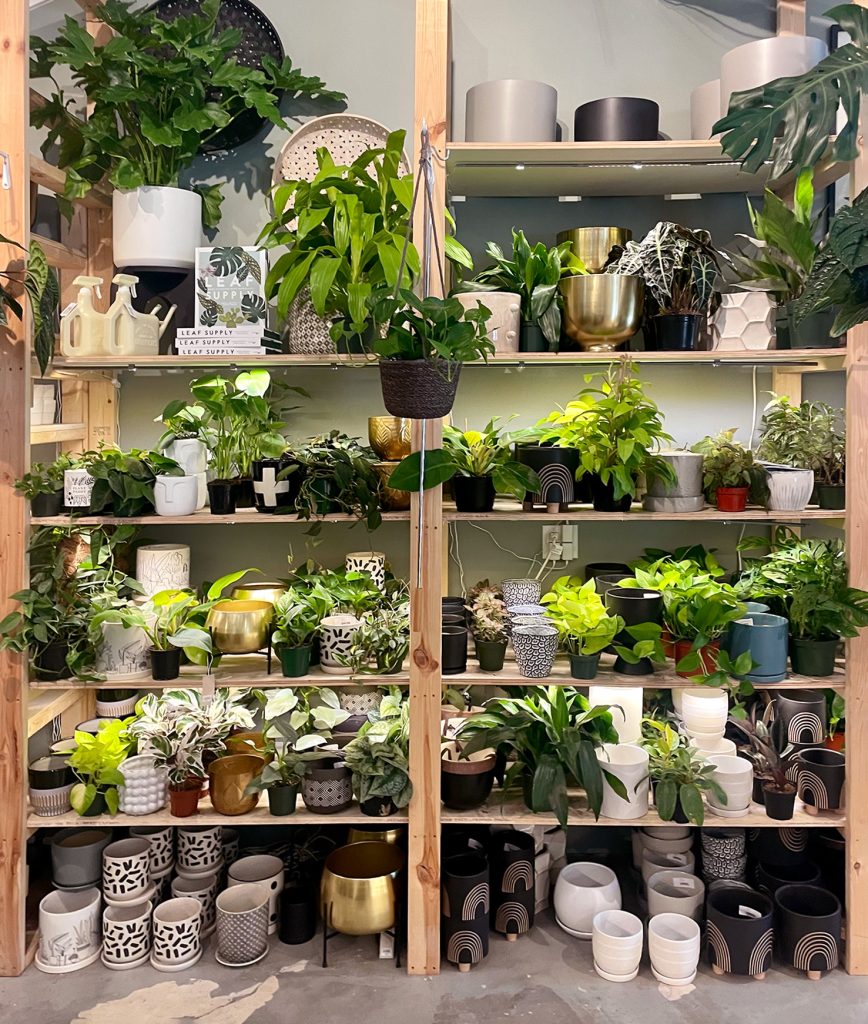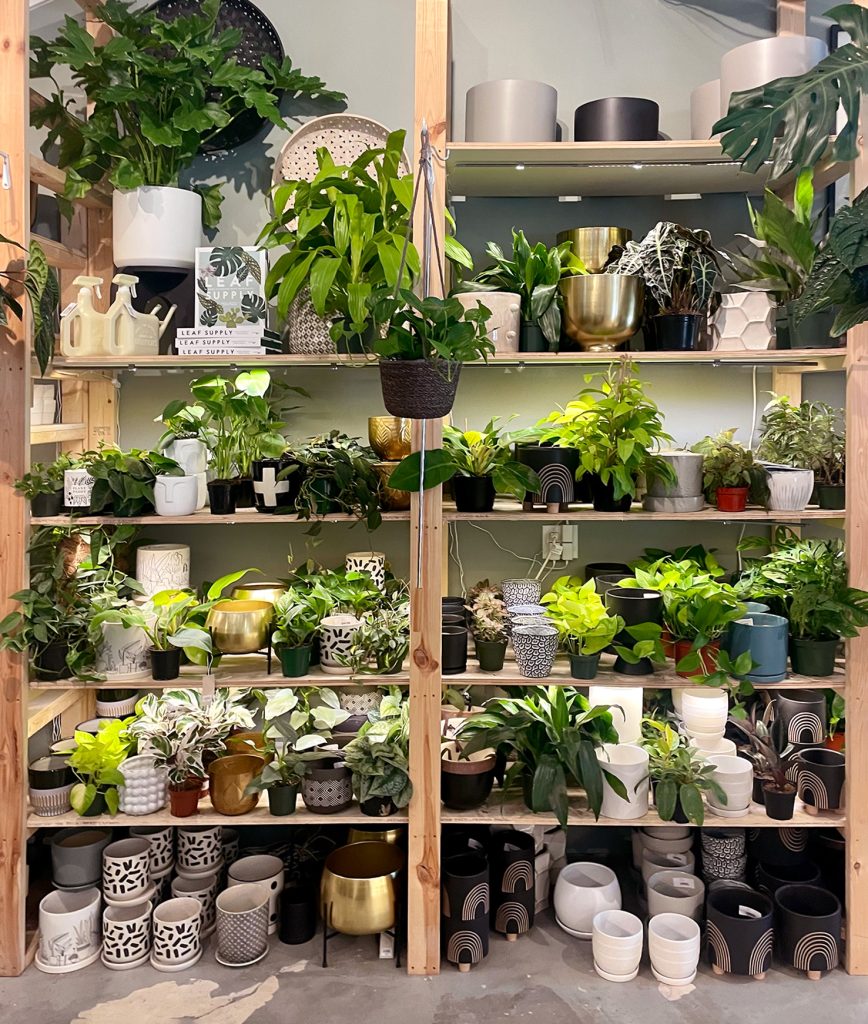 We have since learned that it's a chain with 7 locations in the Southeast (even one back in our old hometown of Richmond, VA!) but it was totally new to us here in Charleston and it's probably the longest we spent in any single store the whole trip! They sell every plant and pot you could imagine, and the store itself is just filled to the brim with stuff to look at. Plus there is a very fun activity they offer anytime you stop in…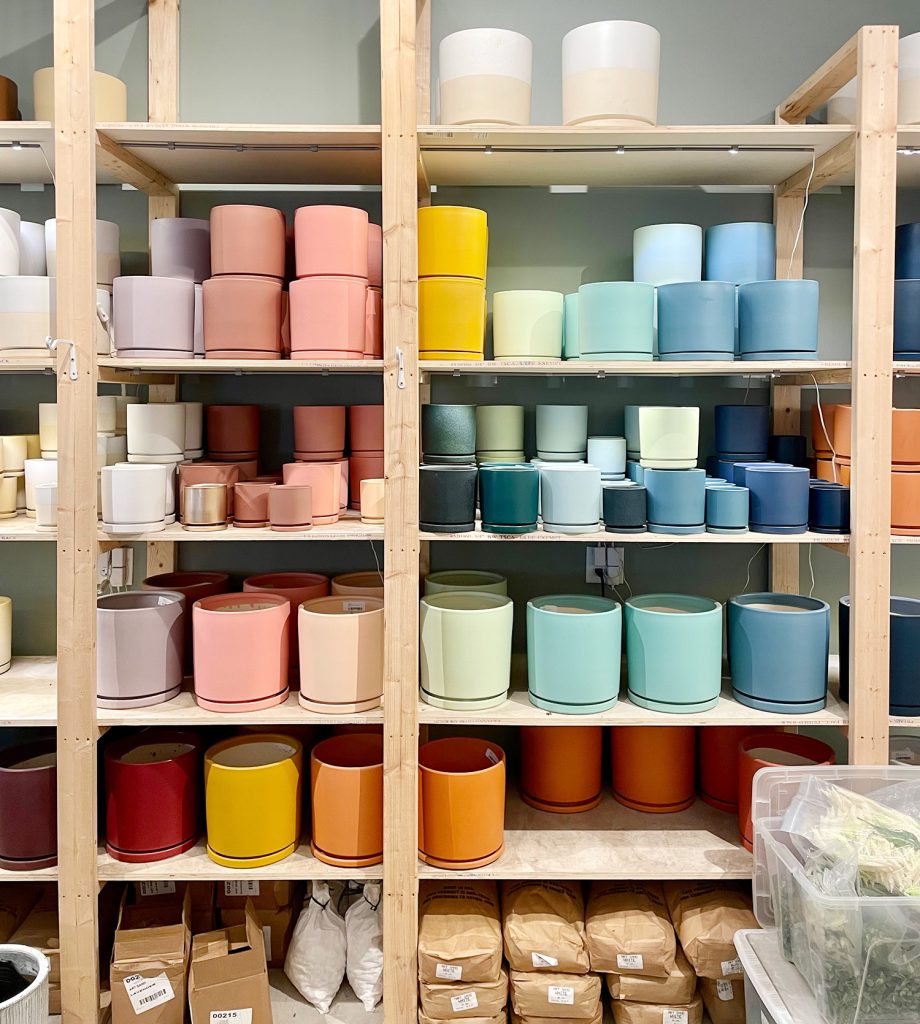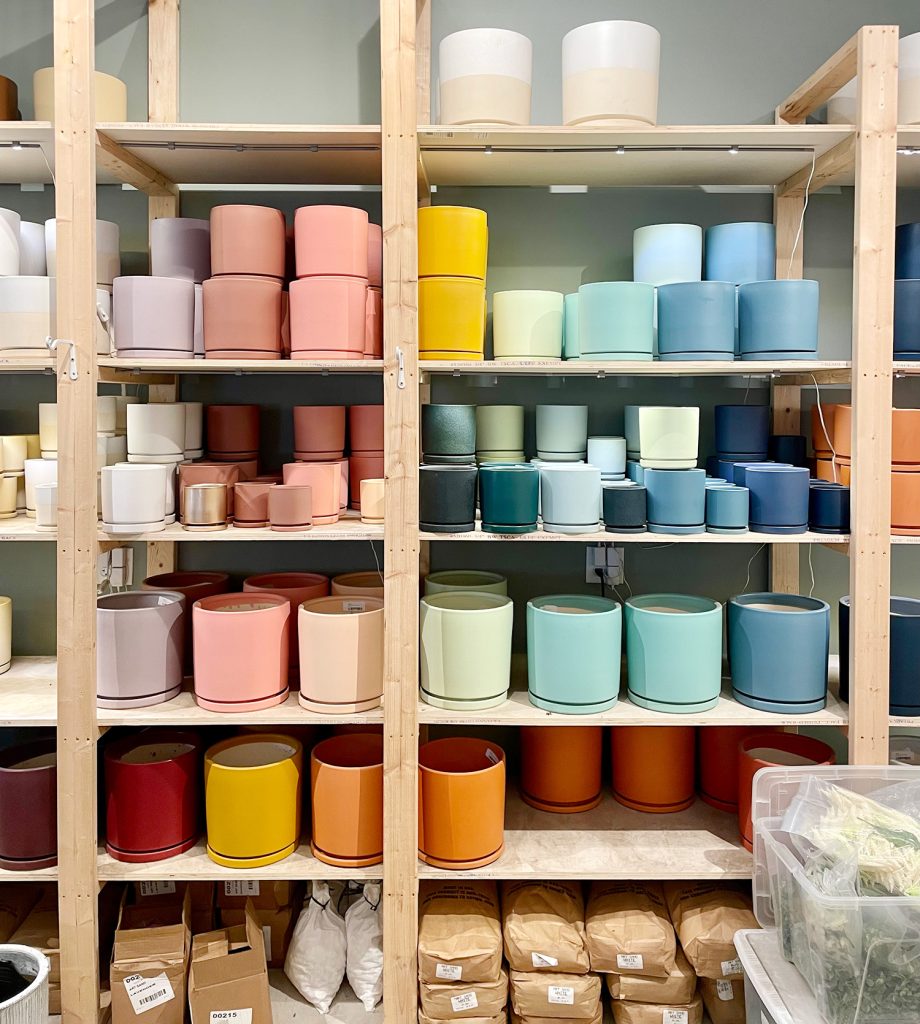 … they have DIY terrarium stations! So for $25 each, our kids got to assemble their own plant terrarium. They each picked out two small plants along with their round glass vessel and then all of the "toppings" on the worktable were free: soil, sand, rocks, shells, moss, etc. There was a woman who guided them through all the steps, and each kid had so much fun. Sherry also had fun when our son occasionally asked for a hand.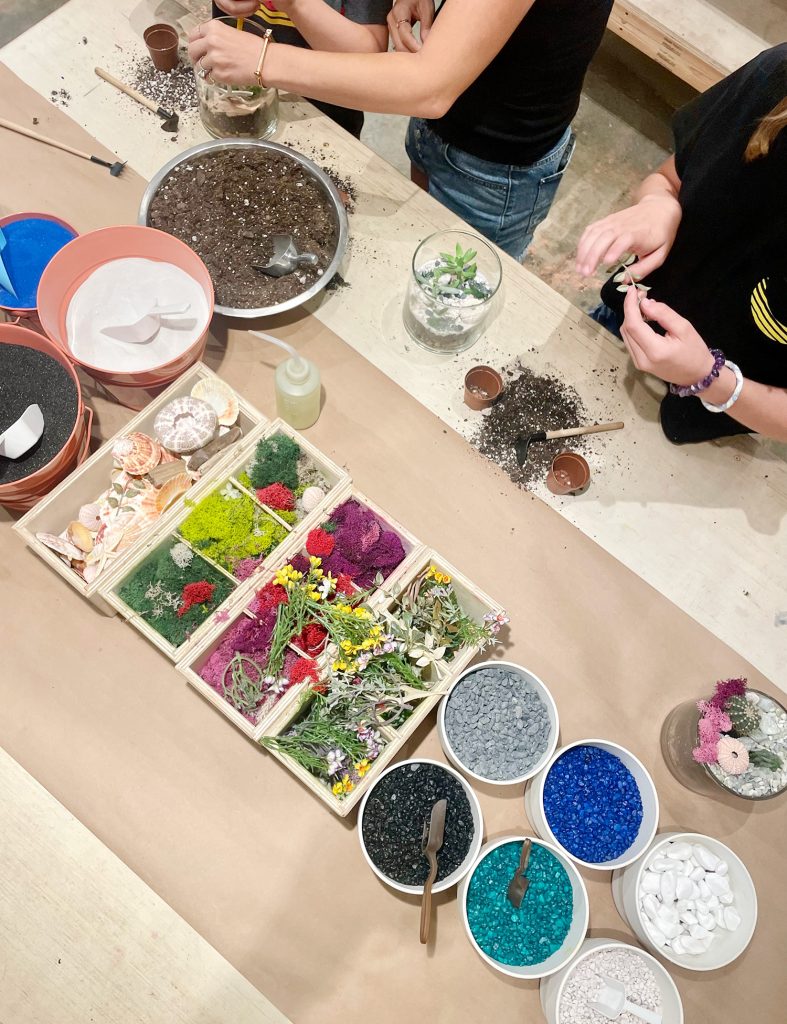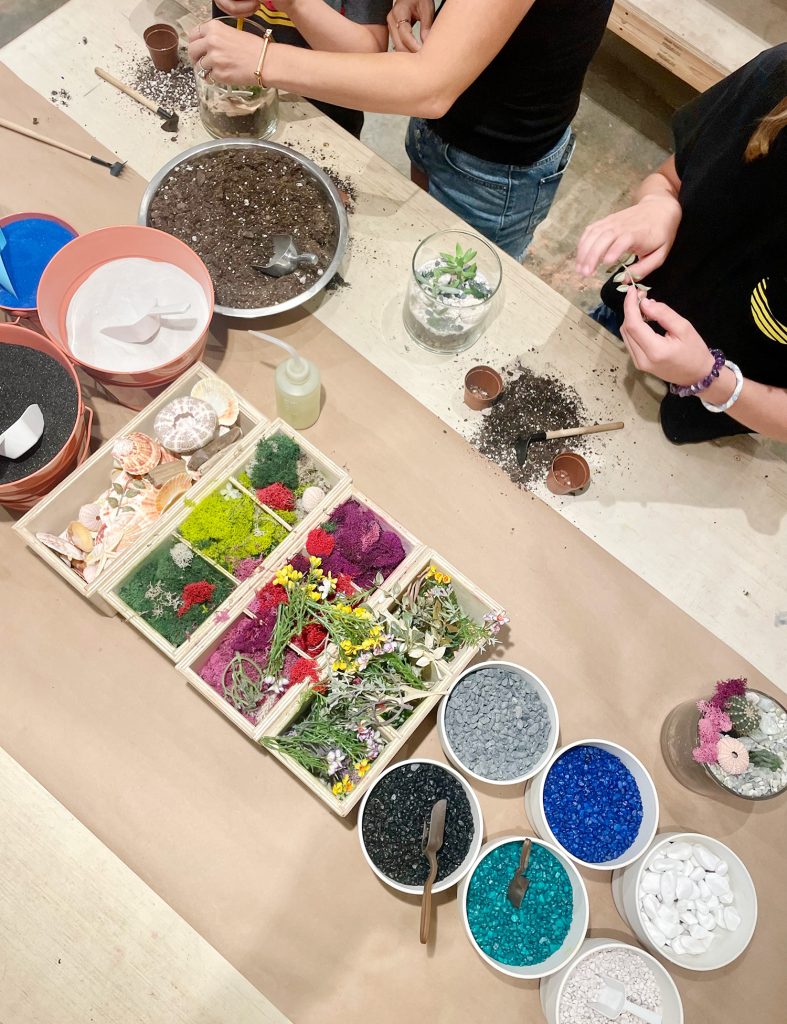 The staff was super friendly and helpful, so the kids got great guidance for building and caring for their terrariums too. They literally let you just walk in and make one anytime – but they also have scheduled workshops for grown-ups, and there's even a bar with booze in the store!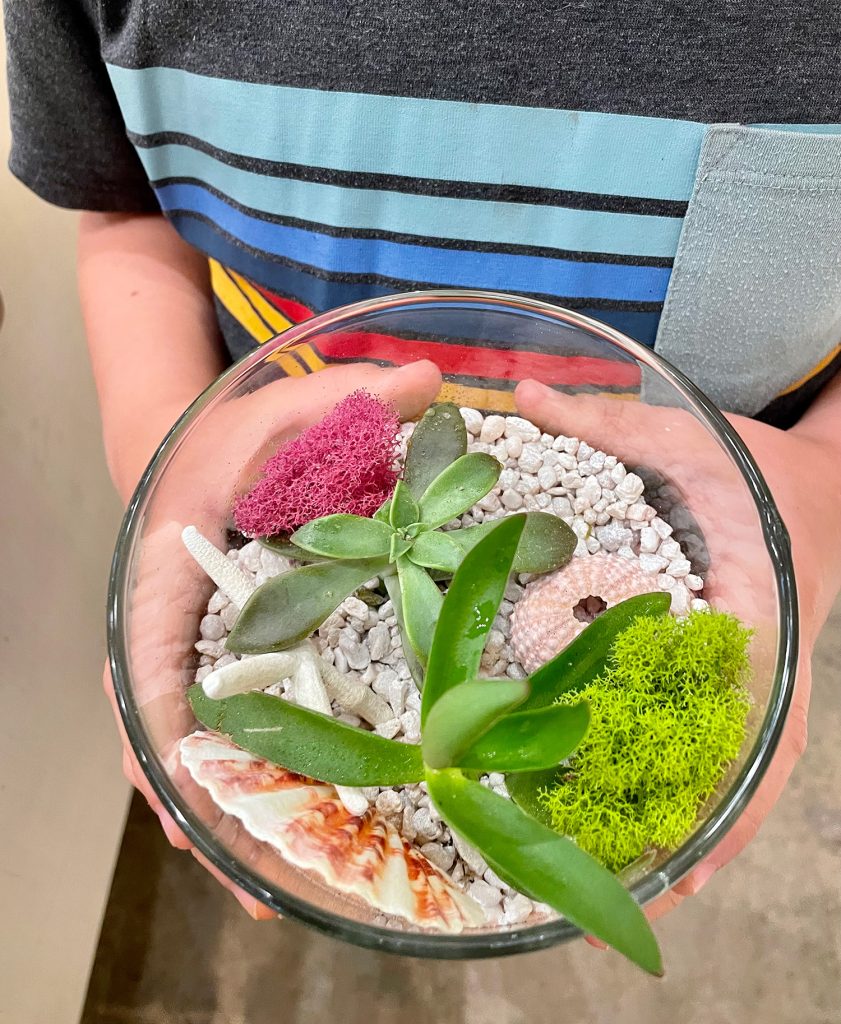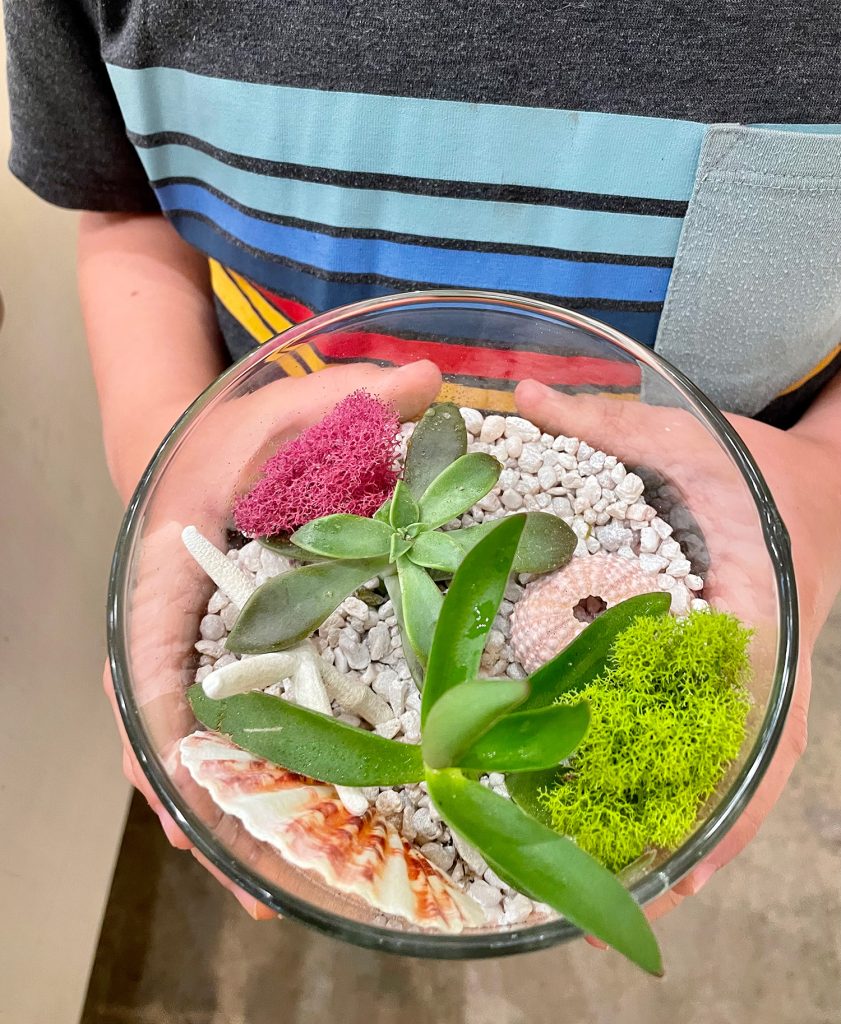 As much as we enjoyed all of these shops and activities, the real highlights of our trip were probably the meals.
Where We Ate In Charleston, SC
We're by no means fine dining people and our vacation MO is just to find places with delicious food and a fun atmosphere. Charleston did not disappoint on this front!
Breakfast in Charleston
Both mornings we got breakfast at neighborhood spots within a short walk from our Airbnb. The first was Daps Breakfast & Imbibe which had great coffee, giant egg sandwiches, and even more giant pancakes. In retrospect, the kids could've shared an order (we knew they were big but we didn't realize they'd be THIS BIG). I also probably could have gotten a "side" of pancakes with my order that would have fed them both! These were the Fruity Pebble ones that our daughter got (our son went with something dusted with cocoa powder).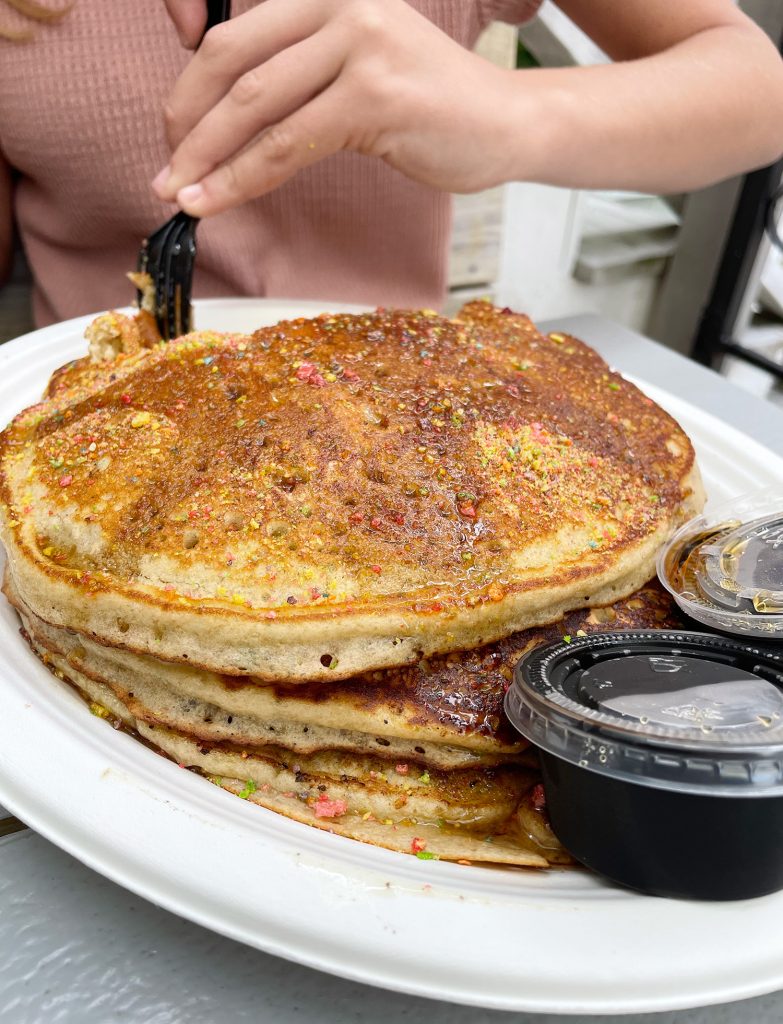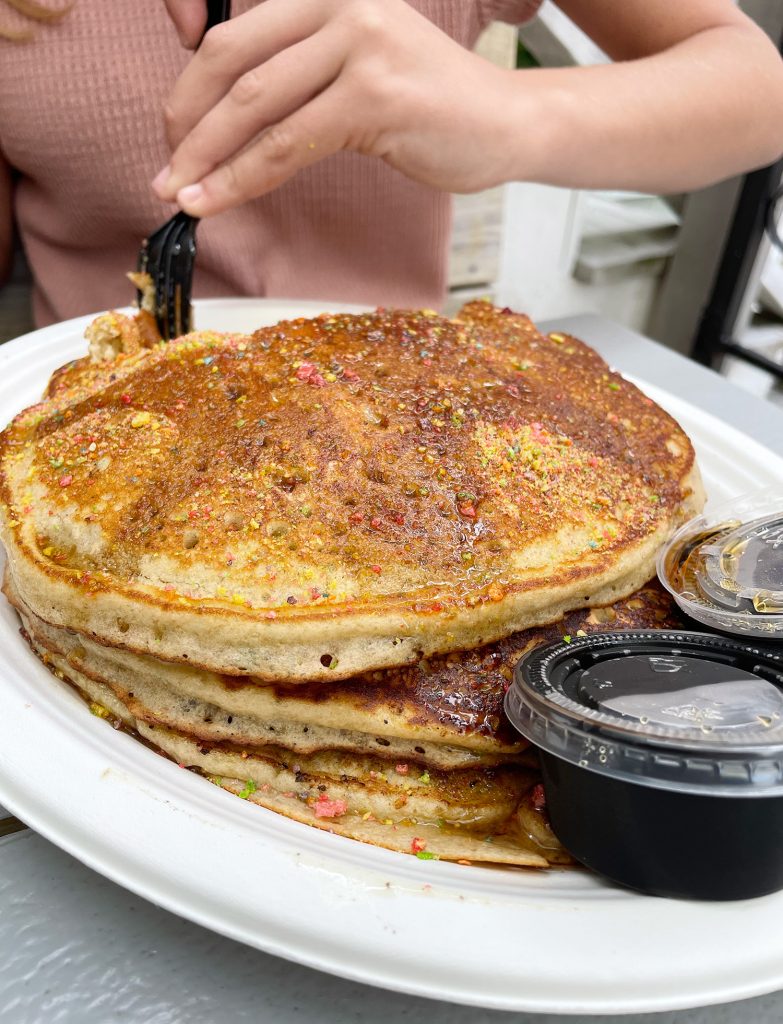 Our other breakfast was at Holey City Bagels which, first of all, earns points for a quality pun in its name (Charleston's nickname is "the Holy City"). The bagels themselves are the closest thing we've had to a New York style bagel in a while and the attached coffee shop was great too.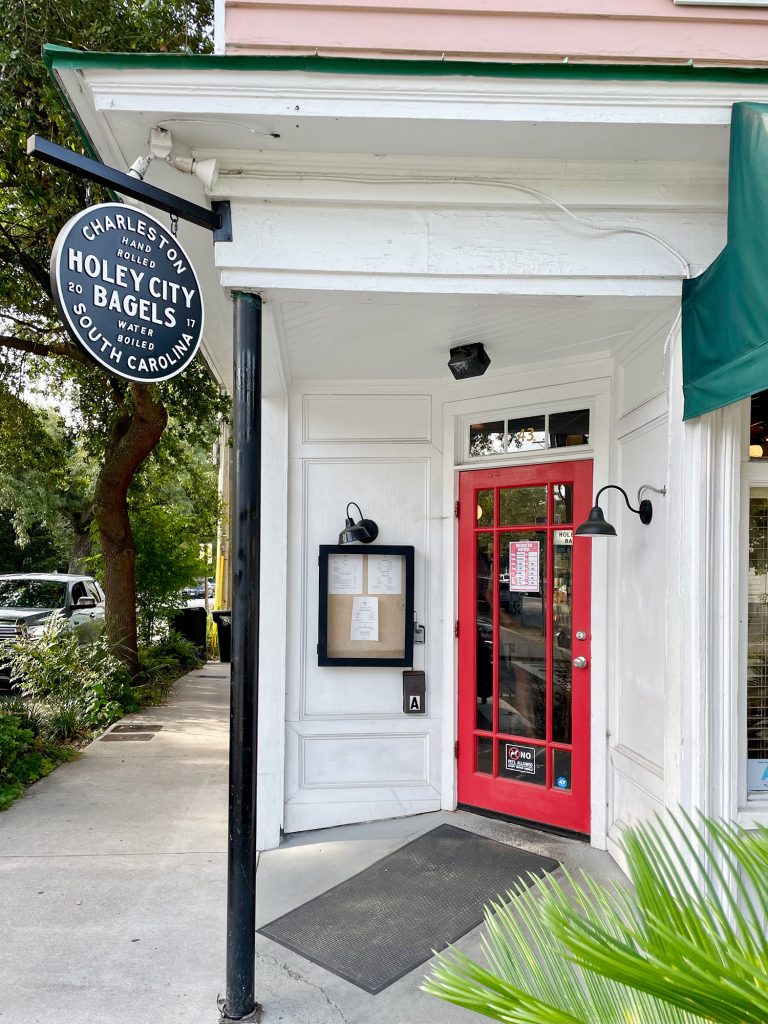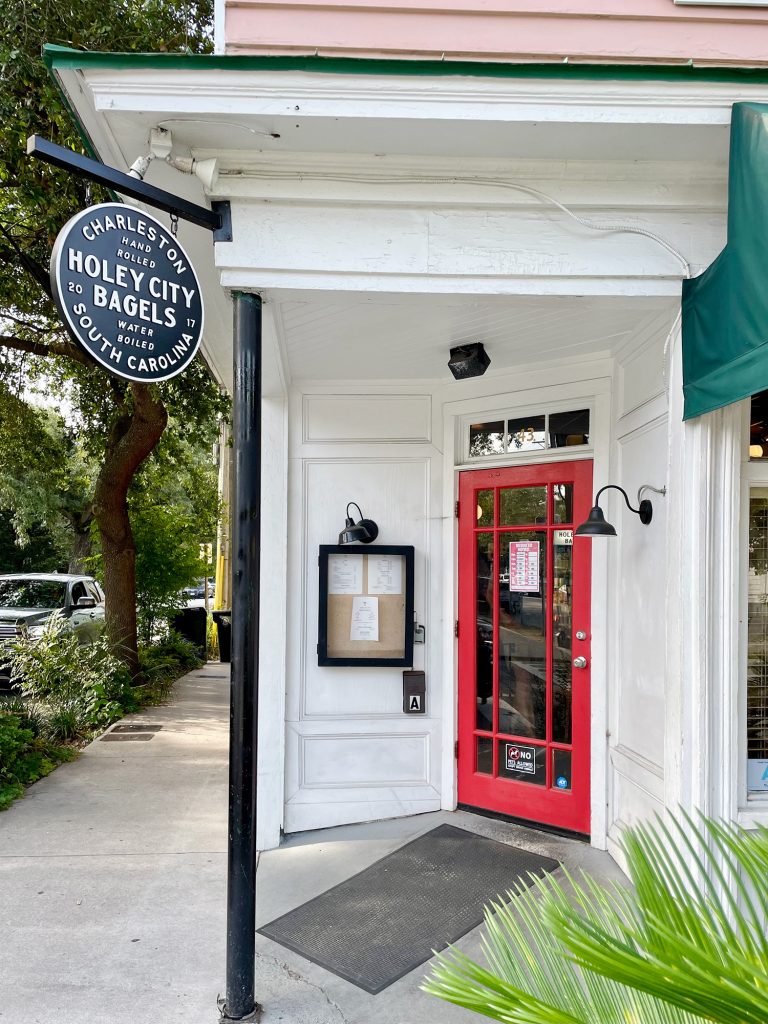 Lunch & Dinner In Charleston
Another couple of great spots within walking distance of our Airbnb were Pink Cactus and Fuel Cantina, both with Mexican menus. Pink Cactus looks pretty unassuming from the street (the patio is kinda plopped into a couple of parking spaces) but the food was delicious and generously sized. They don't have a kid's menu and prefer not to make substitutions, but both of our kids enjoyed what they got (they can each handle a bit of spice which was definitely present). We later met someone who worked at Plant House who said her friends drive 40 minutes to go to Pink Cactus, so apparently it has many devoted fans.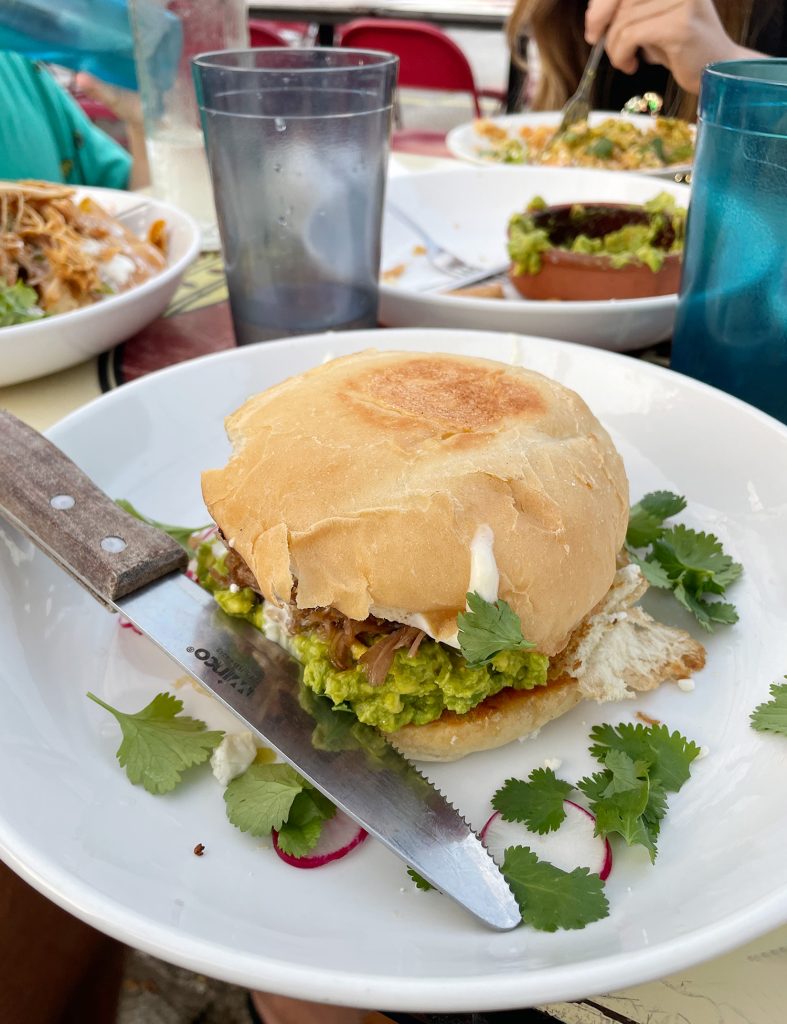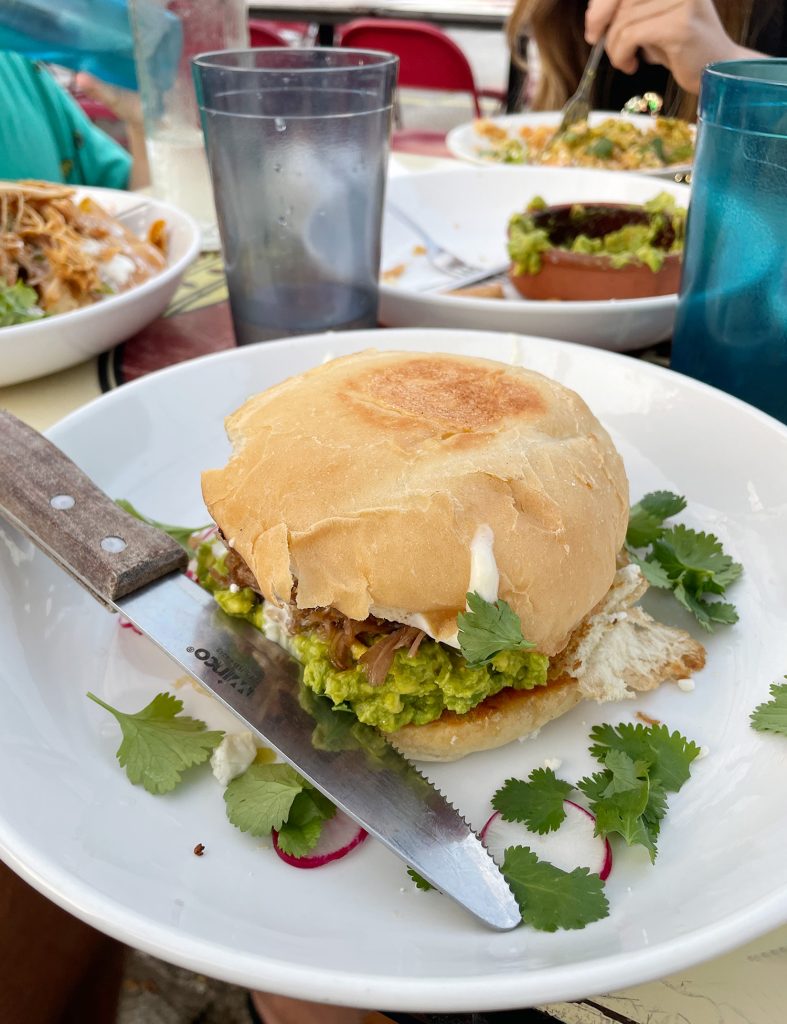 Fuel Cantina definitely beat Pink Cactus in the outdoor atmosphere department. It's located in an old gas station and the back patio, where we ate, was the perfect place to chill on a beautiful summer evening. Think strings lights, TV, big fans, along with bocce and giant Jenga to keep the kids entertained.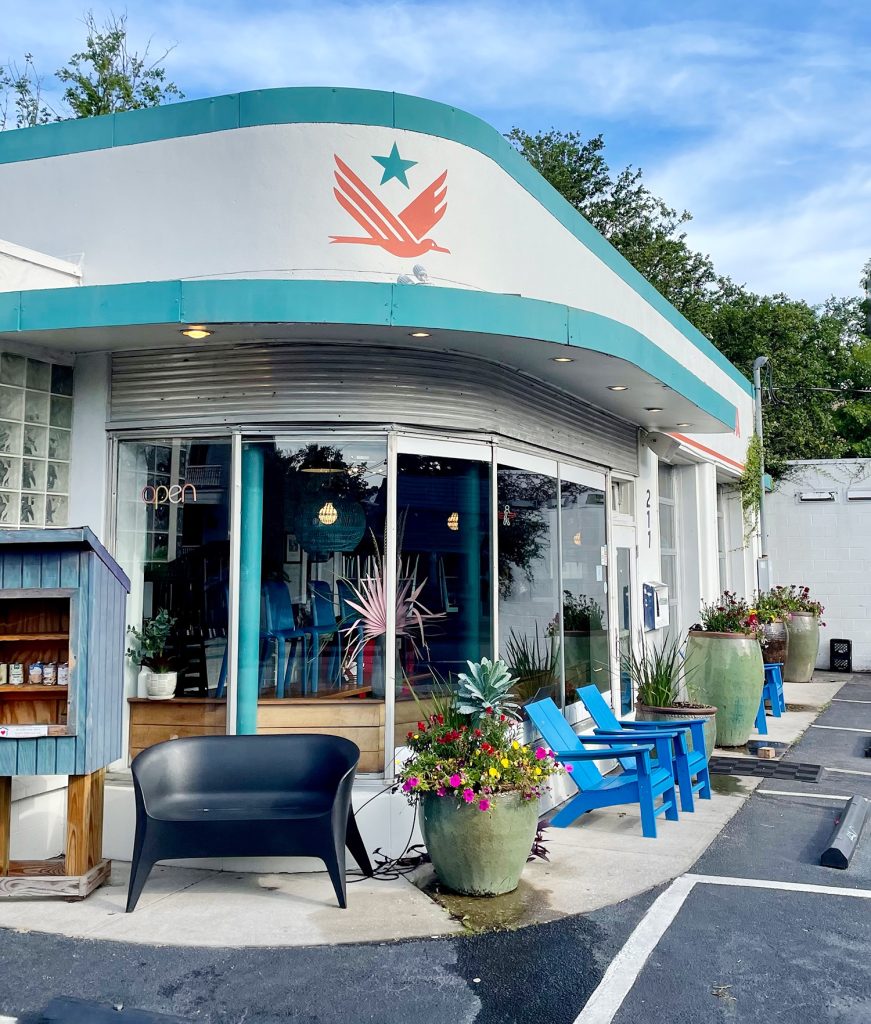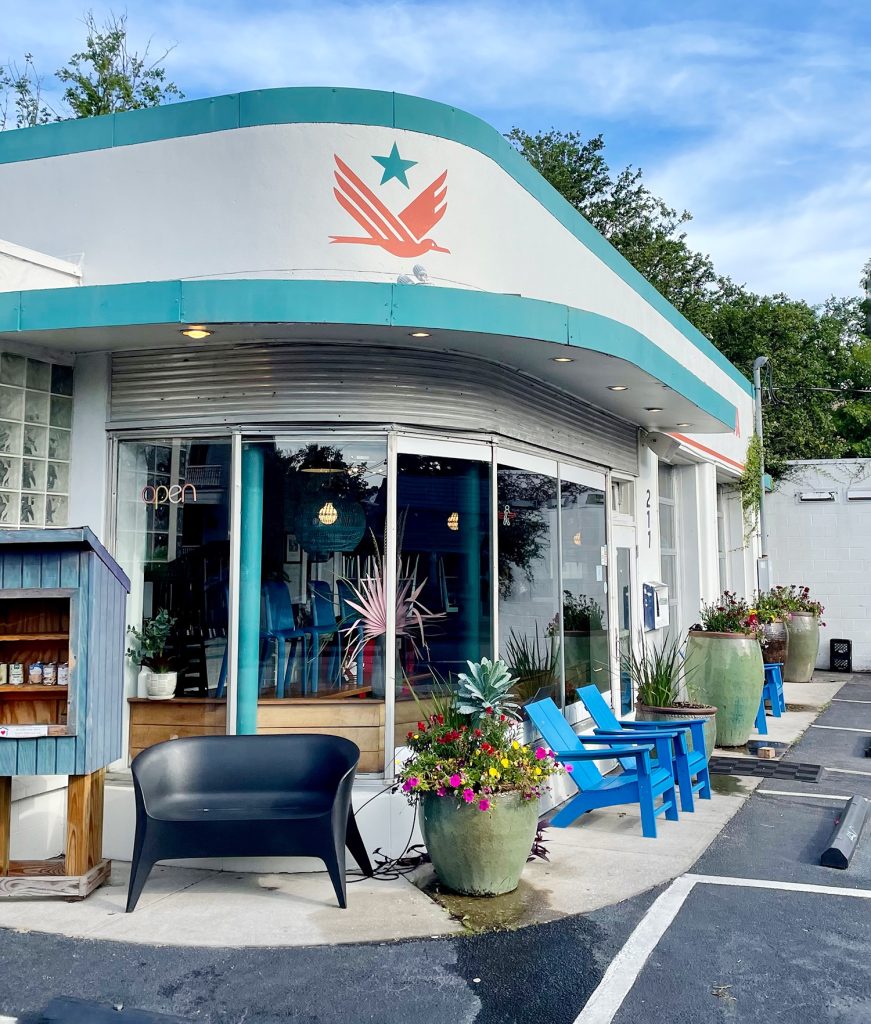 I took the above photo the following morning on our walk to Holey City (hence it looking closed… because it was). But I snapped the pic below the previous night on our way out to the patio. They really leaned into the former gas station thing by turning some fuel pumps into sconces!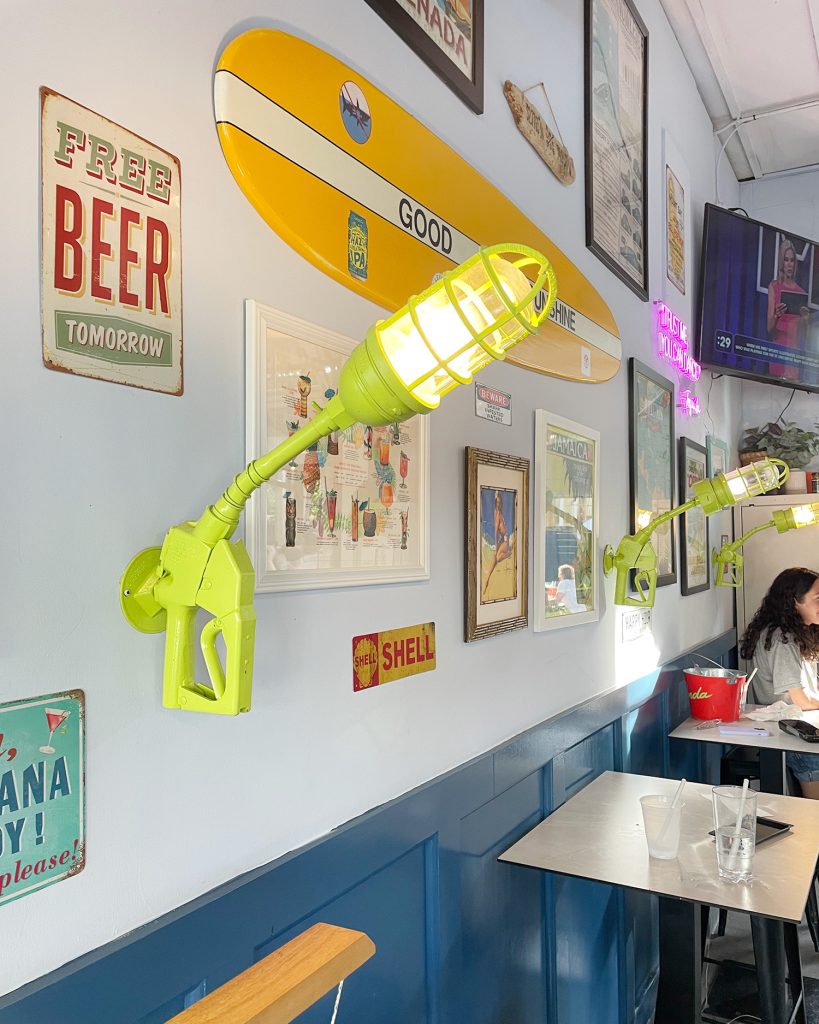 Another super chill meal we had that was big on atmosphere was our dinner at the Port of Call Food Hall. The food hall gave us several options – I got Greek, one kid got seafood, and the rest got smash burgers – and the seating area was nice and shady. For dessert, we all tried pineapple soft serve for the first time at The Pineapple Hut.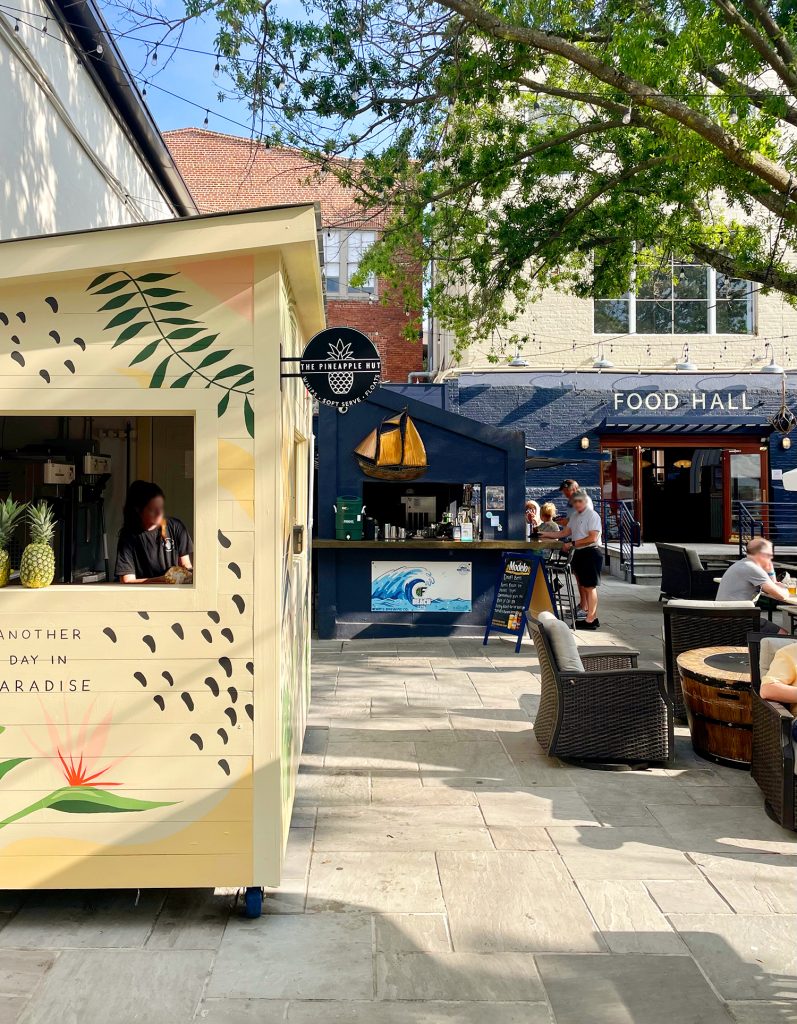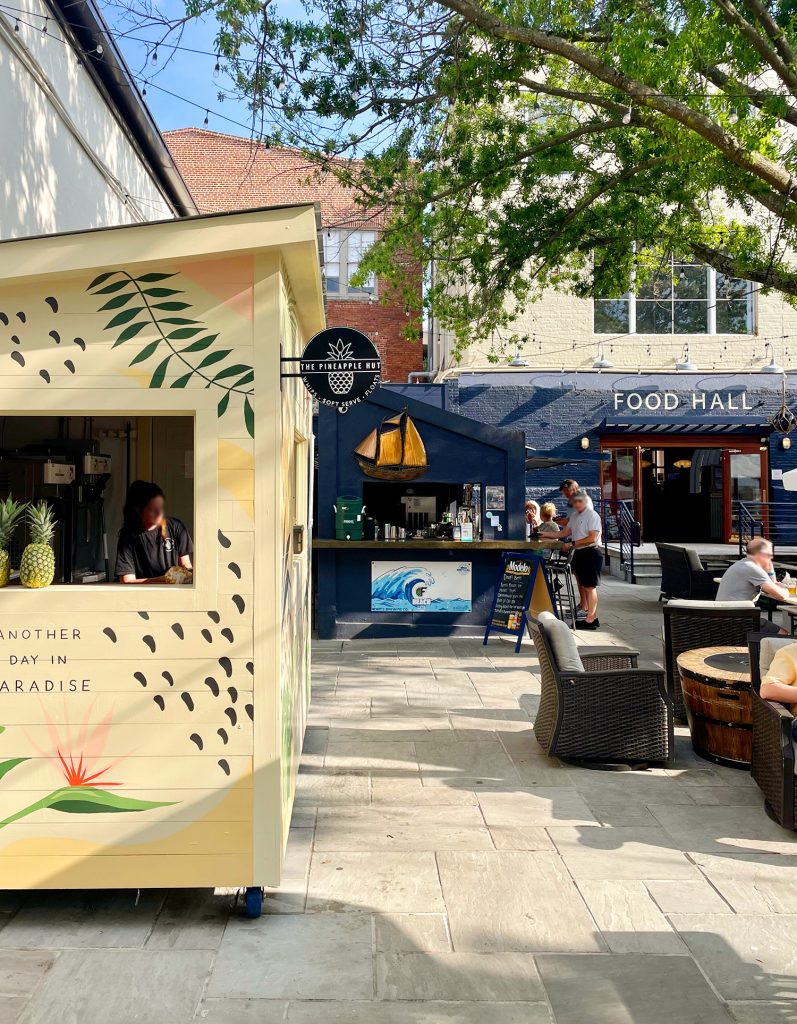 Probably our favorite meal food-wise was across the bridge in Sullivan's Island at a place called The Obstinate Daughter. A friend recommended this as a place with fantastic food where we could "dress up a bit", so initially we wrote it off (none of us packed anything remotely dressy). But then we happened to drive by around 11am and saw several families eating on the patio in very casual attire, so we decided to have an early lunch. And boy are we glad we did.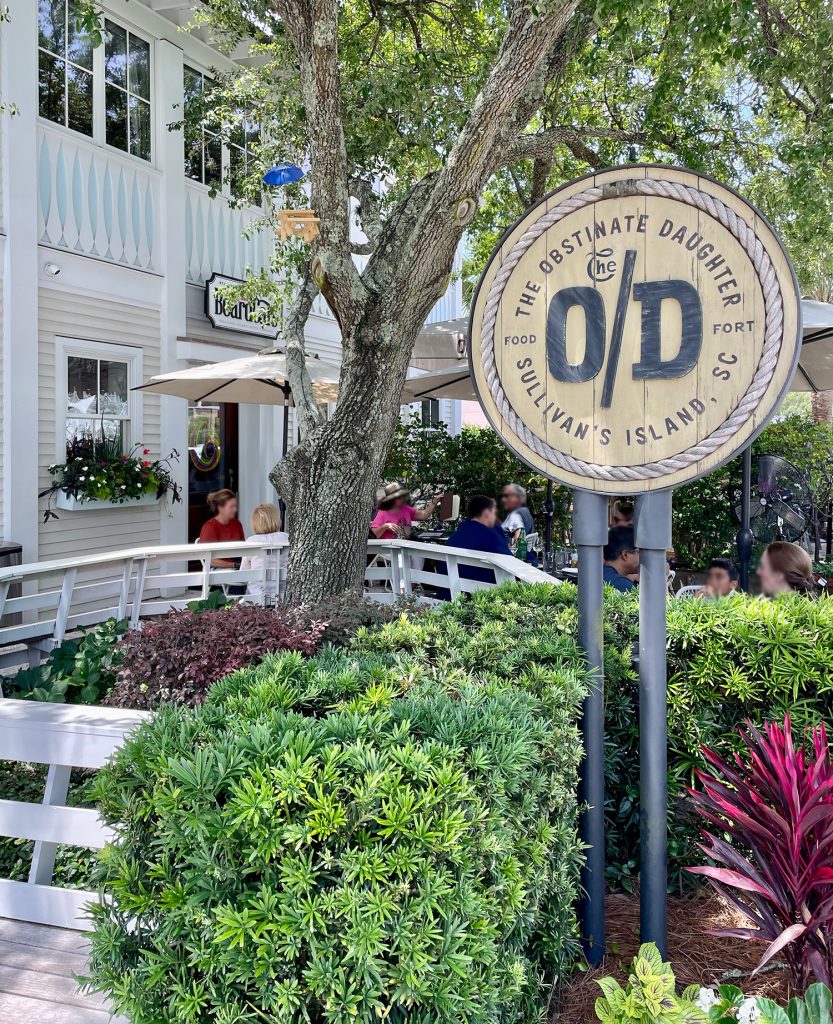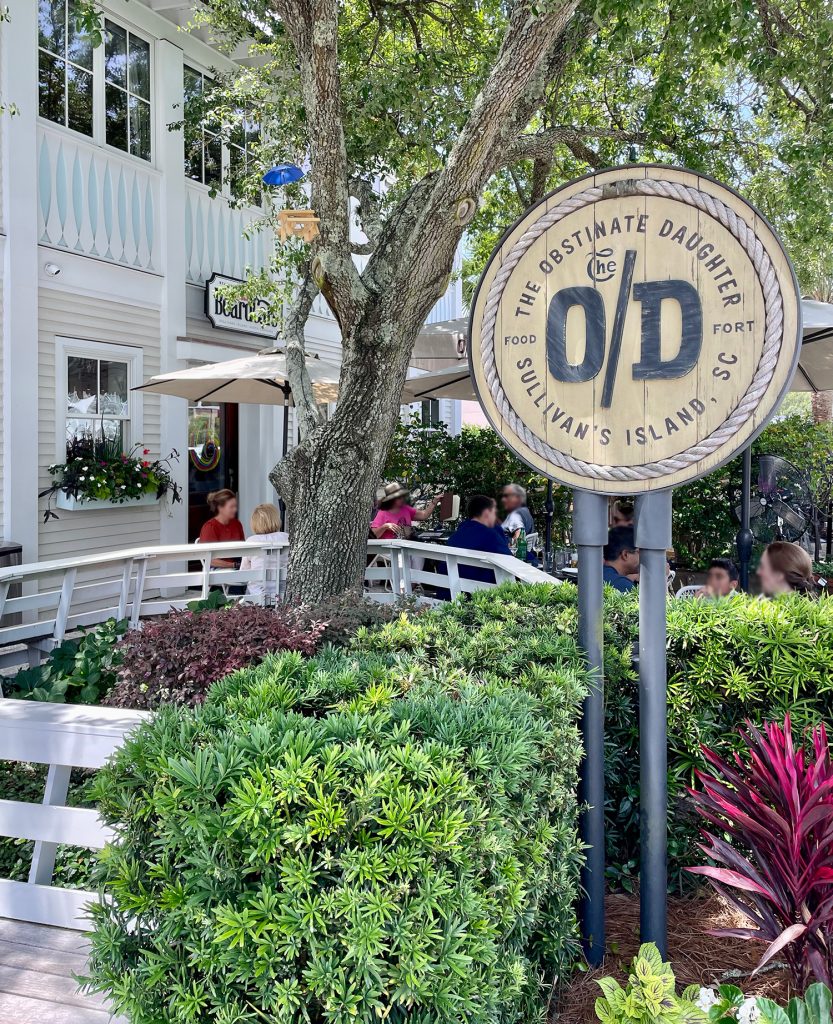 I got the special of the day, a peach flatbread pizza with balsamic drizzle, and it totally hit the spot. The kids split a cheese flatbread and some pasta, which they both declared: "the best." Sherry got some delicious ahi tuna special with a cream sauce and potatoes. This was the only meal we didn't have leftovers from, as in, we licked each of our plates clean. Yes, that entire pizza went into my belly.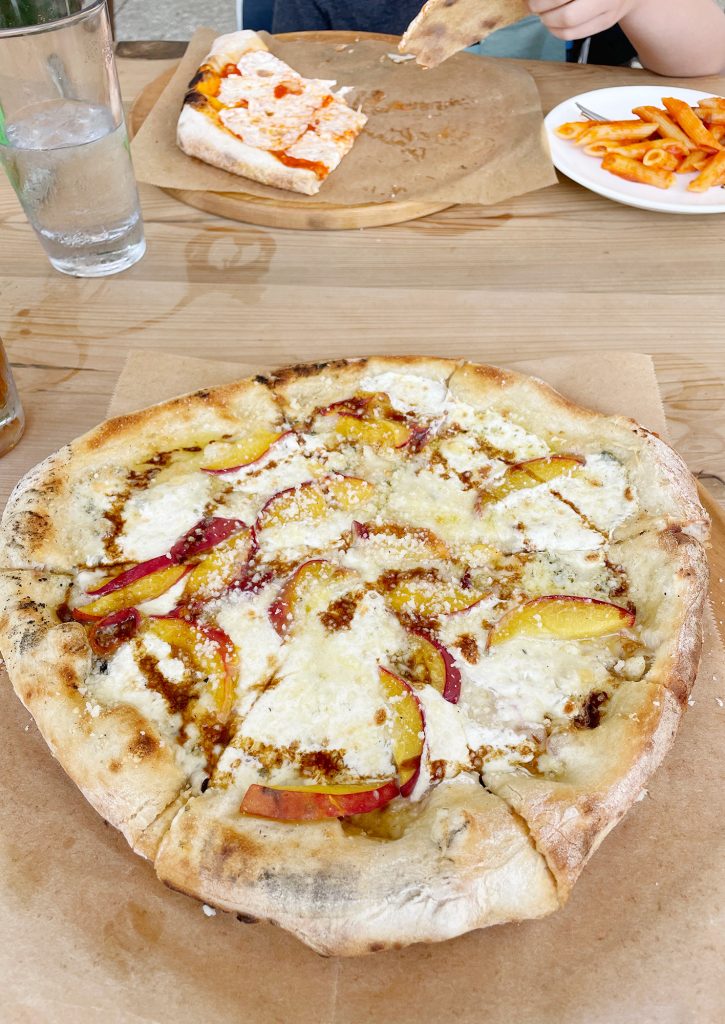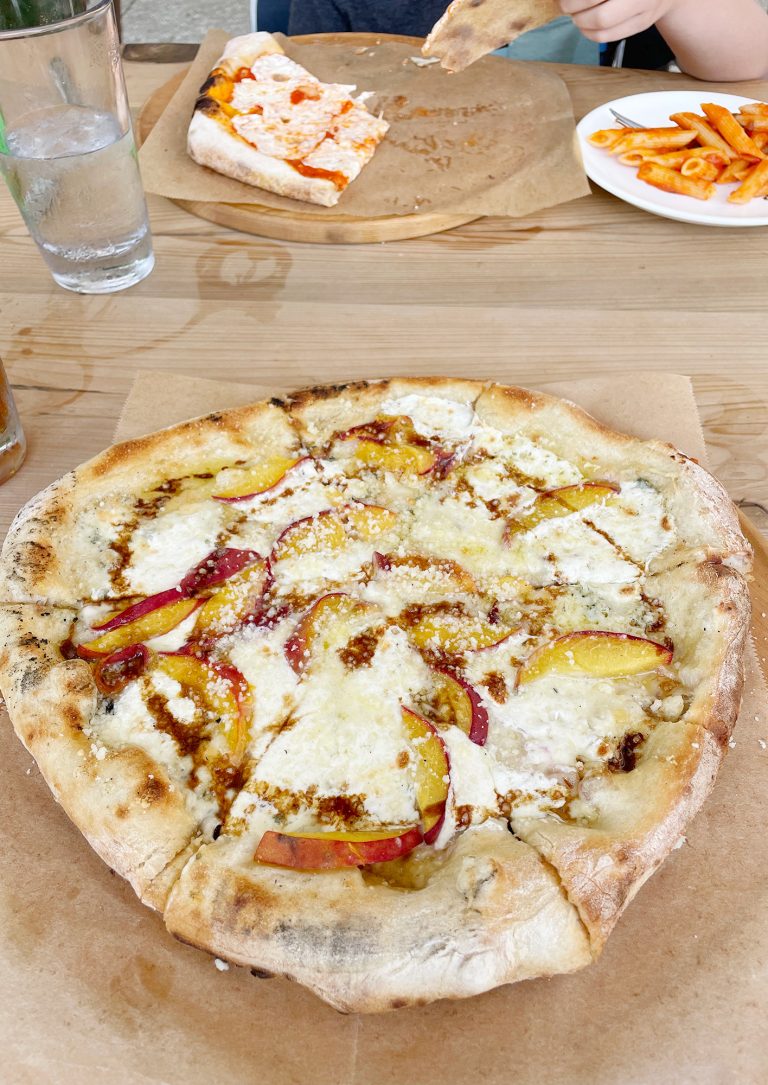 There's a gelato shop in the same building called BeardCat's Sweet Shop, which we got for dessert. You get to select two flavors even for a small size, so Sherry and I split a dark chocolate + olive oil and salt gelato. They literally drizzled olive oil on the top, which I wasn't so sure about at first, but it ended up being extremely good.
Was Charleston Dog Friendly?
Yes! Apart from a few stores that said "service animals only," we found everything in Charleston to be extremely dog friendly: our Airbnb, the beaches, and the outdoor restaurants. Because we had such good weather during our stay, we were able to eat every single meal outside. For some meals – like the breakfast places and the food hall – it meant one of us staying outside with Penny while the others placed our order, but that's no big deal and something we do at restaurants back home too.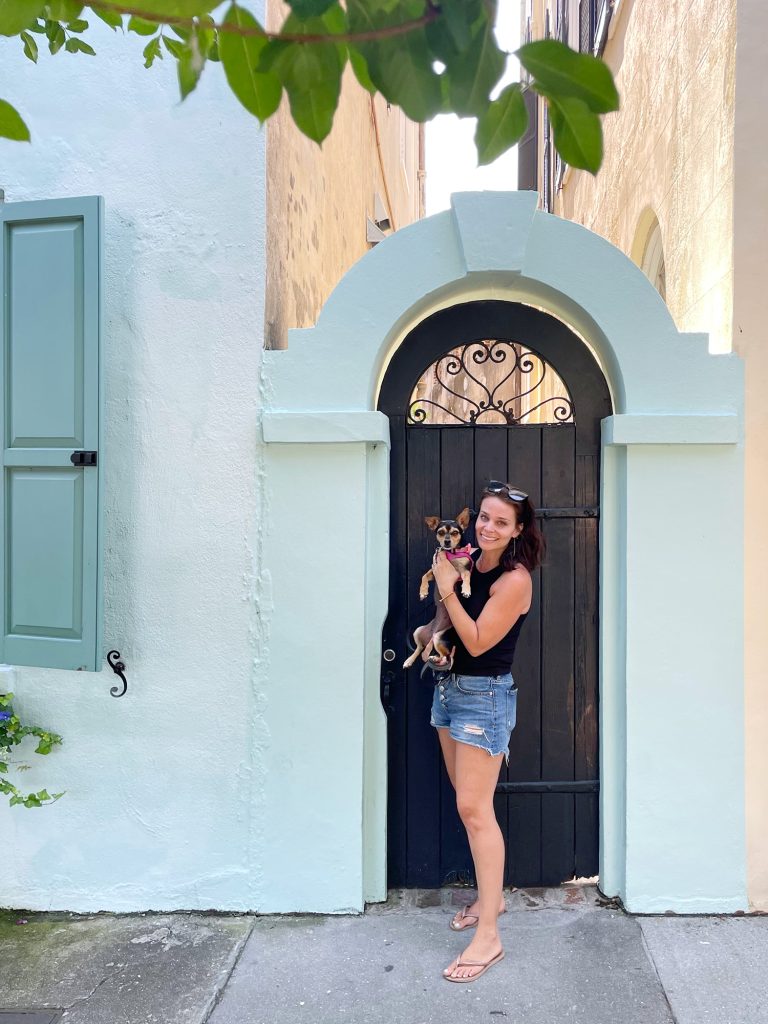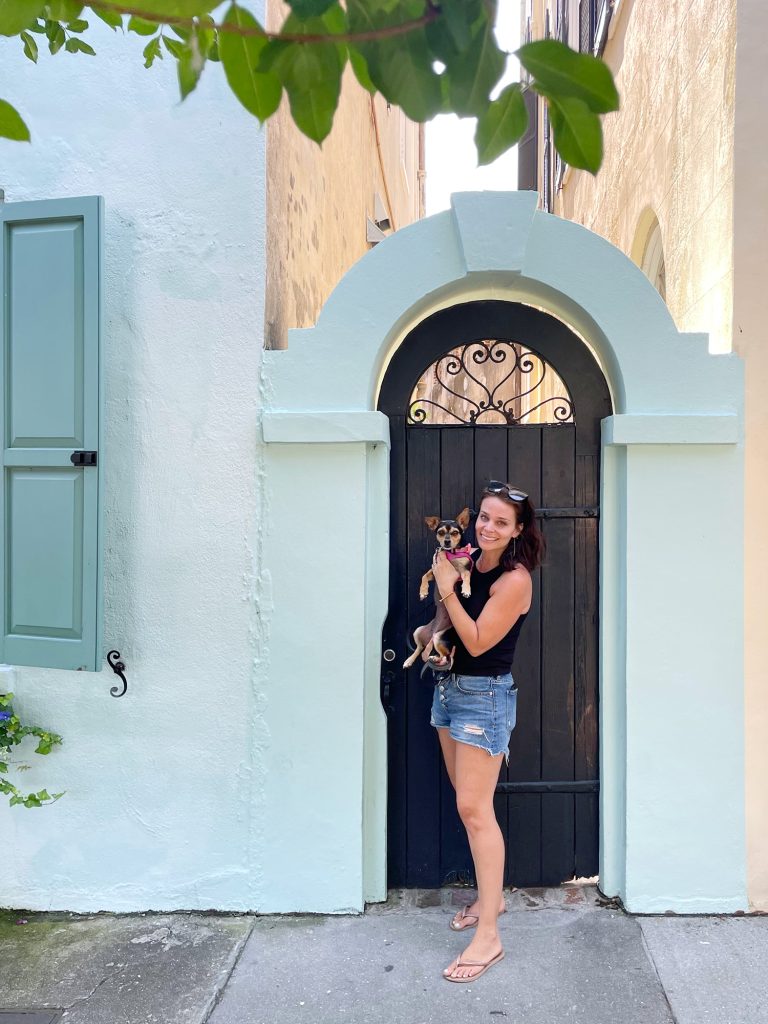 Since Penny's a small dog, we typically pick her up whenever we go into a shop just in case. This is more for our & her safety than anything else (that way she doesn't try to eat something under a display, get spooked by a shop cat, or unintentionally knock something over with her leash). We also typically ask an employee "is it okay to bring our dog in here?" just to be safe. Everyone was more than happy to have her! She was also the only family member who asked to be carried a few times outside when she didn't feel like walking. #spoiled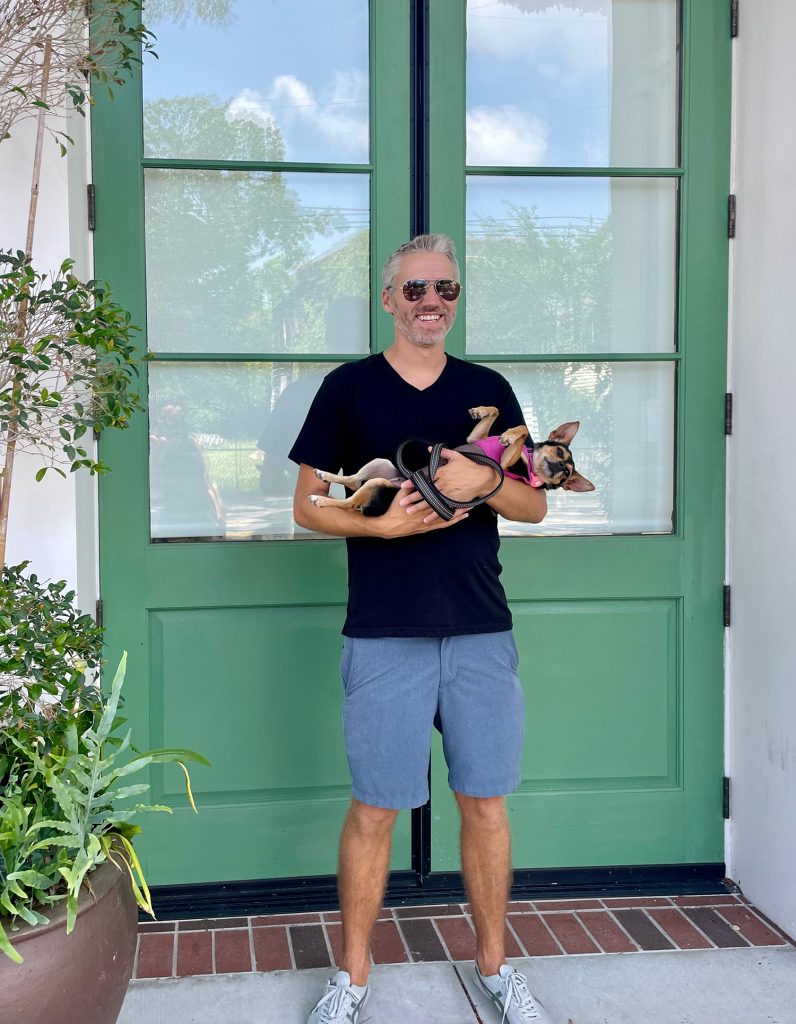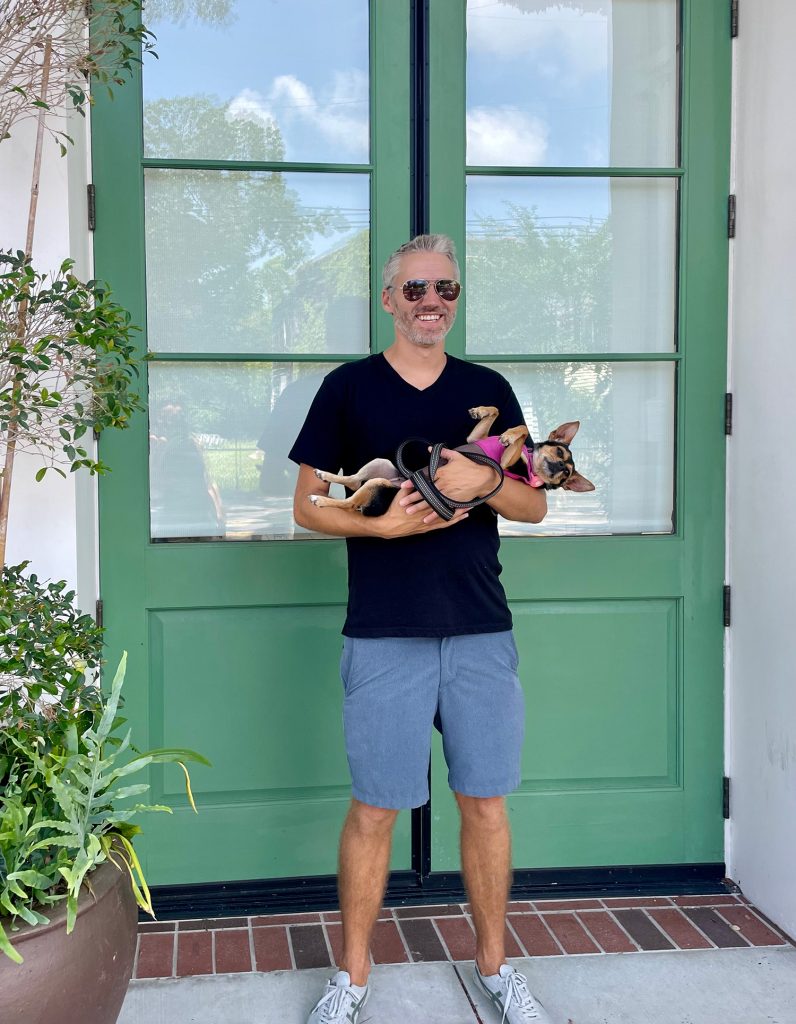 As our Airbnb hosts pointed out in their booklet, most of the Charleston area beaches are dog friendly too – but the rules vary by area and time of year, so be sure to check before you go. In May we were able to take Penny on the Isle of Palms beaches with no problem.
Our Trip To Charleston, SC: A Summary
For Charleston first-timers who did very little planning for this 2-day-3-night weekend trip, we had a great time. For convenience, I thought I'd bullet the places mentioned in this post all in one spot for you.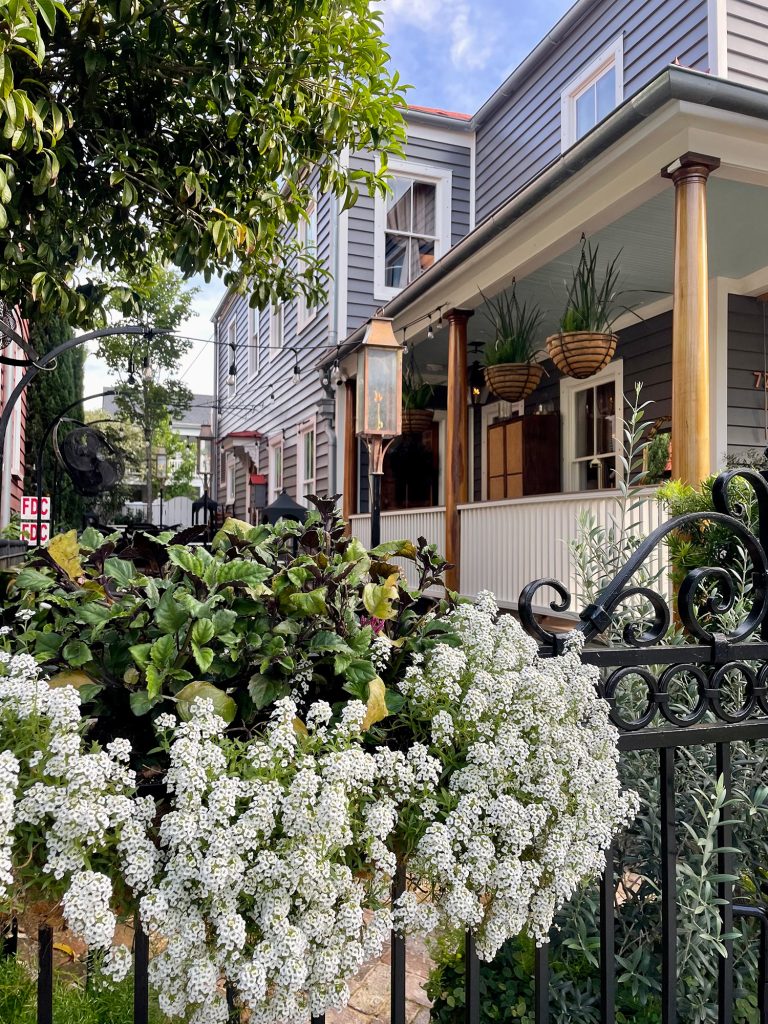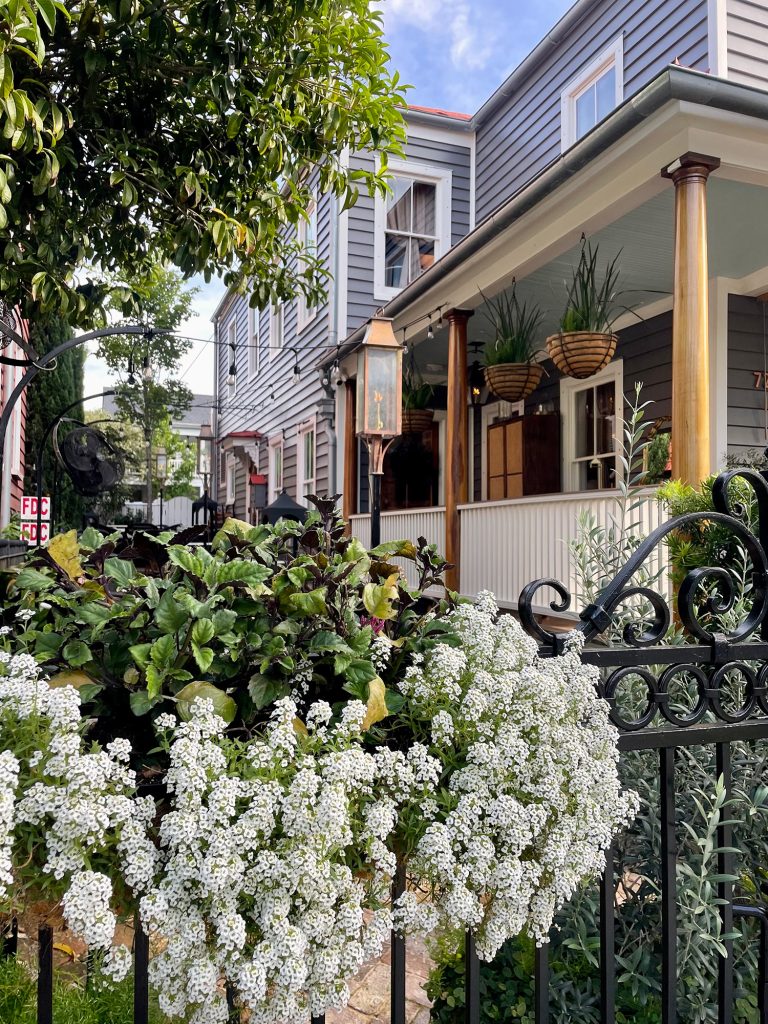 Our Airbnb: The Poppy Suite on Spring Street
Walking down King Street
Visiting Rainbow Row & Pineapple Fountain
Exploring the French Quarter
Checking out houses on Cannon Street
Walking on the beach in Isle of Palms
Shopping
Eating
Thanks for a great trip, Charleston. We'll be back!
Other Family Trips We've Taken
If you're interested in our take on other destinations or in search of family-friendly trips, you might enjoy some of these posts too:
More posts from Young House Love