We are back with another installment in our current blog series – 10 Tips for Choosing Your Hardwood Floor! In case you missed it our last post, click here to read more about the first two items on our list – Aesthetic & Price.
To review, here is the list of considerations we think will be most helpful in your flooring purchase:
10 Things to Consider When Selecting Your Hardwood Floor
   

Aesthetic

   

Price

   Width
   Texture
   Finish
   Wear Layer
   Species
   Installation Method
   Lead Time
   Sustainability
Today we are going to dive into another two important aspects of hardwood flooring selection: width and texture!
Pictured: Grigio
2. Width
It's no secret that wide plank hardwood is leading in current design trends, but is it right for your space? Classified as 5" wide and greater, wide plank flooring is gorgeous, timeless, and it is clear that this stunning style is here to stay!
For those who love a rustic or traditional design style, wide plank flooring is a fantastic option. With the wider planks, there is more room to showcase the natural beauty of real wood. These charming and distinctive elements (such as knots, splits, and sapwood) add a sense of heritage, warmth, and unique character. For those who prefer a more refined aesthetic and a contemporary or more modern design style, Select Grade wide plank floors have very few knots and feature a cleaner grain. Lighter toned wide plank floors are especially popular in these design styles.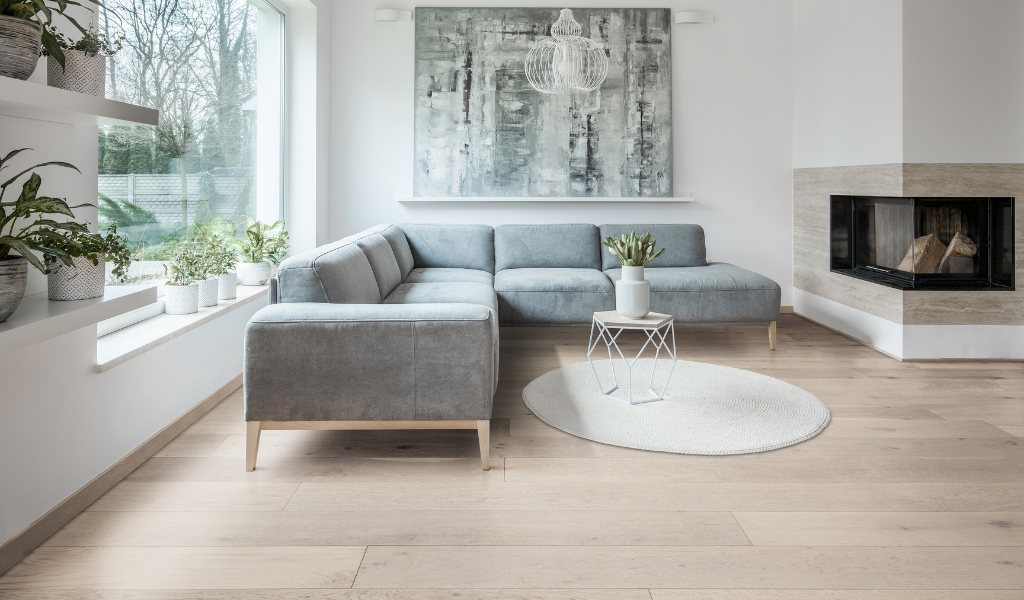 Pictured: Ravenna
In large spaces and smaller spaces alike, wide plank flooring can make the space airier and feel more open. This is especially true with lighter toned flooring. The wider the plank, the fewer seams between boards. This means fewer interruptions in the pattern of your flooring and in the natural lines of the room.
It is important to note that the wider the plank, the more susceptible the plank is to seasonal expanding and shrinking. While this is normal and to be expected of hardwood floors, engineered floors help to minimize these seasonal changes with an extraordinarily stable multi-ply, cross-grain core. With each layer of wood reinforcing the next, the beautiful aesthetic of wide plank flooring can also be dimensionally stable.
For more information on how to maintain the right environment for your floors, click here.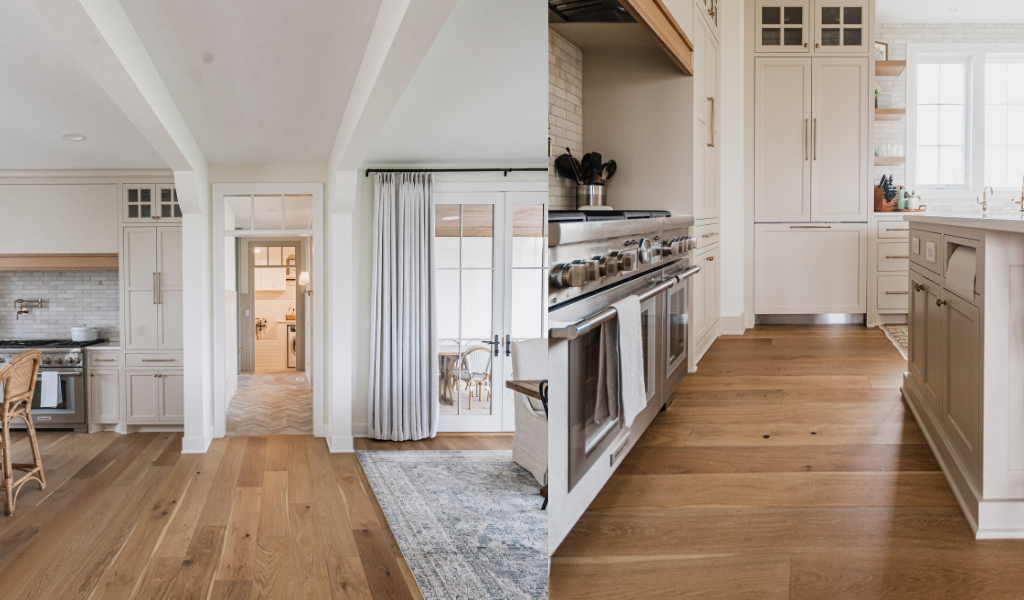 Pictured: Lambrusco
4. Texture
Genuine hardwood comes in a wide variety of textures. Something as simple as the texture can completely alter the look and overall feel of hardwood flooring. The three main textures you'll come across in your flooring search are likely to be 1) smooth, 2) wire-brushed, and 3) hand-scraped.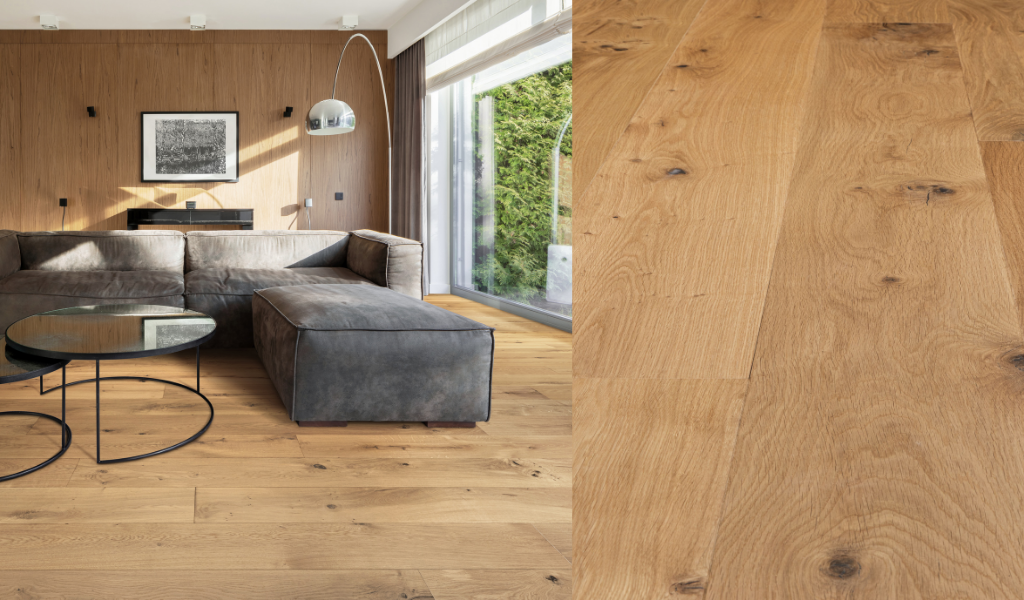 Pictured: Matisse
A smooth texture is sleek and elegant. Many traditional hardwoods feature smooth texture, though this style also pairs well with lustrous modern designs. A smooth hardwood floor captures the beauty of each species' natural grain without added textures by hand or machine.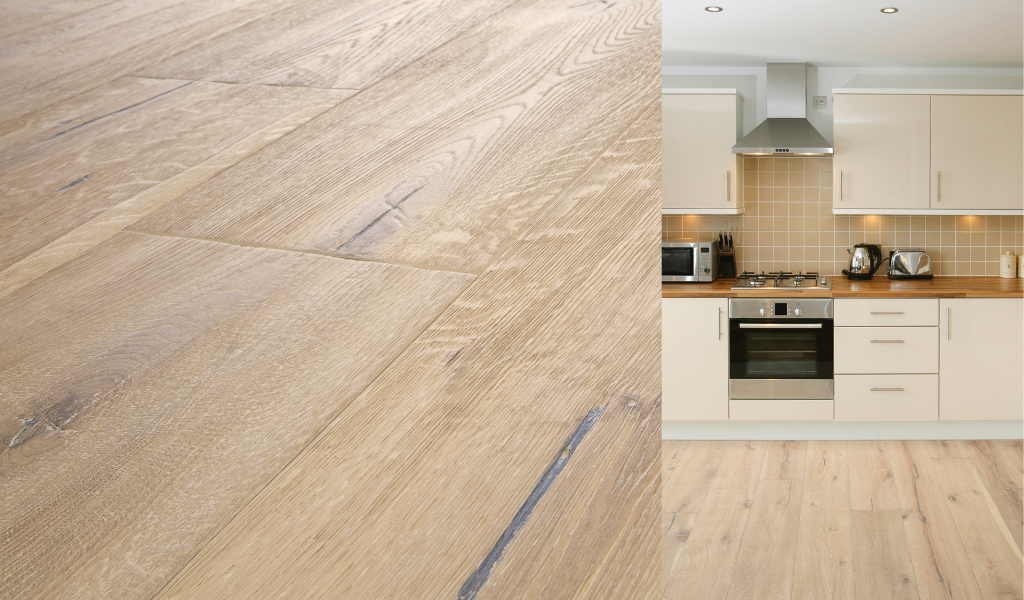 Pictured: Debussy
A wire-brushed texture is created when actual wires are brushed across the surface of the wood by hand. This careful process removes the softwood from the top layer of the floor and creates a beautiful and hardwearing texture and enhances the natural beauty of the woodgrain.
Pictured: Brindisi
Hand-scraped hardwoods offer a sculpted and time-worn appearance. Utilizing historic methods, each plank's surface is shaped by hand to create an entirely unique floor that is full of charm and character. Heavy-scraped floors take the hand-scraping process a step further, creating deeper grooves and a more heavily sculpted surface.
---
Come back to the blog and join us again for another installment as we tackle the next two topics on this list – Finish and Wear Layer!